Empire of Brazil
Império do Brasil
The Empire of Brazil[a] was a 19th-century state that broadly comprised the territories which form modern Brazil. Its government was a representative parliamentary constitutional monarchy under the rule of Emperors Dom Pedro I and his son Dom Pedro II, both members of the House of Braganza-a branch of the Capetian dynasty. A colony of the Kingdom of Portugal, Brazil became the seat of the Portuguese colonial Empire in 1808, when the Portuguese Prince regent, later King Dom João VI (John VI), fled from Napoleon I's invasion of Portugal and established himself and his government in the Brazilian city of Rio de Janeiro. João VI later returned to Portugal, leaving his eldest son and heir, Pedro, to rule Brazil as regent.
On 7 September 1822, Pedro declared the independence of Brazil and, after waging a successful war against his father's kingdom, was acclaimed on 12 October as Pedro I, the first Emperor of Brazil. The new country was huge but sparsely populated and ethnically diverse. Unlike most of its Hispanic republic neighbors, Brazil had political stability, freedom of speech, respect for civil rights and vibrant economic growth. Its bicameral parliament was elected under comparatively democratic methods for the era, as were the provincial and local legislatures. This led into a long ideological conflict between Pedro I and a sizable parliamentary faction over the role of the monarch in the government. He also faced other obstacles; the unsuccessful Cisplatine War against the neighboring United Provinces of South America led to the secession of a Brazilian province (later to become Uruguay) in 1828. Despite his role in Brazilian independence, he became the king of Portugal in 1826 but immediately abdicated in favor of his eldest daughter. Two years later her throne was usurped by Pedro I's younger brother. Unable to deal with both Brazilian and Portuguese affairs, Pedro I abdicated on 7 April 1831 and immediately departed for Europe to restore his daughter to her throne.
Pedro I's successor was his five-year-old son, Pedro II. As the latter was still a minor, a weak regency was created. The power vacuum resulting from the absence of a ruling monarch as the ultimate arbiter in political disputes led to regional civil wars between local factions. Having inherited an empire on the verge of disintegration, Pedro II, once declared of age, managed to bring peace and stability to the country, which eventually became an emerging international power. Brazil was victorious in three international conflicts (the Platine War, the Uruguayan War and the Paraguayan War) under Pedro II's rule, and it prevailed in several other international disputes and domestic strifes. With prosperity and economic development came an influx of European immigration, including Protestants and Jews, although Brazil remained mostly Catholic. Slavery, which had initially been widespread, was restricted by successive legislation until its final abolition in 1888. Brazilian visual arts, literature and theater developed during this time of progress. Although heavily influenced by European styles that ranged from Neoclassicism to Romanticism, each concept was adapted to create a culture that was uniquely Brazilian.
Despite the fact the last four decades of Pedro II's reign were marked by continuous internal peace and economic prosperity, he personally had no desire to see the monarchy survive beyond his lifetime. As the Emperor grew older, he made no effort to maintain support for the institution. Since he lacked viable heirs (the next in line was his daughter Isabel, and both Pedro II and the ruling classes considered a female monarch unacceptable) the Empire's political leaders believed that there was no reason to defend the monarchy. Despite the lack of enthusiasm among most Brazilians for adopting a republican form of government, on 15 November 1889, after a 58-year reign, the Emperor was overthrown in a sudden coup d'état that had almost no support outside a clique of military leaders whose goal was the formation of a republic headed by a dictator.
House of Braganza
The House of Braganza (Portuguese:Casa de Bragança; Portuguese pronunciation: [bɾɐˈɣɐ̃sɐ]), officialy the Most Serene House of Braganza (Portuguese: Sereníssima Casa de Bragança), is an important Portuguese noble house that later became the royal house of the Kingdom of Portugal and its colonial empire, from 1640 to 1910. In 1822 a branch of the house proclaimed independence of the Portuguese colony of Brazil, founding and ruling the Empire of Brazil from 1822 to 1889, as the Brazilian Imperial Family.
The House of Braganza forms a collateral line of the House of Aviz, which ruled Portugal from 1385 until 1580. The House of Aviz was itself a branch of the Portuguese House of Burgundy (also called Afonsine Royal House), and thus of the House of Burgundy. The Afonsine Royal House founded Portugal in 1139, when it proclaimed independence of the County of Portugal from the Kingdom of León. The Afonsine Royal House ruled until 1385, when the House of Aviz succeeded the throne, as result of the 1383-1385 Succession Crisis.
In 1853, Queen Dona Maria II of Portugal married Ferdinand of Saxe-Coburg and Gotha. The royal house continued to be called House of Braganza, though their descendants are classified by foreign genealogists into the House of Braganza-Saxe-Coburg and Gotha or Braganza-Coburg, a cadet branch of the House of Saxe-Coburg-Gotha, following the patrilineal principle of membership common in European royal houses. However, the Portuguese constitution of 1838 clearly states that the Most Serene House of Braganza is the reigning house of Portugal and continues through Queen Dona Maria II.
List of the Monarchs of Brazil
The Monarchs of Brazil were the rulers of Brazil from the time of the arrival of the Portuguese in 1500 until 1889. There are three main stages in the dynastical history of Brazil: Colonial Brazil as part of the Kingdom of Portugal (1500-1815), the Kingdom of Brazil (1815-1822) united with Portugal, and the independent Empire of Brazil (1822-1889). The Portuguese officially arrived in Brazil on 22 April 1500 and based on the Treaty of Tordesilhas, it became a possession of Portugal. The Kings of Portugal then were the Monarchs over Brazil until the invading army of Napoleon I forced the Portuguese government to flee to Brazil in 1807. On 16 December 1815 the prince regent John, the future king John VI raised Brazil to the status of a kingdom, thus making his mother, Maria I, the reigning Queen, the first Monarch of Brazil. Having proclaimed independence from Portugal in 1822, Pedro I, son of John VI, was crowned Emperor of Brazil on 1 December 1822.
Colonial Brazil - 1500-1815
Name

Lifespan

Reign start

Reign end

Notes

Family

Image

Manuel I
31 May 1469 - 13 December 1521 (aged 52)
22 April 1500
13 December 1521
Aviz-Beja
John III
7 June 1502 - 11 June 1557 (aged 55)
13 December 1521
11 June 1557
Son of Manuel I
Aviz-Beja
Sebastian I
20 January 1554 - c. 4 August 1578 (aged 24)
11 June 1557
4 August 1578
Grandson of John III
Aviz-Beja
Henry
31 January 1512 - 31 January 1580 (aged 68)
4 August 1578
31 January 1580
Son of Manuel I
Aviz-Beja
Philip I
21 May 1527 - 13 September 1598 (aged 71)
1581
13 September 1598
Grandson of Manuel I
Habsburg
Philip II
14 April 1578 - 31 March 1621 (aged 42)
13 September 1598
31 March 1621
Son of Philip I
Habsburg
Philip III
8 April 1605 - 17 September 1665 (aged 60)
31 March 1621
1 December 1640
Son of Philip II
Habsburg
John IV
18 March 1603 - 6 November 1656 (aged 53)
1 December 1640
6 November 1656
Illegitimate descendant in the male-line from John I (founder of the House of Aviz)
Great-great-grandson of Manuel I
Braganza
Afonso VI
21 August 1643 - 12 September 1683 (aged 40)
6 November 1656
12 September 1683
Son of John IV
Braganza
Peter II
April 26, 1648 - December 9, 1706 (aged 58)
6 November 1683
9 December 1706
Son of John IV
Braganza
John V
October 22, 1689 - July 31, 1750 (aged 60)
9 December 1706
31 July 1750
Son of Peter II
Braganza
Joseph I
6 June 1714 - 24 February 1777 (age 62)
31 July 1750
24 February 1777
Son of John V
Braganza
Pedro III
(jure uxoris)
July 5, 1717 - May 25, 1786 (aged 68)
24 February 1777
25 May 1786
King Consort as husband of Maria I and father of her children. He was also a member of the Braganza dynasty, as a son of John V. He was his wife's uncle.
Braganza
Maria I
17 December 1734 - 20 March 1816 (aged 81)
24 February 1777
16 December 1815
Daughter of Joseph I
Braganza
United Kingdom of Portugal, Brazil and the Algarves - 1815-1822
Name

Lifespan

Reign start

Reign end

Notes

Family

Image

Maria I
17 December 1734 - 20 March 1816 (aged 81)
16 December 1815
20 March 1816
Brazil elevated to the status of kingdom united with Portugal
Braganza
John VI
13 May 1767 - 10 March 1826 (aged 58)
20 March 1816
15 November 1825
Son of Maria I
Prince Regent for Maria I
Braganza
Empire of Brazil - 1822-1889
Name

Lifespan

Reign start

Reign end

Notes

Family

Image

Pedro I
12 October 1798 - 24 September 1834 (aged 35)
12 October 1822
7 April 1831
Son of John VI. Declared Brazilian independence and was acclaimed as the new country's first monarch.
Also served as Pedro IV as King of Portugal.
Braganza
Pedro II
2 December 1825 - 5 December 1891 (aged 66)
7 April 1831
15 November 1889
Son of Pedro I
Braganza
Titular Emperor of Brazil

| | | | | | | |
| --- | --- | --- | --- | --- | --- | --- |
| Name | Lifespan | Reign start | Reign end | Notes | Family | Image |
| João VI | 13 May 1767 - 10 March 1826 (aged 58) | 15 November 1825 | 10 March 1826 | João VI was created titular Emperor of Brazil by a provision of the Treaty of Rio de Janeiro (1825). While João VI held the title, his son, Pedro I, held all power and was the head of state and government. | Braganza | |
The Family Titles and Styles

All the members of the family (in male line) bear the title Prince or Princess of Orleans-Braganza with the style of Royal Highness, even if they do not descend from an equal marriage. The descendants of Prince Dom Pedro Henrique bear the style Prince or Princess of Brazil, Prince or Princess of Orleans-Braganza with the style of Imperial and Royal Highness, only if they descend from an equal marriage. The princes who contract non-equal marriages have to renounce those titles but keep the title of Prince or Princess of Orleans-Braganza with the style of Royal Highness.
Genealogy of the Imperial and Royal House
Pedro de Alcantara Francisco Antônio João Carlos Xavier de Paula Miguel Rafael Joaquim José Gonzaga Pascual Cipriano Serafim, Infant of Portugal, was b.at Queluz 12 Oct 1798 [see PORTUGAL]; he succeeded his father as King Pedro IV of Portugal and the Algarves 10 Mar 1826; he had been proclaimed Emperor PEDRO I of Brazil 12 Oct 1822; he abdicated the Portuguese throne in favor of his eldest daughter 29 Apr 1826; he d.Queluz 24 Sep 1834; he m.1st by proxy at Vienna 13 May 1817 and in person at Rio de Janeiro 5 Nov 1817 Maria Leopoldina Archdss of Austria (Vienna 22 Jan 1797-Rio de Janeiro 11 Dec 1826); m.2d by proxy at Munich 2 Aug 1829 and in person at Rio de Janeiro 17 Oct 1829 Amélia de Beauharnais Pss von Leuchtenberg (Milan 31 Jul 1812-Lisbon 26 Jan 1873)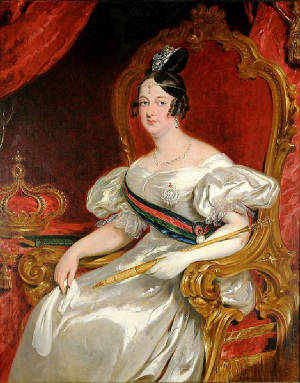 1a) Maria II da Glória, Queen of Portugal and the Algarves

2a) Miguel, b.and d.Rio de Janeiro 24 Apr 1820

3a) João Carlos Pedro Leopoldo, Pr of Beira (Rio de Janeiro 6 Mar 1821-Rio de Janeiro 4 Feb 1822)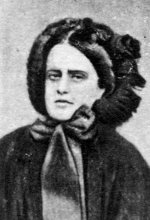 4a) Januária Maria Joana Carlota Leopoldina Cándida Francisca Xavier de Paula Micaela Gabriela Rafaela Gonzaga, Pss Imperial of Brazil (Imperial Highness) from birth until the birth of the first child of Pedro II (Rio de Janeiro 11 Mar 1822-Nice 13 Mar 1901); m.Rio de Janeiro 28 Apr 1844 Luigi Pr of Bourbon-Two Sicilies Cte di Aquila (Naples 19 Jul 1824-Paris 5 Mar 1897)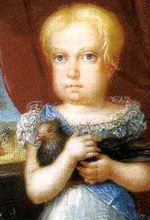 5a) Paula Mariana Joana Carlota (Rio de Janeiro 17 Feb 1823-Rio de Janeiro 16 Jan 1833)
6a) Francisca Carolina Joana Carlota Leopoldina Romana Xavier de Paula Micaela Rafaela Gabriela Gonzaga (Rio de Janeiro 2 Aug 1824-Paris 27 Mar 1898); m.Rio de Janeiro 1 May 1843 François d'Orléans Pr de Joinville (Neuilly-sur-Seine 14 Aug 1818-Paris 16 Jun 1900)

7a) PEDRO II de Alcântara João Carlos Leopoldo Salvador Bibiano Francisco Xavier de Paula Leocãdio Miguel Rafael Gabriel Gonzaga, Emperor of Brazil until he was deposed 15 Nov 1889 (Rio de Janeiro 2 Dec 1825-Paris 5 Dec 1891); m.by proxy at Naples 30 May 1843 and in person at Rio de Janeiro 4 Sep 1843 Teresa Pss of Bourbon-Two Sicilies (Naples 14 Mar 1822-Oporto 28 Dec 1889)
1b) Afonso Pedro de Alcântara Cristiano Leopoldo Filipe Eugénio Miguel Gabriel Rafael Gonzaga, Pr Imperial of Brazil (Rio de Janeiro 23 Feb 1845-Rio de Janeiro 11 Jun 1847)
2b) ISABEL Cristina Leopoldina Augusta Micaela Gabriela Rafaela Gonzaga, Pss Imperial of Brazil (Rio de Janeiro 29 Jun 1846-Château d'Eu 14 Nov 1921); m.Rio de Janeiro 1 Oct 1864 Gaston Pr d'Orléans, Cte d'Eu (Neuilly 28 Apr 1842-d.at sea 28 Aug 1922)
1c) Pedro de Alcântara Luiz Felipe Maria Gastão Miguel Gabriel Rafael Gonzaga, Pr of Grão Pará (Petrópolis 15 Oct 1875-Petrópolis 29 Jan 1940); m.Versailles 14 Nov 1908 Elisabeth Gfn Dobrzensky von Dobrzenicz (Chotebor, Bohemia 7 Dec 1875-Sintra, Portugal 11 Jun 1951)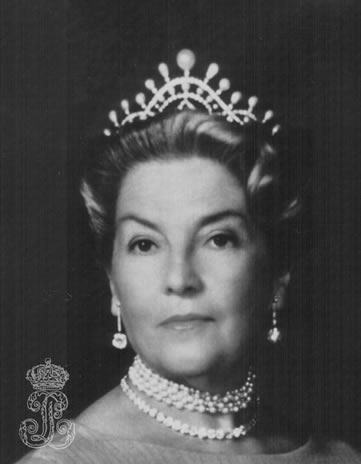 1d) Isabelle Maria Amélia Luiza Vitoria Teresa Joana Micaela Gabriela Rafaela Gonzaga (Château d'Eu 13 Aug 1911-Paris 5 Jul 2003); m.Palermo 8 Apr 1931 Pr Henri d'Orléans, Cte de Paris (Château Le Nouvion-en-Thiérache 5 Jul 1908-19 Jun 1999)
2d) Pedro de Alcântara Gastão João Maria Felipe Lourenço Humberto Miguel Gabriel Rafael Gonzaga (Château d'Eu 19 Feb 1913-Seville 27 Dec 2007); m.Seville 18 Dec 1944 Maria de la Esperanza Pss of Bourbon-Two Sicilies (Madrid 14 Jun 1914-Villamanrique de la Condesa 8 Aug 2005)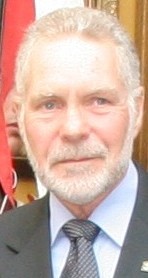 1e) Pedro de Alcântara Carlos João Lourenço Miguel Rafael Gabriel Gonzaga, b.Rio de Janeiro 31 Oct 1945; m.1st (morganatically) Petrópolis 2 Sep 1975 Rony Kuhn de Souza (São Paulo 20 Mar 1938-Petrópolis 14 Jan 1979); m.2d (morganatically) Fazenda São Geraldo 16 Jul 1981 Patricia Alexandra Brascombe (Petrópolis 22 Nov 1962-20 Nov 2009)
1f) Pedro Tiago Maria Miguel Gabriel Rafael Gonzaga, b.Petrópolis 12 Jan 1979

2f) Filipe Rodrigo Alexandre Francisco Cristóvão Miguel Gabriel Gonzaga, b.Brasilia 31 Dec 1982
2e) Maria da Glória Henriqueta Dolores Lúcia Micaela Rafaela Gabriela Gonzaga, b.Petrópolis 13 Dec 1946; m.1st Villamanrique de la Condesa, Spain 1 Jul 1972 (div 1985) Alexander Crown Pr of Yugoslavia (b.London 27 Jul 1945); m.2d Seville 24 Oct 1985 Don Ignacio de Medina y Fernández de Córdoba Duque de Segorbe Cde de Ampurias (b.Seville 23 Feb 1947; see Fernández de Córdoba)

3e) Afonso Duarte Francisco Marcos Miguel Rafael Gabriel Gonzaga, b.Petrópolis 25 Apr 1948; m.1st (morganatically) Seville 3 Jan 1973 (div 1998) Maria Parejo (b.Seville 13 May 1954); m.2d Petropolis 19 Nov 2002 Silvia-Amalia Hungria de Silva Machado (b.Rio de Janeiro 29 July 1953)

1f) Maria, b.Seville 14 Jan 1974

2f) Julia, b.Petrópoilis 18 Sep 1977

4e) Manoel Alvaro Rainiero Miguel Gabriel Rafael Gonzaga, b.Petrópolis 17 Jun 1949; m.(morganatically) Malaga 12 Dec 1977 (div 1995) Margarita Haffner (b.Malaga 10 Dec 1945)

1f) Luiza Cristina, b.Seville 25 Jul 1978

2f) Manoel Afonso, b.Seville 7 Mar 1981

5e) Cristina Maria do Rosario Leopoldina Micaela Gabriela Rafaela Gonzaga, b.Petrópolis 16 Oct 1950; m.1st Petrópolis 16 May 1980 Jan Pr Sapieha-Rozánski (b.Warsaw 26 Aug 1935); m.2d Rio de Janeiro Oct 1992 (div 1996) José Carlos Calmon de Brito

6e) Francisco Humberto Miguel Rafael Gabriel Gonzaga, b.Petrópolis 9 Dec 1956; m.1st (morganatically) Petrópolis 28 Jan 1978 Christina Schmidt Peçanha (b.Rio de Janeiro 14 Jan 1953); m.2d Petrópolis 1980 Rita de Cascia Pires (b.1961)

1f) Francisco Teodoro, b.Petrópolis 25 Sep 1979

2f) Gabrielle Pires d'Orleans e Bragança, b.Petrópolis 1989

3f) Manuela, b.Petrópolis 1997

3d) Maria Francisca Amélia Luiza Vitória Teresa Elisabeth Micaela Gabriela Rafaela Gonzaga (Château d'Eu 8 Sep 1914-Lisbon 15 Jan 1968); m.(civ) Rio de Janeiro 13 Oct 1942 (rel) Petrópolis 15 Oct 1942 Duarte Nuno Infant of Portugal Duke of Braganza (Seebenstein 23 Sep 1907-Lisbon 24 Dec 1976)

4d) João Maria Felipe Miguel Gabriel Rafael Gonzaga (Boulogne-sur-Seine 15 Oct 1916-Rio de Janeiro 26 Jun 2005); m.1st Sintra, Portugal 29 Apr 1949 (div 1971) Fátima Scherifa Chirine (Cairo 19 Apr 1923-Rio de Janeiro 14 Mar 1990); m.2d (morganatically) (civ) Petrópolis 29 Apr 1990 (rel) Rio de Janeiro 11 May 1990 Tereza de Jesus Cesar Leite (b.Uba, Minas Gerais 11 Jan 1929)

1e) João Henrique, b.Rio de Janeiro 25 Apr 1954; m.(morganatically) Rio de Janeiro 26 Jun 1986 (div 2007) Stella Christina Lutterbach (b.Rio de Janeiro 20 Jun 1958)

1f) João Filipe, b.Rio de Janeiro 27 Nov 1986

2f) Maria Cristina, b.Rio de Janeiro 26 Dec 1989

5d) Teresa Maria Teodora Micaela Gabriela Rafaela Gonzaga (Boulogne-sur-Seine 18 Jun 1919-Estoril 18 Apr 2011); m.Sintra, Portugal 7 Oct 1957 Ernesto Martorell y Calderó (Lisbon 1921-Madrid 10 Jan 1985)
2c) Luíz Maria Filipe Pedro de Alcântara Gastão Miguel Rafael Gonzaga (Petrópolis 26 Nov 1878- Cannes 26 Mar 1920); m.Cannes 4 Nov 1908 Maria Pia Pss of Bourbon-Two Sicilies (Cannes 12 Aug 1878-Mandelieu 20 Jun 1973)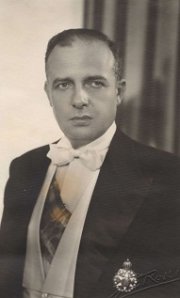 1d) PEDRO HENRIQUE Afonso Felipe Maria Miguel Gabriel Rafael Gonzaga (Boulogne-sur-Seine 13 Sep 1909-Vassouras, Brazil 5 Jul 1981); m.Nymphenburg 19 Aug 1937 Maria Elisabeth Pss of Bavaria (Nymphenburg 9 Sep 1914-Rio de Janeiro 13 May 2011)
1e) LUÍZ GASTÃO Maria José Pio, b.Mandelieu 6 Jun 1938

2e) Eudes Maria Ranieri Pedro José; he renounced his rights to the throne for himself and his descendants in 1966; b.Mandelieu 8 Jun 1939; m.1st São Paulo 8 May 1967 (div 1976) Ana Maria de Moraes e Barros (b.São Paulo 20 Nov 1945); m.2d Rio de Janeiro 1976 Mercedes Neves da Rocha (b.Petrópolis 26 Jan 1955)

1f) Luíz Filipe Maria José Miguel Gabriel Rafael Gonzaga, b.Rio de Janeiro 3 Apr 1969

2f) Anna Luíza Maria Josefa Micaela Gabriela Rafaela Gonzaga, b.Rio de Janeiro 19 Jun 1971; m. São Paulo 18 May 1996 Paulo Ibrahim Mansour (b.São Paulo 2 Feb 1962)

3f) Eudes Maria José Miguel Gabriel Rafael Gonzaga, b.Rio de Janeiro 17 Dec 1977; m.Rio de Janeiro 15 Mar 2008 Patricia Annechino Landau

1g) Eudes, b.Rio de Janeiro 8 Jun 2011

2g) Valentina, b.Rio de Janeiro 8 Jun 2011

4f) Maria Antonia Josefa Micaela Gabriela Rafaela Gonzaga, b.Rio de Janeiro 18 Aug 1979; m.Rio de Janeiro 15 Jun 2007 Eduardo de Carvalho Moreira

5f) Maria Francisca Josefa Micaela Gabriela Rafaela Gonzaga, b.Rio de Janeiro 18 Aug 1979; m.Rio de Janeiro 7 May 2005 Bernardo Almeida Braga Ratto

6f) Guy Maria José Miguel Gabriel Rafael Gonzaga, b.Rio de Janeiro 8 Oct 1985 [1984?]
3e) Bertrand Maria José Pio Januario, b.Mandelieu 2 Feb 1941

4e) Isabel Maria Josepha Henriquetta Francisca, b.La Bourboule 5 Apr 1944

5e) Pedro de Alcântara Henrique Maria Miguel Gabriel Rafael Gonzaga; he renounced for himself and his issue the rights to the throne in 1972; b.Petrópolis 1 Dec 1945; m.Rio de Janeiro 4 Jul 1974 Maria de Fátima Lacerda Rocha (b.Rio de Janeiro 14 Jul 1952)

1f) Maria Pia Josefa Micaela Gabriela Rafaela Gonzaga, b.Rio de Janeiro 23 Aug 1975; m.Rio de Janeiro 25 Aug 2001 Rodrigo Otavio Broglia Mendes (b.Rio de Janeiro 7 Nov 1974)

2f) Maria Carolina Josefa Micaela Gabriela Rafaela Gonzaga, b.Rio de Janeiro 19 Sep 1978; m.Capela da Imperial Irmandade do Outeiro da Glória, Rio de Janeiro, 2 Dec 2005 Nuno de Carvalho Moreira (b.Rio de Janeiro 20 Sep 1974)

3f) Gabriel José Miguel Rafael Gonzaga, b.Rio de Janeiro 1 Dec 1980; m.Rio de Janeiro 18 Jul 2009 Luciana de Sousa Oliveira Guaspari (b.14 Sep 1981)

4f) Maria de Fátima Isabel Josefa Micaela Gabriela Rafaela Gonzaga, b.Rio de Janeiro 13 May 1988

5f) Maria Manoela Josefa Micaela Gabriela Rafaela Gonzaga, b.Rio de Janeiro 26 May 1989

6e) Fernando Diniz Maria José Miguel Gabriel Rafael Gonzaga; he renounced for himself and his descendants the rights to the throne in 1975; b.Petrópolis 2 Feb 1948; m.Rio de Janeiro 19 Mar 1975 Maria de Graça Baere de Araújo (b.Rio de Janeiro 27 Jun 1952)

1f) Isabel Maria Eleonora Josefa Francisca Micaela Gabriela Rafaela Gonzaga, b.Rio de Janeiro 30 Jan 1978; m.Rio de Janeiro 16 Oct 2009 Alexander Gf zu Stolberg-Stolberg (b.26 Feb 1974)

2f) Maria da Glória Cristina Josefa Joana Eleonora Micaela Gabriela Rafaela Gonzaga, b.Rio de Janeiro 11 Nov 1982

3f) Luíza Carolina Maria de Fatima Josefa Julia Micaela Gabriela Rafaela Gonzaga, b.Rio de Janeiro 27 Oct 1984
7e) Antônio João Maria José Rasso Miguel Gabriel Rafael Gonzaga, b.Rio de Janeiro 24 Jun 1950; m.Beloeil (civ) 25 Sep 1981 (rel) 26 Sep 1981 Christine Pss de Ligne (b.Beloeil 11 Aug 1955)
1f) Pedro Luíz Maria José Miguel Rafael Gabriel Gonzaga (Rio de Janeiro 12 Jan 1983-d.in plane accident over the Atlantic 1 Jun 2009)

2f) Amélia Maria de Fátima Josefa Antonia Micaela Gabriela Rafaela Gonzaga, b.Brussels 15 Mar 1984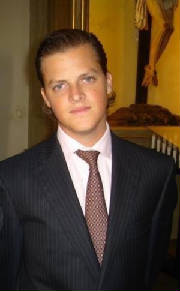 3f) Rafael Antonio Maria José Francisco Miguel Gabriel Gonzaga, b.Rio de Janeiro 24 Apr 1986

4f) Maria Gabriela Josefa Fernanda Yolanda Micaela Rafaela Gonzaga, b.Rio de Janeiro 8 Jun 1989
8e) Leonor Maria Josefa Rosa Filipa Micaela Gabriela Rafaela Gonzaga, b.Jacarèzinho 20 May 1953; m.Rio de Janeiro 10 Mar 1981 Michel Pr de Ligne (b.Beloeil 26 May 1951)

9e) Francisco Maria José Rasso Miguel Gabriel Rafael Gonzaga; he renounced for himself and his descendants the rights to the throne in 1980; b.Jacarèzinho 6 Apr 1955; m.Rio de Janeiro 28 Dec 1980 Claudia Regina Godinho (b.Rio de Janeiro 11 Jul 1954)

1f) Maria Elisabeth Josefa Angela Micaela Gabriela Rafaela Gonzaga, b.Rio de Janeiro 1 Mar 1982; m.Rio de Janeiro 6 Aug 2011 Pablo Trindade de Souza (b.1 May 1980)

2f) Maria Tereza Cristiana Josefa Albertina Micaela Gabriela Rafaela Gonzaga, b.Rio de Janeiro 31 Jan 1984

3f) Maria Eleonora Josefa Antonia Micaela Gabriela Rafaela Gonzaga, b.Rio de Janeiro 31 Jan 1984

10e) Alberto Maria José João Miguel Gabriel Rafael Gonzaga; he renounced for himself and his descendants the rights to the throne in 1982 (b.Jundiai do Sul, Paraná 23 Jun 1957); m.Rio de Janeiro 11 Jan 1983 Maritza Ribas Bockel (b.Rio de Janeiro 29 Apr 1961)

1f) Pedro Alberto Maria José Francisco Miguel Gabriel Rafael Gonzaga, b.Rio de Janeiro 31 May 1988

2f) Maria Beatriz Isabel Guilhermina Micaela Gabriela Rafaela Gonzaga, b.Rio de Janeiro 27 Jul 1990

3f) Ana Thereza Maria Francisca Micaela Gabriela Rafaela Gonzaga, b.Rio de Janeiro 10/11 Feb 1995

4f) Antonio Alberto Maria José Henrique Miguel Gabriel Rafael Gonzaga, b.Rio de Janeiro 29 May 1997

11e) Maria Teresa Adelgunda Luíza Josefa Micaela Gabriela Rafaela Gonzaga, b.Jundiai do Sul 14 Jul 1959; m.Rio de Janeiro 4 Nov 1995 Jan Hessel de Jong (b.Joure, Netherlands 5 Mar 1954)

12e) Maria Gabriela Dorotea Isabella Josefa Micaela Gabriela Rafaela Gonzaga, b.Jundiai do Sul 14 Jul 1959; m.Petropolis 20 Dec 2003 (div 2005) Teodoro Hungria de Silva Machado (b.1952)

2d) Luiz Gastão Antônio Maria Filipe (Cannes 19 Feb 1911-Neuilly-sur-Seine 8 Sep 1931)

3d) Pia Maria Raniera Isabella Antonia Vitoria Thereza Amélia Gerarda Raimunda Anna Micaela Rafaela Gabriela Gonzaga (Boulogne-sur-Seine 4 Mar 1913-Lude 24 Oct 2000); m.Paris 12 Aug 1948 René Cte de Nicolay (Le Lude 17 Jan 1910-Paris 25 Nov 1954)

3c) Antônio Gastão Luís Filipe Francisco de Assis Maria Miguel Rafael Gabriel Gonzaga (Paris 9 Aug 1881-London 29 Nov 1918)
3b) Leopoldina Teresa Francisca Carolina Micaela Gabriela Rafaela Gonzaga (Rio de Janeiro 13 Jul 1847- Vienna 7 Feb 1871); m.Rio de Janeiro 15 Dec 1864 August Pr of Saxe-Coburg-Gotha (Château d'Eu 9 Aug 1845-Karlsbad 14 Sep 1907)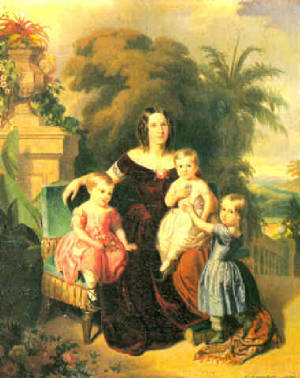 4b) Pedro Afonso Cristiano Leopoldo Eugénio Fernando Vicente Gabriel Rafael Gonzaga, Pr Imperial of Brazil (Rio de Janeiro 19 Jul 1848-Santa Cruz 9 Jan 1850)
8a) Maria Amélia Augusta Eugénia Josefina Luisa Teodelinda Heloisa Francisca Xavier de Paula Micaela Gabriela Rafaela Gonzaga (Paris 14 Dec 1831-Funchal, Madeira 4 Feb 1853)

9a) [illegitimate by Noemy Valency] a son, b.and d.Recife, Brazil 1818, bur Rio de Janeiro

10a) [illegitimate by Joana de Mosqueira] José de Mosqueira, b.1828/30, d.young

11a) [illegitimate by Maria Benedita de Castro (1792-1857)] Rodrigo Delfim Pereira (Rio de Janeiro 4 Nov 1823-Lisbon 31 Jan 1891); m.Rio de Janeiro 7 Jun 1851 Carolina Bregaro (Rio de Janeiro 14 Jan 1836-Lisbon 30 Dec 1915)

1b) Manuel de Castro Pereira (Paris 1 May 1858-Lisbon 15 Feb 1921); m.Lisbon 18 May 1885 Cecilia van Zeller (Lisbon 26 Dec 1867-Lisbon 21 Jan 1959)

1c) Rodrigo (Sintra 22 Jul 1887- )

2c) Manuel (Lisbon 25 Dec 1889-Lisbon 7 Apr 1903)

3c) Eduardo de Castro Pereira (Lisbon 28 Jul 1903- ); m.Obivos 30 Jul 1930 Henriquetta Luz da Gama (b.Lisbon 6 Nov 1903)

4c) João van Zeller de Castro Pereira (Lisbon 23 Mar 1905- ); m.Lisbon 30 Jan 1932 Eugenia d'Orey Correia de Sampajo

1d) Manuel, b.Lisbon 31 Jan 1933; m.Estoril 18 Jun 1958 Jose Chanteu Guedes de Sousa (b.4 Aug 1936)

1e) João, b.Lisbon 30 Jun 1960

2d) Isabel, b.Lisbon 23 Aug 1941

5c) Nuno, b.Lisbon 11 Jan 1907; m.Lisbon 29 May 1933 Isabel do Casal Ribeiro Ulrich (b.Sintra 23 Sep 1912)

1d) Rodrigo, b.Lisbon 29 Mar 1945

2d) José, b.Lisbon 29 Oct 1947

3d) Eduardo, b.Lisbon 23 Jul 1952

4d) Maria, b.Lisbon 17 Apr 1934; m.Lisbon 24 Jul 1955 Miguel de Sttau Monteiro

5d) Madalena, b.Lisbon 31 Jul 1935; m.Lisbon 7 Feb 1957 Fernando de Avilez Pinto Coelho

6d) Isabel, b.Sintra 22 Aug 1939

7d) Luisa, b.Sintra 22 Sep 1941

8d) Teresa, b.Lisbon 3 May 1946

9d) Benedita, b.Lisbon 14 Feb 1950

6c) Isabel (Lisbon 14 Apr 1886-Lisbon 1980); m.Sintra 11 Aug 1915 Guilherme Street de Arriaga e Cunha (b.Carnide 1888)

7c) Teresa (Sintra 28 Sep 1892-Estoril 9 Oct 1945); m.Lisbon 4 Jul 1916 Jose Street de Arriaga e Cunha, Cde de Carnide (d.Lisbon 1961)

8c) Maria do Carmo (Sintra 14 Oct 1893- ); m.Lisbon 12 Apr 1920 Manuel do Casal Ribeiro de Carvalho (d.Lisbon 10 Jul 1958)

9c) Maria Madalena (Lisbon 24 Jan 1896-Lisbon 16 Nov 1959); m.Lisbon 3 Jun 1917 Oscar Guimaraes (b.Manaus, Brazil 1893)

10c) Adelaide (Sintra 11 Aug 1897- ); m.Lisbon 21 May 1922 Henrique de Balsemao

11c) Carlota (Lisbon 4 Mar 1899- ); m.Lisbon 18 Apr 1928 Frederico de Gusmao Correia Arouca

12c) Benedita (Sintra 5 Jul 1909- ); m.Lisbon 14 Dec 1929 José do Casal Ribeiro Ulrich

2b) Carolina (Berlin 16 Aug 1854-Lisbon 5 Dec 1878); m.Lisbon 24 Jan 1876 Pedro Correa Henriquez, Cde de Seisal (d.Lisbon 12 Feb 1890)

3b) Germana (Hamburg 19 Jun 1860-Sintra 5 Dec 1954); m.Lisbon 28 Apr 1884 Pedro Correa Henriquez, Cde de Seisal (d.Lisbon 12 Feb 1890)

12a) [illegitimate by Clemence Saisset] Pedro de Bragança, b.Rio de Janeiro May 1828, d.after 1834)

[illegitimate issue by Domitilla de Castro do Canto e Melo, Marquesa de Santos (1797-1867)]:

13a) Pedro de Bragança (Rio de Janeiro 7 Dec 1825-Rio de Janeiro 27 Dec 1825)

14a) Isabel de Bragança, Duquesa de Goyaz, legitimized 1826 (Rio de Janeiro 23 May 1824-Murnau 13 Aug 1898); m.Munich 17 Apr 1843 Ernst Fischler Gf von Treuberg (d.Holzen 14 May 1867)

15a) Isabel de Bragança, Duquesa de Ceara, b.and legitimized Rio de Janeiro 1827, d.Rio de Janeiro 25 Oct 1828

16a) Isabel de Bragança (São Paulo 28 Feb 1830-São Paulo 13 Sep 1896); m.Rio de Janeiro 1846/8 Pedro Caldeira Brant, Cde de Iguassa (d.Rio de Janeiro 18 Feb 1881)