Thomas Egerton, illegitimate son of Sir Richard Egerton, of Ridley, Cheshire; cr 1603 Lord Ellesmere, cr 1616 Viscount Brackley, Lord Chancellor of England (1540-York House, Whitehall 15 Mar 1617); m.1st before 1576 Elizabeth Ravenscroft (d.1588); m.2nd Elizabeth, Lady Wolley, née More (d.1600); m.3rd 20 Oct 1600 Alice, Dowager Countess of Derby, née Spencer (d.23 Jan 1637)
1a) Sir Thomas (d.in Ireland 23 Aug 1599); m.Elizabeth Venables
1b) Elizabeth; m.John Dutton, of Dutton
2b) Mary (d.1669); m.11 Nov 1610 Thomas Leigh, cr 1643 Lord Leigh of Stoneleigh (1595-22 Feb 1672)
3b) Vere; m.William Booth, of Dunham Massey
2a) John, 2nd Viscount Brackley, cr 1617 Earl of Bridgwater (1579-4 Dec 1649); m.ca 1601 Lady Frances Stanley (May 1583-11 Mar 1636)
1b) James, Viscount Brackley (21 Sep 1616-1620)
2b) Charles, Viscount Brackley (d.1623)
3b) John, 2nd Earl of Bridgwater (Jun 1623-London 26 Oct 1686); m.London 22 Jul 1641 Lady Elizabeth Cavendish (d.London 14 Jun 1663)
1c) John, 3rd Earl of Bridgwater (9 Nov 1646-19 Mar 1701); m.1st 17 Nov 1664 Lady Elizabeth Cranfield (d.3 Mar 1670); m.2nd 2 Apr 1673 Lady Jane Powlett (d.23 May 1716)
1d) John Egerton (11 Jan 1668-31 Mar 1670)
2d) Charles, Viscount Brackley (7 May 1675-burnt to death 11 Apr 1687)
3d) Mary (14 May 1676-11 Apr 1703); m.Feb 1703 William, Lord Byron (4 Jan 1669-8 Aug 1736)
4d) Thomas (15 Aug 1679-burnt to death 11 Apr 1687)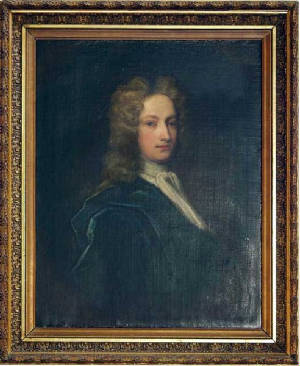 5d) SCROOPE, cr 1720 Duke of Bridgwater and Marquess of Brackley (11 Aug 1681-11 Jan 1745); m.1st 9 Feb 1703 Lady Elizabeth Churchill (d.22 Mar 1714); m.2nd 4 Aug 1722 Lady Rachael Russell (d.22 May 1777)
1e) John, Viscount Brackley (3 Feb 1704-Eton 30 Jan 1719)
2e) [by 1st m.] Anne, d.London 15 Jun 1762; m.1st 22 Apr 1725 Wriothesley Russell, 3rd Duke of Bedford (25 May 1708-23 Oct 1732); m.2nd London 23 Jun 1733 William Villiers, 3rd Earl of Jersey (d.28 Aug 1769)
3e) Louisa (30 Apr 1723-14 Mar 1761); m.28 Mar 1748 Granville Leveson-Gower, Marquess of Stafford (4 Aug 1721-26 Oct 1803); most of the estates of the 3rd Duke were left to her son, Lord Gower, and her younger grandson, Francis, took the surname Egerton, and was cr 1846 Earl of Ellesmere and Viscount Brackley
4e) Caroline (21 May 1724- )
5e) Charles, Marquess of Brackley (27 Jul 1725-2 May 1731)
6e) JOHN, 2nd Duke of Bridgwater (29 Apr 1727-26 Feb 1748)
7e) William (15 Jan 1729-10 Feb 1729)
8e) Thomas (18 Apr 1730-1 May 1730)
9e) Lady Diana (3 Mar 1732-13 Aug 1758); m.9 Mar 1753 Frederick Calvert, 6th Lord Baltimore (6 Feb 1732-4 Sep 1771)
10e) FRANCIS, 3rd Duke of Bridgwater (21 May 1736-8 Mar 1803)
6d) William (5 Nov 1684-1732); m.Anna Maria Saunders
1e) Jane; m.Thomas Revel
2e) Henrietta
3e) Anne; m.Thomas Russell
7d) Henry, Bp of Hereford, d.1 Apr 1746; m.18 Dec 1720 Lady Elizabeth Ariana Bentinck (d.1765)
1e) John, Bp of Durham (30 Jan 1721-18 Jun 1787); m.1st 21 Nov 1748 Lady Anne Sophia Grey (d.24 Mar 1780); m.2nd 31 Mar 1782 Mary Boughton
1f) John William, 7th Earl of Bridgwater (14 Apr 1753-Ashridge Park 21 Oct 1823); m.London 14 Jan 1783 Charlotte Catherine Anne Haynes (20 Nov 1763-Ashridge Park 11 Feb 1849)
2f) Francis Henry, 8th Earl of Bridgwater (11 Nov 1756-Paris 11 Feb 1829)
3f) Amelia (1751-1809); m.Sir Abraham Hume, Bt (d.1838)
2e) William, d.26 Mar 1783; m.1751 Mary Kirke
1f) Ariana Margaret
2f) Elizabeth (1760-1810); m.London 19 Feb 1783 Antoine Charles Benjamin Saladin (1757-1814)
3f) Isabella Frances (12 Dec 1759-Paris 2 Dec 1847); m.18 Mar 1784 Richard Master (1746-Fort Royal, Martinique 26 Oct 1800)
3e) Rev Henry
4e) Charles, d.13 May 1793; m.N Skinner
1f) Anne, d.7 May 1839; m.30 Oct 1798 William Green, of Stanway Hall (8 Oct 1766-11 Aug 1840)
2f) Harriet; m.George Brooks
5e) Francis
6e) Anne
8d) John
9d) Charles (1694-7 Nov 1725); m.Catharine Brooke
1e) Scroop, d.23 Apr 1787; m.Sarah Pope
1f) Scroop, d.young
2f) Doddington, d.12 Sep 1773
3f) Elizabeth; m.M Hayter
2e) Doddington
10d) Elizabeth, d.18 Feb 1738; m.6 May 1718 Thomas Catesby Paget, Lord Paget (1689-4 Feb 1742)
2c) William (15 Aug 1649- ); m.Hon. Honora Leigh
1d) John, d.young
2d) Honora (11 Aug 1685- ); m.Thomas Arden Bagot, of Pipe Hall
3d) Jane
4d) Mary
5d) Elizabeth
3c) Thomas, of Tatton Park (16 Mar 1651-29 Oct 1685); m.Hesther Busby (d.1724)
1d) John, of Tatton Park (12 Feb 1679-1724); m.Elizabeth Barbour (d.1743)
1e) John, of Tatton Park (14 Oct 1710-1738); m.Apr 1735 Christian Ward
2e) Samuel, of Tatton Park (28 Dec 1711-10 Feb 1780); m.Beatrix Copley
1f) Beatrix; m.Daniel Wilson, of Dalham Tower
3e) Hester (1708-9 Jul 1780); m.May 1747 William Tatton, of Wythenshaw (13 Jun 1703-28 Apr 1776); among their issue were:
1f) William Tatton Egerton, of Tatton Park and Wythenshawe (1749-1806); m.1st 1773 Frances Maria Fountayne (d.1777); m.2nd 1780 Mary Bootle (d.1784); m.3rd Anna Maria Armytage; m.4th 1803 Charlotte Clara Payler
1g) Wilbraham Tatton, later Egerton, of Tatton (1 Sep 1781- ); m.11 Jan 1806 Elizabeth Sykes
1h) William Tatton Egerton, Lord Egerton of Tatton (30 Dec 1806-21 Feb 1883); m.18 Dec 1830 Lady Charlotte Elizabeth Loftus (d.11 Sep 1878)
1i) Wilbraham Egerton, Earl Egerton of Tatton (17 Jan 1832-16 Mar 1909); m.1st 15 Oct 1857 Lady Mary Sarah Amherst; m.2nd Lambeth Palace 8 Aug 1894 Alice Anne, Dss of Buckingham and Chandos, née Graham-Montgomery
2d) Thomas (1680- )
3d) Rev William (6 Jul 1682-26 Feb 1737); m.Anne Head (1704-1778)
1e) John, d.Nov 1740
2e) Charlotte (1726-1770); m.1745 William Hammond (1721-1772)
3e) Jemima (1728-1809); m.1747 Edward Brydges, of Wootton Court (1712-1780)
4d) Mainwaring
5d) Elizabeth (15 Jan 1679-15 Mar 1720); m.15 Sep 1698 Rev Peter Leigh (d.15 Mar 1719)
4c) Charles (1654-1717); m.Elizabeth Murray
1d) Charles
5c) Steward (1660- )
6c) Frances, d.young
7c) Elizabeth (24 Aug 1653-1709); m.1672 Robert Sydney, 4th Earl of Leicester (1649-11 Nov 1702)
8c) Catharine, d.young
4b) Thomas, d.young
5b) Frances, d.27 Nov 1664; m.Feb 1621 Sir John Hobart, 2nd Bt (19 Apr 1593-20 Apr 1647)
6b) Arabella, d.1669; m.Oliver St.John, Lord St.John (d.Edgehill 23 Oct 1642)
7b) Elizabeth; m.David Cecil, 3rd Earl of Exeter (d.1654)
8b) Mary, d.1659; m.Richard Herbert, 2nd Lord Herbert of Chirbury (d.13 May 1655)
9b) Cecilia
10b) Alice, d.young
11b) Anne
12b) Penelope, d.1658; m.Sir Robert Napier, 2nd Bt (d.1661)
13b) Catharine; m.Sir William Courteen (d.Florence 1655)
14b) Magdalen, d.24 Sep 1664; m.Sir Gervase Cutler, of Stainborough (b.1592, d.during siege of Pontefract Castle 1645)
15b) Alice, d.1689; m.1652 Edward Vaughan, 2nd Earl of Carbery (d.3 Dec 1687)
3a) Mary; m.Sir Francis Leigh
House of Sackville
Dukes of Dorset
Duke of Dorset was a title in the Peerage of Great Britain. It was created in 1720 for the politician Lionel Sackville, 7th Earl of Dorset. The Sackville family descended from Sir Richard Sackville. His only surviving son, Thomas Sackville, was a statesman, poet and dramatist and notably served as Lord High Treasurer between 1599 and 1608. He was raised to the Peerage of England as Baron Buckhurst, of Buckhurst in the County of Sussex, in 1567, and was made Earl of Dorset in 1604, also in the Peerage of England. The titles descended in the direct line until the death of his grandson, the third Earl, in 1624. The late Earl was succeeded by his younger brother, the fourth Earl. He was Lord Chamberlain between 1642 and 1649. He was succeeded by his son, the fifth Earl. He married Lady Frances, daughter of Lionel Cranfield, 1st Earl of Middlesex. He was succeeded by his eldest son, the sixth Earl. He succeeded to the Cranfield estates on the death of his maternal uncle Lionel Cranfield, 3rd Earl of Middlesex. In 1675, two years before he succeeded his father, he was raised to the Peerage of England in his own right as Baron Cranfield, of Cranfield in the County of Middlesex, and Earl of Middlesex. He was succeeded by his son, the aforementioned seventh Earl, who was made Duke of Dorset in 1720.
The Duke of Dorset was succeeded by his eldest son, the second Duke. The latter was succeeded by his nephew, the third Duke. He was the son of Lord John Sackville, second son of the first Duke. Dorset was He was the British Ambassador to France between 1783 and 1789 in the lead up to the French Revolution. He was succeeded by his only son, the fourth Duke. He died unmarried at an early age in 1815 after a fall from his horse. The titles passed to his cousin, Charles Sackville-Germain, 2nd Viscount Sackville, who became the fifth Duke. He was the son of George Germain, 1st Viscount Sackville, third son of the first Duke (see Viscount Sackville). All the titles became extinct on his death in 1845.
The family seat was Knole House, Kent. On the death of the fourth Duke in 1815 Knole House was inherited by the late Duke's sister, Lady Elizabeth Sackville. She was the wife of George West, 5th Earl De La Warr, who assumed the additional surname of Sackville. In 1865 the barony of Buckhurst held by the Earls and Dukes of Dorset was revived in Elizabeth's favour. In 1876 the Sackville title was also revived when her younger son Mortimer Sackville-West was created Baron Sackville.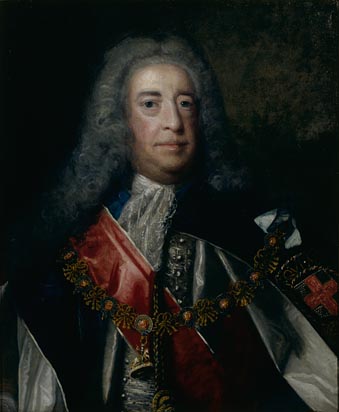 1st Duke of Dorset
Lionel Cranfield Sackville, 1st Duke of Dorset, PC (18 January 1688 - 10 October 1765) was an English political leader and Lord Lieutenant of Ireland. He was the son of the 6th Earl of Dorset and 1st Earl of Middlesex and the former Lady Mary Compton, younger daughter of the 3rd Earl of Northampton. Styled Lord Buckhurst from birth, he succeeded his father as 7th Earl of Dorset and 2nd Earl of Middlesex in 1706, and was created Duke of Dorset in 1720.