Kingdom of Sweden
Konungariket Sverige
Sweden, officially the Kingdom of Sweden is a Nordic country on the Scandinavian Peninsula in Northern Europe. Sweden has land borders with Norway to the west and Finland to the northeast, and it is connected to Denmark by the Öresund Bridge in the south. At 450,295 km², Sweden is the third largest country in the European Union in terms of area, and it has a total population of about 9.2 million. Sweden has a low population density of 21 inhabitants per square kilometre (54 /sq mi), but with a considerably higher density in the southern half of the country.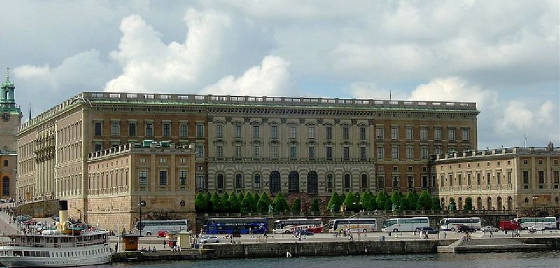 About 85% of the population live in urban areas, and it is expected that these numbers will gradually rise as a part of the ongoing urbanization. Sweden's capital is Stockholm, which is also the largest city in the country (population of 1.3 million in the urban area and with 2 million in the metropolitan area). The second largest city is Gothenburg with 500,000 inhabitants in the urban area and approximately 1 million in the metropolitan area. The third largest city is Malmö.
Sweden is a constitutional monarchy with a parliamentary system of government and a highly developed economy. It ranks first in the world in The Economist's Democracy Index and seventh in the United Nation's Human Development Index. Sweden has been a member of theEuropean Union since 1 January 1995 and is a member of the OECD.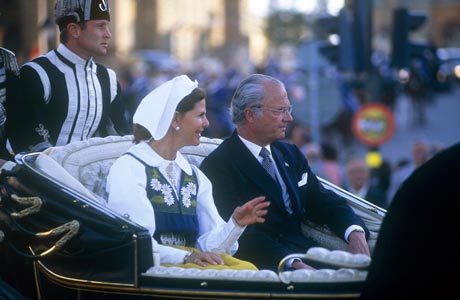 Sweden emerged as an independent and unified country during the Middle Ages. In the 17th century the country expanded its territories to form the Swedish Empire. Most of the conquered territories outside the Scandinavian Peninsula were lost during the 18th and 19th centuries. The eastern half of Sweden, present-day Finland, was lost to Russia in 1809. The last war in which Sweden was directly involved was in 1814, when Sweden by military means forced Norway into a personal union with Sweden, a union which lasted until 1905. Since then, Sweden has been at peace, adopting a non-aligned foreign policy in peacetime and neutrality in wartime.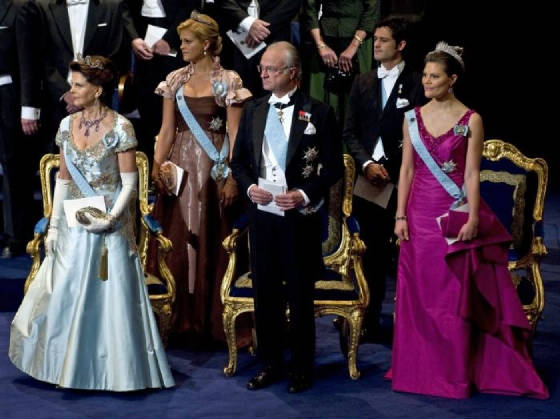 Present Sovereign: Carl XVI Gustaf King of Sweden (Haga Castle, Sweden, April 30th, 1946). Son of Gustaf Adolf Prince of Sweden (1906-1947) and Sibylla Princess of Saxe-Coburg and Gotha (1908-1972). Succeeds his grandfather Gustaf VI Adolf King of Sweden (1882-September 15th, 1973). Inauguration: Dining Room, Royal Palace, Stockholm, Sweden, September 19th, 1973. Motto: För Sverige i tiden (For Sweden- in our time). Religion: Lutherian Evangelic.
Succession: The throne is hereditary in the descendance of Karl XIV Johan Bernadotte, until January 1st, 1980, according to male right of the first-born. After that date Princess Victoria followed her younger brother Carl Philip as heir. A dynast can't marry without permission of the King, who needs to be advised by the ministers. A dynast who doesn't ask for permission looses all rights to the throne, for himself and his descendance. The official residence of the Swedish monarch is the Royal Palace in Stockholm, where most official engagements take place. It is also the office for royals and staff. The royal family however lives in the southern wing of the Drottningholm Palace.
The Royal Family Titles and Styles
The members of this family bear the title Prince or Princess of Sweden together with the formal appellation of His or Her Royal Highness. All dynasts bear a ducal courtesy title.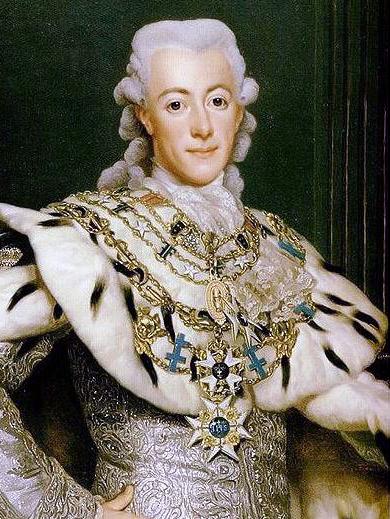 Kings of Sweden 1751 - Present
House of Oldenburg

Name
Portrait
Birth
Marriages
Death
Adolph Frederick (Adolf Fredrik)
25 March 1751 - 12 February 1771
Gottorp, Schleswig, (in today's Germany), 14 May 1710 son of Christian August of Holstein-Gottorp, Prince of Eutin and Albertina Frederica of Baden-Durlach
Louisa Ulrika of Prussia
Stockholm Palace, 12 February 1771, aged 60, buried in Riddarholmen Church
Gustav III
12 February 1771 - 29 March 1792
Stockholm, 24 January [O.S. 13 January] 1746 son of King Adolf Frederick of Sweden and Louisa Ulrika of Prussia
Sophia Magdalena of Denmark
Assassinated (shot in the back when he was on a masked ball at the opera, 16 March 1792). Died in Stockholm Palace, 29 March 1792, aged 46, buried in Riddarholmen Church
Gustav IV Adolph
29 March 1792 - 10 May 1809
with Charles, Duke of Södermanland as regent 1792-1796
Stockholm Palace, 1 November 1778 son of Gustav III and Sophie Magdalena
Frederica of Baden
St. Gallen, Switzerland, 7 February 1837, aged 58, buried in Riddarholmen Church
Charles XIII (Karl XIII)
6 June 1809 - 5 February 1818
Stockholm, 7 October 1748 son of Adolf Frederick of Sweden and Louisa Ulrika of Prussia
Hedwig Elizabeth Charlotte of Holstein-Gottorp
Stockholm, 5 February 1818, aged 69, buried in Riddarholmen Church
House of Bernadotte
Name
Portrait
Birth
Marriages
Death
Charles XIV John (Karl XIV Johan)
5 February 1818 - 8 March 1844
Pau, France, 26 January 1763 son of Jean Henri Bernadotte and Jeanne de Saint-Vincent
Désirée Clary
Stockholm Palace, 8 March 1844, aged 81, buried in Riddarholmen Church
Oscar I
8 March 1844 - 8 July 1859
Paris, France, 4 July 1799, son of Charles XIV John and Désirée Clary
Josephine of Leuchtenberg
Stockholm Palace, 8 July 1859, aged 60, buried in Riddarholmen Church
Charles XV (Karl XV)
8 July 1859 - 18 September 1872
Stockholm Palace, 3 May 1826 son of Oscar I and Josephine of Leuchtenberg
Louise of the Netherlands
Malmö, 18 September 1872, aged 46, buried in Riddarholmen Church
Oscar II
18 September 1872 - 8 December 1907
Stockholm, 21 January 1829 son of Oscar I and Josephine of Leuchtenberg
Sofia of Nassau
Stockholm, 8 December 1907, aged 78, buried in Riddarholmen Church
Gustaf V
8 December 1907 - 29 October 1950
Drottningholm Palace, 16 June 1858 son of Oscar II and Sofia of Nassau
Victoria of Baden
Drottningholm Palace, 29 October 1950, aged 92, buried in Riddarholmen Church
Gustaf VI Adolf
29 October 1950 - 15 September 1973
Stockholm, 11 November 1882 son of Gustav V and Victoria of Baden
Princess Margaret of Connaught
Lady Louise Mountbatten
Helsingborg, 15 September 1973, aged 90, buried at Royal Burial Ground
Carl XVI Gustaf
15 September 1973 - present
Haga Palace, 30 April 1946 son of Prince Gustav Adolf, Duke of Västerbotten and Princess Sibylla of Saxe-Coburg and Gotha
Silvia Sommerlath
The House of Bernadotte
The House of Bernadotte, the current Royal House of the Kingdom of Sweden, has reigned since 1818. Between 1818 and 1905 it was also the Royal House of Norway. Following the Finnish War in 1809, Sweden suffered the traumatic loss of Finland, which had constituted the eastern half of the Swedish realm for centuries. The agony and resentment towards King Gustav IV Adolf precipitated a coup d'état, and Gustav Adolf's uncle, the childless Charles XIII, replaced him. This was merely a temporary solution, and in 1810 the Swedish Riksdag of the Estates elected the Danish Prince Christian August of Augustenborg as heir to the throne. As Swedish crown prince he took the name Charles August (Karl August); however, he died later that same year.
As Napoleon I of France was Emperor of the French, and ruled, directly or indirectly, over much of Continental Europe through a network of client kingdoms headed by his brothers (see Napoleonic Empire), the Swedish parliament saw it practical to elect a king whom Napoleon could accept. On 21 August 1810, the Riksdag elected Jean-Baptiste Bernadotte, Marshal of France, as heir presumptive to the Swedish throne.Bernadotte, born in the town of Pau, in the province of Béarn, France, had risen to the rank of general during the tumultuous years of the French Revolution. In 1798 he married Désirée Clary, who had a sister who was married to Joseph, Napoleon's elder brother. In 1804 Napoleon promoted him to a Marshal of France, a move that he would later regret when Bernadotte disobeyed orders and refused to attack during the Battle of Auerstaedt. He narrowly escaped a court martial because of his familial ties to the Emperor. Before defecting from France he was also granted the title 'Prince of Ponte Corvo', a town in central Italy by the Emperor Napolean.
As the Crown Prince of Sweden he assumed the name Karl Johan (Charles John), acted officially as regent for the remainder of Charles XIII's reign and secured a forced personal union between Sweden and Norway in the 1814 Campaign against Norway. Jean-Baptiste Bernadotte reigned as King Charles XIV of Sweden and Carl III Johan of Norway from 5 February 1818 until his death on 8 March 1844. The House of Bernadotte reigned in both countries until the dissolution of the union between Norway and Sweden in 1905. Prince Carl of Denmark, a grandson of King Charles XV, was then elected as Norway's new king. The coat of arms of the House of Bernadotte combines the coat of arms of the House of Vasa (heraldic left) and the coat of arms of Bernadotte as the Prince of Ponte Corvo (heraldic right). It is visible as an inescutcheon in the Greater Coat of Arms of the Realm of the Kingdom of Sweden.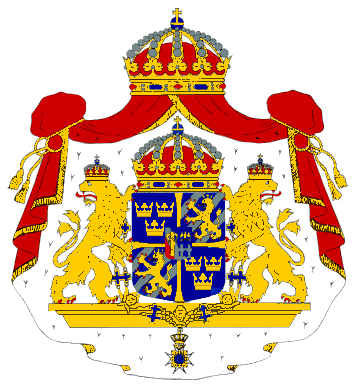 Genealogy of the Royal House of Sweden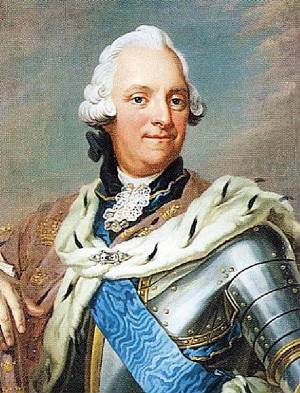 Adolf Friedrich Pr of Holstein-Gottorp (see Oldenburg), succeeded as ADOLF FREDERIK, King of Sweden, 5 Apr 1751 (Gottorp 14 May 1710-Stockholm 12 Apr 1771); m.Drottningholm 29 Aug 1744 Luise Ulrike Pss of Prussia (Berlin 24 Jul 1720-Swartsjö 16 Jul 1782)
1a) GUSTAV III, King of Sweden (Stockholm 24 Jan 1746-assasinated at Stockholm 29 Mar 1792); m.by proxy at Copenhagen 1 Oct 1766 and in person at Stockholm on 4 Nov 1766 Sophie Magdalena Pss of Denmark (Christiansborg 3 Jul 1746-Ulriksdal 21 Aug 1813)


1b) GUSTAF IV Adolf, King of Sweden, deposed 13 Mar 1809, abdicated 29 Mar 1809 (Stockholm 1 Nov 1778-St.Gallen, Switzerland 7 Feb 1837); m.Stockholm 31 Oct 1797 (div 1812) Friederike Pss of Baden (Karlsruhe 12 Mar 1781-Lausanne 25 Sep 1826)
1c) Gustaf, Crown Pr of Sweden, assumed title Pr of Vasa (Stockholm 9 Nov 1799-Pillnitz 4 Aug 1877); m.Karlsruhe 9 Nov 1830 Luise Amalie Pss of Baden (Schwetzingen 5 Jun 1811-Karlsruhe 19 Jul 1854)
1d) Karola Frederikke Franziska Stephanie Amalia Cecilia (Schönbrunn 5 Aug 1833-Dresden 15 Dec 1907); m.Dresden 18 Jun 1853 King Albrecht of Saxony (Dresden 23 Apr 1828-Schloß Sibyllenort 19 Jun 1902)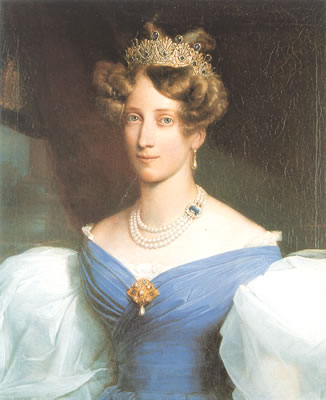 2c) Sophie Wilhelmine (Stockholm 21 May 1801-Karlsruhe 6 Jul 1865); m.Karlsruhe 25 Jul 1819 Leopold I, Grand Duke of Baden (Karlsruhe 29 Aug 1790-Karlsruhe 24 Apr 1852)

3c) Carl Gustaf of Sweden, Duke of Finland (Drottningholm 2 Dec 1802-Haga 10 Sep 1805)

4c) Amelia (Stockholm 22 Feb 1805-Vienna 31 Aug 1853)
5c) Cecilia (Stockholm 22 Jun 1807-Oldenburg 27 Jan 1844); m.Vienna 5 May 1831 August, Grand Duke of Oldenburg (Rastede 13 Jul 1783-Oldenburg 27 Feb 1853)

2b) Carl Gustaf, Duke of Smaland (Drottningholm 25 Aug 1782-Stockholm 23 Mar 1783)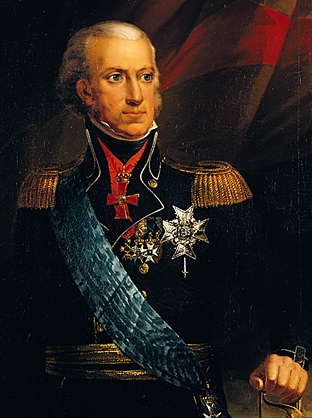 2a) CARL XIII King of Sweden 1809 after his nephew was deposed, King of Norway 4 Nov 1814 (Stockholm 7 Oct 1748-Stockholm 5 Feb 1818); m.Stockholm 7 Jul 1774 Hedwig, Dss of Oldenburg (Eutin 22 Mar 1759-Stockholm 20 Jun 1818)

1b) Carl Adolf of Sweden (Stockholm 4 Jul 1798-Stockholm 10 Jul 1798)
3a) Frederik Adolf, Duke of Ostergotland (Drottningholm 18 Jul 1750-Montpellier 12 Dec 1803)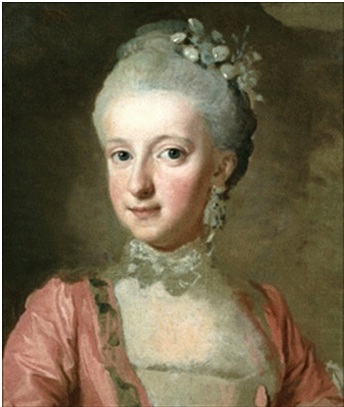 4a) Sophie Albertine, Abbess of Quedlinburg (Stockholm 8 Oct 1753-Stockholm 17 Mar 1829)


The Royal House of Bernadotte


Jean Baptiste Bernadotte, Marshal of the French Imperial Army, Prince of Ponte Corvo 5 Jun 1806 (renounced 1810), was selected as Crown Pr of Sweden 21 Aug 1810, and was adopted by King Carl XIII; he succeeded as CARL XIV JOHAN, King of Sweden and Norway 5 Feb 1818 (Pau 26 Jan 1763-Stockholm 8 Mar 1844); m.Sceaux 17 Aug 1798 Eugénie Bernhardine Désirée Clary (Marseilles 9 Nov 1777-Stockholm 17 Dec 1860)


1a) Joseph François OSCAR I, King of Sweden and Norway (Paris 4 Jul 1799-Stockholm 8 Jul 1859); m.by proxy at Munich 22 May 1823 and in person at Stockholm 19 Jun 1823 Joséphine Dss von Leuchtenberg (Milan 14 Mar 1807-Stockholm 7 Jun 1876)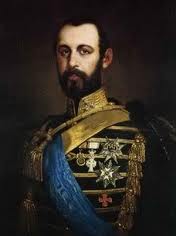 1b) CARL XV Ludvig Eugen, King of Sweden and Norway (Stockholm 3 May 1826-Malmö 18 Sep 1872); m.Stockholm 19 Jun 1850 Luise Pss of the Netherlands (The Hague 5 Aug 1828-Stockholm 30 Mar 1871);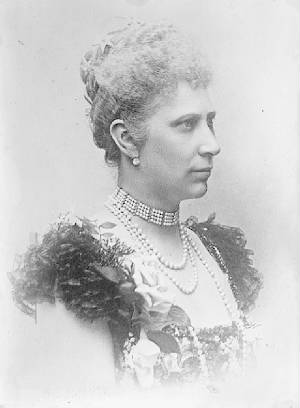 1c) Louise Josephine Eugenie (Stockholm 31 Oct 1851-Amalienborg 20 Mar 1926); m.Stockholm 28 Jul 1869 King Frederik VIII of Denmark (Copenhagen 3 Jun 1843-Hamburg 14 May 1912)
2c) Carl Oscar, Duke of Södermanland (Stockholm 14 Dec 1852-Stockholm 13 Mar 1854)
2b) Gustaf, Duke of Uppland (Stockholm 18 Jun 1827-Kristiania 24 Sep 1852)
3b) OSCAR II Frederik, King of Sweden and Norway, was dethroned 7 Jun 1905 by the Norwegian Parliament and renounced the Norwegian throne 26 Oct 1905 (Stockholm 21 Jan 1829-Stockholm 8 Dec 1907); m.Biebrich 6 Jun 1857 Sophie Pss of Nassau (Biebrich 9 Jul 1836-Stockholm 30 Dec 1913)
1c) Oscar GUSTAF V Adolf, King of Sweden (Drottningholm 16 Jun 1858-Stockholm 29 Oct 1950); m.Karlsruhe 20 Sep 1881 Viktoria Pss of Baden (Karlsruhe 7 Aug 1862-Rome 4 Apr 1930)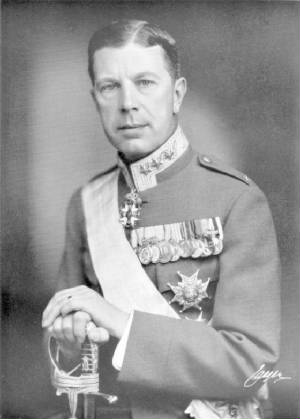 1d) Oscar Fredrik Vilhelm Olaf GUSTAF VI ADOLF, King of Sweden (Stockholm 11 Nov 1882-Helsingborg 15 Sep 1973); m.1st Windsor Castle 15 Jun 1905 Margaret Pss of Great Britain and Ireland, etc (Bagshot Park 15 Jan 1882-Stockholm 1 May 1920); m.2d St.James's Palace 3 Nov 1923 Lady Louise Mountbatten (Heiligenberg 13 Jul 1889-Stockholm 7 Mar 1965)
1e) Gustaf Adolf Oscar Fredrik Arthur Edmund, Duke of Westerbotten (Stockholm 20 Apr 1906-k.in air crash at Kastrup, Denmark 26 Jan 1947); m.Coburg 20 Oct 1932 Sibylle Pss of Saxe-Coburg-Gotha (Schloß Friedenstein 18 Jan 1908-Stockholm 28 Nov 1972)
1f) Margaretha Désirée Victoria (b.Haga 31 Oct 1934); m.Gärdslösa 30 Jun 1964 John Kenneth Ambler (Dorking, Surrey 6 Jun 1924-31 May 2008)
2f) Birgitta Ingeborg Alice (b.Haga 19 Jan 1937); m.(civ) Stockholm 25 May 1961 (rel) Sigmaringen 30 May 1961 Johann Georg Pr von Hohenzollern (b.Sigmaringen 31 Jul 1932)
3f) Désirée Elisabeth Sibylla (b.Haga 2 Jun 1938); m.Stockholm 5 Jun 1964 Baron Nils August Silfverschiold (b.Koberg, Sweden 31 May 1934)
4f) Christina Louise Helena (b.Haga 3 Aug 1943); m.Stockholm 15 Jun 1974 Tord Magnuson (b.Stockholm 7 Apr 1941)
5f) CARL XVI GUSTAF Folke Hubertus, King of Sweden (b.Haga 30 Apr 1946); m.Stockholm 19 Jun 1976 Silvia Renate Sommerlath (b.Heidelberg 23 Dec 1943)
1g) Victoria Ingrid Alice Désirée, Crown Pss of Sweden, Dss of Västergötland (b.Stockholm 14 Jul 1977); m.Stockholm 19 Jun 2010 Olof Daniel Westling (b.Örebro 15 Sep 1973)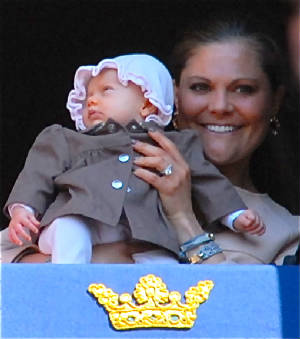 1h) Princess Estelle of Sweden, Duchess of Östergötland (Estelle Silvia Ewa Mary; born 23 February 2012) is the first child of Crown Princess Victoria and Prince Daniel, Duke of Västergötland.
2g) Carl Philipp Edmund Bertil, Duke of Värmland (b.Stockholm 13 May 1979)
3g) Madeleine Thérèse Amelie Josephine, Dss of Hälsingland and Gästrikland (b.Drottningholm 10 Jun 1982)
2e) Sigvard Oscar Fredrik, Duke of Uppland, renounced his titles and was cr Count af Wisborg 2 Jul 1951 (Drottningholm 7 Jun 1907-Stockholm 4 Feb 2002); m.London 1st 8 Mar 1934 (div 1943) Erica Patzek (Wilmersdorf 12 Jul 1911-Berlin 30 Jul 2007); m.2d Copenhagen 26 Oct 1943 (div 1961) Sonia de Robbert (Copenhagen 12 Oct 1909-21 May 2004); m.3d Stockholm 30 Jul 1961 Marianne Lindberg (b.Helsingborg 25 Jul 1924)

1f) Michael Sigvard, Ct Bernadotte af Wisborg (b.Copenhagen 21 Aug 1944); m.Stuttgart 6 Feb 1976 Christine Vellhöjer (b.Stuttgart 26 Apr 1947)

1g) Kajsa Michaela Sophia, Css Bernadotte af Wisborg (b.Stuttgart 12 Oct 1980)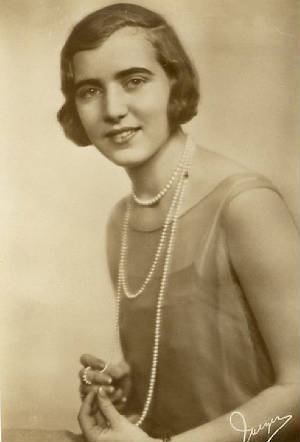 3e) Ingrid Victoria Sofia Louise Margareta (Stockholm 28 Mar 1910-Fredensborg 7 Nov 2000); m.Stockholm 24 May 1935 King Frederik IX of Denmark (Sorgenfri 11 Mar 1899-Copenhagen 14 Jan 1972)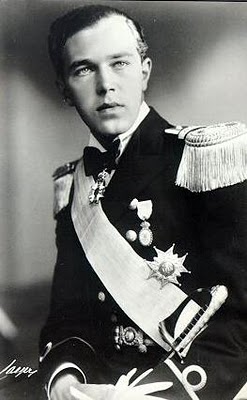 4e) Bertil Gustaf Oscar Carl Eugen, Duke of Halland (Stockholm 28 Feb 1912-Stockholm 5 Jan 1997); m.Drottningholm 7 Dec 1976 Lilian Davies (b.Swansea 30 Aug 1915)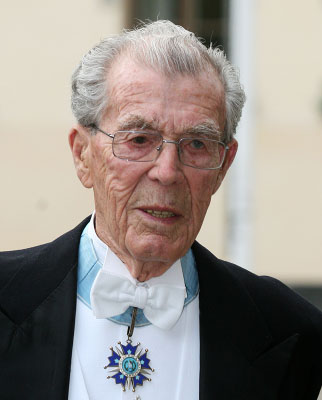 5e) Carl Johan Arthur, Duke of Dalecarlie, renounced his titles and was cr Count af Wisborg 2 Jul 1951 (b.Stockholm 31 Oct 1916); m.1st New York City 19 Feb 1946 Kerstin Wijkmark (Stockholm 4 Oct 1910-Kungsberga 11 Sep 1987); m.2d Copenhagen 29 Sep 1988 Css Gunilla Wachtmeister af Johannishus (b.Ag Lund 12 May 1923)
2d) Carl Vilhelm Ludvig, Duke of Södermanland (Tullgarn, Sweden 17 Jun 1884-Stockholm 5 Jun 1965); m.Tsarskoe Selo 3 May 1908 (div 1914) Marie, Grand Dss of Russia (St.Petersburg 18 Apr 1890-Konstanz 13 Dec 1958)
1e) Gustaf Lennart Nicolaus Paul, renounced his rights and was cr Ct af Wisborg 2 Jul 1951 (Stockholm 8 May 1909-Schloß Mainau 21 Dec 2004); m.1st London 11 Mar 1932 (div 1972) Karin Nissvandt (Stockholm 7 Jul 1911-Konstanz 9 Sep 1991); m.2d Mainau 29 Apr 1972 Sonja Haunz (7 May 1944-Mainau 21 Oct 2008)

1f) Birgitta, Css Bernadotte af Wisborg (b.Stockholm 3 May 1933); m.Mainau 11 Jun 1955 Friedrich Otto Straehl (Konstanz 20 Nov 1922-Kreuzlingen 13 Sep 2011)

2f) Maria Lovisa, Css Bernadotte af Wisborg (Stockholm 6 Nov 1935-Konstanz 24 May 1988); m.Mainau 11 Sep 1956 Rudolf Adolf Kautz (Engen 24 Aug 1930-Longboat Key, Florida 18 Oct 2007)

3f) Carl Johan (Jan) Gustaf Vilhelm, Ct Bernadotte af Wisborg (b.Stockholm 9 Jan 1941); m.1st Toro, Sweden 3 May 1965 (div 1967) Gunilla Stampe (Toro 3 Sep 1941-Savigny 22 May 2010); m.2d Mainau 26 Jun 1967 (div 1970) Anna Skarne (b.Stockholm 1 Apr 1944); m.3d Konstanz 23 Jun 1972 (div 1974) Annegret Thomssen (b.Bremen 15 Nov 1938); m.4th Diepolz 6 Sep 1974 (div 1987) Maritta Berg (Diepolz 7 Dec 1953-Waldenbruch 30 Sep 2001); m.5th London 15 Mar 1993 (div 2004) Mrs Gabrielle Kick, née Hess (b.Weimar 29 Jun 1949); m.6th Forbach 11 Sep 2004 Christiane Grandmontagne (b.Rabat 17 Mar 1944)

1g) Sophia Magdalena, Css Bernadotte af Wisborg (b.Stockholm 3 May 1968); she has three children with Michael Söderström (b.Järfallä 2 Apr 1965)

2g) Cia-Rosemarie, Css Bernadotte af Wisborg (b.Konstanz 30 Sep 1972); m.Konstanz 9 Jun 2006 Sven Roderburg (b.Hoyerswerda 2 Feb 1972)

3g) Alexander Wilhelm, Ct Bernadotte af Wisborg (b.Konstanz 25 Mar 1977); m.Stetten 15 May 2003 (rel) Mainau 20 Sep 2003 Carina Beate König (b.Würzburg 5 Dec 1981)

1h) Désirée Maritta Css Bernadotte af Wisborg (b.Sigmaringen 4 Nov 2006)

2h) Amélie Anastasia Css Bernadotte af Wisborg (b.2010)

4g) Stephan, Ct Bernadotte af Wisborg (b.Konstanz 4 Nov 1980)

4f) Karin Cecilie, Css Bernadotte af Wisborg (b.Stockholm 9 Apr 1944); m.Mainau 31 Mar 1967 (div 1974) Hans Jörg Baenkler (b.Konstanz 24 Sep 1939)

5f) Bettina, Css Bernadotte af Wisborg (b.Scherzingen 12 Mar 1974); m.Mariefred nr Schloß Gripsholm, Sweden 2 Aug 2004 (rel) Mainau 29 Oct 2004 Philipp Haug (b.Lindau 22 Oct 1972)

6f) Bjorn Wilhelm, Ct Bernadotte af Wisborg (b.Scherzingen, Switzerland 13 Jun 1975); m.Mainau 25 Apr 2009 (rel) Mainau 7 May 2009 Sandra Angerer (b.St.Gallen 12 Mar 1977)

7f) Catherine, Css Bernadotte af Wisborg (b.Scherzingen 11 Apr 1977); m.Mainau 30 Jun 2007 (el) 7 Jul 2007 Romuald Ruffing (b.Saarbrücken-Oberbexbach 8 Aug 1966)

8f) Christian Wolfgang, Ct Bernadotte af Wisborg (b.Scherzingen 24 May 1979); m.22 May 2010 Christine Stoltmann (b.Duderstedt 7 Nov 1977)

1g) Maximilian Benedikt Ct Bernadotte af Wisborg (b.10 Aug 2010)

9f) Diana, Css Bernadotte af Wisborg (b.Mainau 18 Apr 1982); m.Mainau 27 Sep 2003 (sep 2007) Bernd Grawe (b.Konstanz 12 Mar 1966)
3d) Erik Gustaf Ludvig Albert, Duke of Västmanland (Stockholm 20 Apr 1889-Drottningholm 20 Sep 1918)

2c) Oscar Carl August, Duke of Gotland, renounced his rights and was granted the title Pr Bernadotte, and was cr Ct af Wisborg 2 Apr 1892 (Drottningholm 15 Nov 1859-Stockholm 4 Oct 1953); m.Bournemouth 15 Mar 1888 Ebba Henrietta Munck af Fulkila (Jönköping 15 Mar 1858-Stockholm 16 Oct 1946)

1d) Maria Sophia Henrietta, Css Bernadotte af Wisborg (b.Karlscrona 28 Feb 1889-Stockholm 19 Jun 1974)

2d) Carl Oscar, Ct Bernadotte af Wisborg (Karlscrona 27 May 1890-Malmö 23 Apr 1977); m.1st Stockholm 15 Mar 1915 (div 1935) Bss Marianne de Geer af Leufsta (Frötuna, Uppsala 6 Oct 1893-31 Aug 1978); m.2d Grüdinge 20 Apr 1937 Gerty Börjesson (Södertälje 30 Oct 1910-Jönköping 10 Nov 2004)

1e) Dagmar Ebba Märtha Marianne, Css Bernadotte af Wisborg (b.Stockholm 10 Apr 1916); m.Frötuna 16 Oct 1936 Nils Magnus von Arbin (Störkinge 17 Aug 1910-Tangestad 4 Mar 1985)

2e) Nils Carl Oscar, Ct Bernadotte af Wisborg (Stockholm 9 Feb 1918-Stockholm 21 Apr 1920)

3e) Oscar Carl Emanuel, Ct Bernadotte af Wisborg (b.Stockholm 12 Jul 1921); m.1st Bjornstorp 18 Mar 1944 (div 1950) Bss Ebba-Anna Gyllenkrok (b.Stockholm 26 Jul 1918); m.2d New York 18 Oct 1950 Gertrud Ollen (Stockholm 10 May 1916-Frötuna 18 Feb 1999)

1f) Ebba Marianne Charlotte, Css Bernadotte af Wisborg (b.Stockholm 2 Mar 1945); m.1st Rasbo, Uppsala 14 Mar 1970 (div 2002) Pontus Reuterswärd (b.Kristinstad 28 May 1943); m.2d Bergsjöholm 23 Jun 2005 Lars Ahlström (b.Solna 13 Apr 1943)

2f) Kristina, Css Bernadotte af Wisborg (b.Stockholm 21 Dec 1951); m.1st Rasbo 18 Jun 1977 (div) Baron Peder Langenskiöld (b.13 Mar 1950); m.Paris 31 Mar 1982 Lars Hedström (b.Göteborg 21 Aug 1947)

3f) Birgitta, Css Bernadotte af Wisborg (b.Witullsberg 21 Dec 1953); m.1st Rasbo 31 May 1980 (div 1990) Richard van Helleputte (b.Montreuil-sous-Bois 5 Feb 1955)[?; m.2d 1992 Gunnar Sundquist (b.1951)]

4f) Carl Ludvig, Ct Bernadotte af Wisborg (b.Witullsberg 1 Jun 1955); m.Stockholm 23 May 1981 Charlotte Urban (b.Stockholm 24 Dec 1954)

1g) Josephine Eva, Css Bernadotte af Wisborg (b.Stockholm 5 Jan 1984)

2g) Fredrika Jessica, Css Bernadotte af Wisborg (b.Stockholm 8 Aug 1985)

3g) Elsa Marianne, Css Bernadotte af Wisborg (b.Stockholm 22 Nov 1988)

4e) Märtha Elsa Catharina, Css Bernadotte af Wisborg (b.Stockholm 14 Apr 1926); m.Osmo 1948 (div 1968) Tore Henrik Nilert (Stockholm 9 Feb 1915-21 Oct 1997)

5e) Claes Oscar Carl, Css Bernadotte af Wisborg (b.Frötuna 17 Jul 1942); m.Lund 22 Nov 1969 Birgitta Magnusson (b.30 May 1943)

1f) Carl Johan Edward, Ct Bernadotte af Wisborg (b.Stockholm 7 Dec 1970); m.Strängnäs 9 Jun 2001 Anna Erika Sofia Olsson (b.Uppsala 10 Jan 1971)

1g) Carl Wilhelm Olof Ct Bernadotte af Wisborg (b.Stockholm 26 Apr 2002)

2g) Wilhelm Truls Olof Ct Bernadotte af Wisborg (b.Eskilstuna 14 Aug 2004)

3g) Sophia Isa Louise Css Bernadotte af Wisborg (b.6 May 2006)

2f) Lovisa Maria Ingrid, Css Bernadotte af Wisborg (b.Viresjo 29 Nov 1973); m.Almesåkra kyrka, Småland 14 Aug 2004 Heinz Assmann (b.Vienna 21 May 1962)

3d) Ebba Sophia, Css Bernadotte af Wisborg (Karlscrona 17 May 1892-Stockholm 21 Jun 1936); m.Stockholm 14 May 1918 Baron Carl Fleetwood (Göteborg 19 Sep 1885-Strängnäs 19 Jan 1966)

4d) Elsa Victoria, Css Bernadotte af Wisborg (Stockholm 3 Aug 1893-Stockholm 17 Jul 1996); m.Grödinge 18 Sep 1929 Carl Axel Cedergren (Gaevle 26 Jul 1891-Stockholm 10 Jul 1971)

5d) Folke, Ct Bernadotte af Wisborg (Stockholm 2 Jan 1895-assassinated at Jerusalem 17 Sep 1948); m. New York City 1 Dec 1928 Estelle Manville (Pleasantville, New York 26 Sep 1904-Stockholm 28 May 1984)

1e) Gustaf Eduard, Ct Bernadotte af Wisborg (Stockholm 20 Jan 1930-Stockholm 2 Feb 1936)

2e) Folke, Ct Bernadotte af Wisborg (b.Pleasantville, New York 8 Feb 1931); m.Grangärde 2 Jul 1955 Christine Glahns (b.Orebro 9 Jan 1932)

1f) Anne Christine, Css Bernadotte af Wisborg (b.Uppsala 22 Nov 1956); m.Stockholm 26 May 1989 Per Larsen (b.19 Jun 1953)

2f) Carl Folke, Ct Bernadotte af Wisborg (b.Uppsala 2 Dec 1958); m.Uppsala 12 Aug 2000 Birgitta Elisabeth Larsson (b.Böras 23 Feb 1959)

1g) Carl Folke Ct Bernadotte af Wisborg, b.Uppsala 22 Mar 1998

2g) William Erik Ct Bernadotte af Wisborg, b.Uppsala 4 Feb 2002

3f) Maria Estelle, Css Bernadotte af Wisborg (b.Uppsala 27 Apr 1962); m.Uppsala 14 May 1983 Umberto Ganfini (b.Siena 11 Nov 1955)

4f) Gunnar Fredrik, Ct Bernadotte af Wisborg (b.Uppsala 24 Nov 1963); m.Uppsala 2 Jun 1990 Karin Lindsten (b.Uppsala 15 May1963)

1g) Folke (Ockie) Klas Vilhem Ct Bernadotte af Wisborg (b.Uppsala 5 Aug 1996)

2g) Astrid Ruth Estelle, Css Bernadotte af Wisborg (b.Uppsala 10 Feb 1999)

3e) Fredrik Oscar, Ct Bernadotte af Wisborg (Stockholm 10 Jan 1934-Stockholm 30 Aug 1944)

4e) Bertil Oscar, Ct Bernadotte af Wisborg (b.Stockholm 6 Oct 1935); m.1st Copenhagen 28 Sep 1966 Rose-Marie Heering (Copenhagen 7 Jun 1942-Stockholm 1 Nov 1967); m.2d London 27 May 1981 Jill Georgina Rhodes-Maddox (b.2 May 1947)

1f) Oscar Alexander, Ct Bernadotte af Wisborg (b.London 1 Mar 1982)

2f) Edward Gustav, Ct Bernadotte af Wisborg (b.London 18 Apr 1983); m.29 May 2011 Nathalie Frediani

3f) Astrid Desirée Estelle, Css Bernadotte af Wisborg (b.London 9 Feb 1987)

3c) Oscar Carl Vilhelm (Stockholm 27 Feb 1861-Stockholm 24 Oct 1951); m.Copenhagen 27 Aug 1897 Ingeborg Pss of Denmark (Charlottenlund 2 Aug 1878-Stockholm 11 Mar 1958)

1d) Margaretha Sophia Louisa Ingeborg (Stockholm 25 Jun 1899-Gentofte 3 Jan 1977); m.Stockholm 22 May 1919 Axel Pr of Denmark (Copenhagen 12 Aug 1888-Copenhagen 14 Jul 1964)
2d) Märtha Sophia Louisa Dagmar Thyra (Stockholm 28 Mar 1901-Oslo 5 Apr 1954); m.Oslo 21 Mar 1929 King Olav V of Norway (Appleton House 2 Jul 1903-Oslo 17 Jan 1991)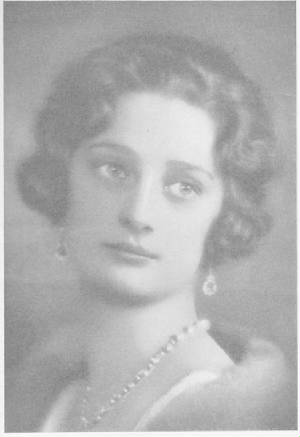 3d) Astrid Sophie Louisa Thyra (Stockholm 17 Nov 1905-k.in car wreck Küssnacht, Switzerland 29 Aug 1935); m.Brussels 10 Nov 1926 King Leopold III of the Belgians (Brussels 3 Nov 1901-Woluwe-St.Lambert 25 Sep 1983)
4d) Carl Gustaf Oscar Fredrik Christian, Duke of Östergötland, renounced his rights and was granted the title Pr Bernadotte by the King of the Belgians 6 Jul 1937 (Stockholm 10 Jan 1911-Malaga, Spain 27 Jun 2003); m.1st Kvillinge 6 Jul 1937 (div 1951) Css Elsa von Rosen (Stockholm 7 Feb 1904-Stockholm 15 Apr 1991); m.2d Danderyd 1 Nov 1954 (div 1961) Ann Margareta Larsson (Danderyd 22 Mar 1921-1975); m.3d Rabat 8 Jun 1978 Kristine Rivelsrud (b.Eidsfoss, Norway 22 Apr 1932)

1e) Madeleine Ingeborg Ella Astrid Elsa, Css Bernadotte (b.Stockholm 8 Oct 1938); m.Stockholm 6 Oct 1962 (div 1980) Charles Albert Ullens de Schooten Whettnall, cr 1962 Comte Ullens de Schooten Whettnall (primog) (Cairo 11 Nov 1927-Leuven 10 May 2006); m.2d Corfu 21 Nov 1981 Nicos Kogevinas (Corfu 6 Sep 1918-Geneva 4 Dec 2006)

4c) Eugen Napoleon Nicolaus, Duke of Nerike (Drottningholm 1 Aug 1865-Drottningholm 17 Aug 1947)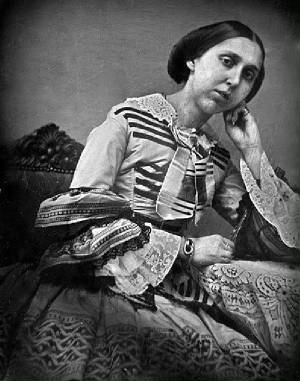 4b) Charlotte Eugenie Auguste Amalia Albertine (Stockholm 24 Apr 1830-Stockholm 23 Apr 1889)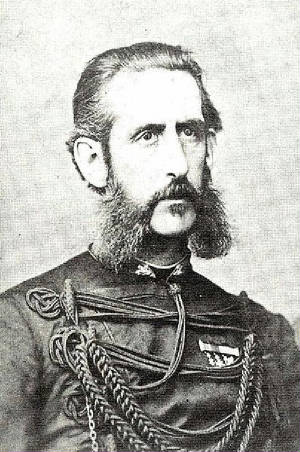 5b) Carl Nikolaus August, Duke of Dalecarlia (Drottningholm 24 Aug 1831-Stockholm 4 Mar 1873); m.Altenburg 16 Apr 1864 Therese Pss of Saxe-Altenburg (Ansbach 21 Dec 1836-Stockholm 9 Nov 1914)