Kingdom of Bhutan
Bhutan, officially the Kingdom of Bhutan, is a landlocked state in South Asia, located at the eastern end of the Himalayas and bordered to the south, east and west by the Republic of India and to the north by the People's Republic of China. Bhutan is separated from the nearby country of Nepal to the west by the Indian state of Sikkim, and from Bangladesh to the south by the Indian states of Assam and West Bengal. Bhutan existed as a patchwork of minor warring fiefdoms until the early 17th century, when the area was unified by Shabdrung Ngawang Namgyal, who fled religious persecution in Tibet and cultivated a separate Bhutanese identity. In the early 20th century, Bhutan came into contact with the British Empire, after which Bhutan continued strong bilateral relations with India upon its independence. In 2006, Business Week magazine rated Bhutan the happiest country in Asia and the eighth-happiest in the world, based on a global survey.
Bhutan's landscape ranges from subtropical plains in the south to the sub-alpine Himalayan heights in the north, with some peaks exceeding 7,000 metres (23,000 ft). The state religion is Vajrayana Buddhism, and the population of 691,141 is predominantly Buddhist, with Hinduism the second-largest religion. The capital and largest city is Thimphu. In 2007, Bhutan made the transition from absolute monarchy to constitutional monarchy, holding its first general election. Bhutan is a member of the United Nations and the South Asian Association for Regional Cooperation (SAARC); it hosted the sixteenth SAARC summit in April 2010. The total area of the country has been reported as 38,394 square kilometres (14,824 sq mi) since 2002. The area had previously been reported as approximately 46,500 km2 (18,000 sq mi) in 1997.
The List of the Rulers of Bhutan
Bhutan was founded and unified as a country by Shabdrung Ngawang Namgyal in the mid-17th century. After his death in 1651, Bhutan nominally followed his recommended "dual system of government." Under the dual system, government control was split between a civil administrative leader, the Druk Desi (Dzongkha: འབྲུག་སྡེ་སྲིད་; Wylie: 'brug sde-srid; also called "Deb Raja"); and a religious leader, the Je Khenpo (Dzongkha: རྗེ་མཁན་པོ་; Wylie: rje mkhan-po). Both the Druk Desi and Je Khenpo were under the nominal authority of the Shabdrung (Dzongkha: ཞབས་དྲུང།; Wylie: zhabs-drung), a reincarnation of Ngawang Namgyal. In practice however, the Shabdrung was often a child under the control of the Druk Desi, and regional penlops (governors) often administered their districts in defiance of the power of the Druk Desis until the rise of the unified Wangchuck monarchy in 1907
List of the Kings of Bhutan - 1907-present
The Bhutanese monarchy was established in 1907, unifying the country under the control of the Wangchuk family, hereditary penlops (governors) of Trongsa district. The king of Bhutan, formally known as the Druk Gyalpo ("Dragon King"), also occupies the office of Druk Desi under the dual system of government. Since the enactment of the Constitution of 2008, the Druk Gyalpo has remained head of state, while the Prime Minister of Bhutan acts as executive and head of government in a parliamentary democracy.
#
Name
Portrait
Birth and death
Reign started
Reign ended
Marriages
Succession right
1
Ugyen
1862
-
21 August 1926
17 December 1907
21 August 1926
Tsendue Lhamo
[3 children]
2
Jigme
1905
-
24 March 1952
21 August 1926
(16 March 1927)
24 March 1952
(1) Phuntsho Choden
(2) Pema Dechen
Son of
Ugyen
3
Jigme Dorji
2 May 1928
-
21 July 1972
24 March 1952
21 July 1972
Queen Kesang Choden
[5 children]
Son of
Jigme
4
Jigme Singye
11 November 1955
21 July 1972
(2 June 1974)
14 December 2006
(abdicated)
(1) Dorji Wangmo
[2 children]
(2) Tshering Pem
[3 children]
(3) Tshering Yangdön
[3 children]
(4) Sangay Choden
[2 children]
Son of
Jigme Dorji
5
Jigme Khesar Namgyel
21 February 1980
14 December 2006
(6 November 2008)
Present
Jetsun Pema
13 October 2011
Son of
Jigme Singye
The Druk Desis of Bhutan - 1650-1905
Below appears the list of Druk Desis throughout the existence of the office. Officeholders were initially appointed by Shabdrung Ngawang Namgyal, though after his death the Je Khenpo and civil government decided appointments. Italics indicate coregencies and caretaker governments, which are not traditionally separately numbered.


Number
Name
Date of Birth
Reign start
Reign end
Date of Death
1
Tenzin Drukgye
(བསྟན་འཛིན་འབྲུག་རྒྱས་; bstan-'dzin 'brg-rgyas)
1650
1655
1655
2
Langonpa Tenzin Drukdra
(ལ་སྔོན་པ་བསྟན་འཛིན་འབྲུག་; la-sngon-pa bstan-'dzin 'brug-grags)
1655
1667
1667
3
Chhogyel Minjur Tenpa
1667
1680
1691
4
Gyalsay Tenzin Rabgye
1638
1680
1694
1696
5
Gedun Chomphel
1695
1701
1701
6
Ngawang Tshering
1701
1704
7
Umze Peljor
1704
1707
8
Druk Rabgye
1707
1719
1729
9
Ngawang Gyamtsho
1719
1729
1729
10
Mipham Wangpo
1729
1736
11
Khuwo Peljor
1736
1739
12
Ngawang Gyaltshen
1739
1744
13
Sherab Wangchuck
1744
1763
14
Druk Phuntsho
1763
1765
15
Wangzob Druk Tenzin I
1765
1768
16
Sonam Lhundub[3][table 1]
1768
1773
1773
17
Kunga Rinchen
1773
1776
18
Jigme Singye
1742
1776
1788
1789
19
Druk Tenzin
1788
1792
20
Umzey Chapchhab
1792
1792
1792
21
Chhogyel Sonam Gyaltshen (Tashi Namgyel)
1792
1799
22
Druk Namgyel
1799
1803
23
Chhogyel Sonam Gyaltshen (Tashi Namgyel)
(2nd reign)
1803
1805
24
Sangye Tenzin
1805
1806
25
Umzey Parob
1806
1808
26
Byop Chhyoda
1807
1808
27
Tulku Tsulthrim Daba
1790
1809
1810
1820
28
Zhabdrung Thutul (Jigme Dragpa)
1810
1811
29
Chholay Yeshey Gyaltshen
1781
1811
1815
1830
30
Tshaphu Dorji Namgyel
1815
1815
31
Sonam Drugyel
1815
1819
32
Gongzim Tenzin Drukda
1819
1823
33
Chhoki Gyaltshen
1823
1831
34
Dorji Namgyel
1831
1832
35
Adab Thinley
1832
1835
36
Chhoki Gyaltshen
(2nd reign)
1835
1838
37
Dorji Norbu
1838
1850
38
Wangchuk Gyalpo
1850
1850
39
Zhabdrung Thutul (Jigme Norbu)
(in Thimphu)
1850
1852
Chagpa Sangye
(in Punakha)
1851
1852
40
Damchho Lhundrup
1852
1854
41
Jamtul Jamyang Tenzin
1854
1856
42
Kunga Palden
(in Punakha)
1856
1860
Sherab Tharchin
(in Thimphu)
1856
1860
43
Phuntsho Namgyel (Nazi Pasang)
1860
1863
44
Tshewang Sithub
1863
1864
Tsulthrim Yonten
1864
1864
45
Kagyud Wangchuk
1864
1864
46
Tshewang Sithub
(2nd reign)
1865
1867
47
Tsondul Pekar
1867
1870
48
Jigme Namgyel
1825
1870
1873
1881
49
Kitshab Dorji Namgyel
1873
1879
Jigme Namgyel
(2nd reign)
1877
1878
Kitsep Dorji Namgyel
(2nd reign)
1878
1879
50
Chhogyel Zangpo
March 1879
June 1880
1880
Jigme Namgyel
(3rd reign)
June 1880
July 1881
51
Lam Tshewang
1836
July 1881
May 1883
1883
52
Gawa Zangpo
May 1883
August 1885
53
Sangye Dorji
1885
1901
1901
54
Choley Yeshe Ngodub
1851
1903
1905
1917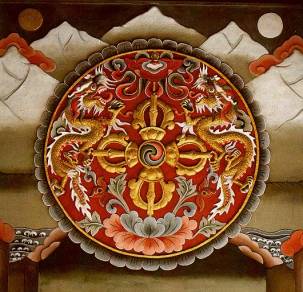 The Royal House of Wangchuck
The House of Wangchuck (Tibetan: དབང་ཕྱུག་རྒྱལ་བརྒྱུད་, Wylie: Dbang-phyug Rgyal-brgyud) has ruled Bhutan since it was reunified in 1907. Prior to reunification, the Wangchuck family had governed the district of Trongsa as descendants of Dungkar Choji. They eventually overpowered other regional lords and earned the favour of the British Empire. After consolidating power, Penlop of Trongsa Sir Ugyen Wangchuck was elected hereditary King of Bhutan, or Druk Gyalpo ("Dragon King"), thus founding the royal house. The Wangchuck dynasty centralized government power in Bhutan and established relations with the British Empire and India under its first two monarchs. The third, fourth, and fifth (current) monarchs have put the kingdom on its path toward democratization, decentralization, and development.
There have been five Wangchuck kings of Bhutan, namely:
Ugyen Wangchuck (b.1861-d.1926) "First King"; reigned 17 December 1907 - 21 August 1926.
Jigme Wangchuck (b.1902/1906-d.1952) "Second King"; r. 21 August 1926 - 24 March 1952.
Jigme Dorji Wangchuck (b.1929-d.1972) "Third King"; r. 24 March 1952 - 24 July 1972.
Jigme Singye Wangchuck (b.1955) "Fourth King"; r. 24 July 1972 - 15 December 2006.
Jigme Khesar Namgyel Wangchuck (b.1980) "Fifth King"; r. 14 December 2006 - present.
The ascendency of the House of Wangchuck is deeply rooted in the historical politics of Bhutan. Between 1616 and 1907, varying administrative, religious, and regional powers vied for control within Bhutan. During this period, factions were influenced and supported by Tibet and the British Empire. Ultimately, the hereditary Penlop of Trongsa, Ugyen Wangchuck, was elected the first Druk Gyalpo by an assembly of his subjects in 1907, marking the ascendency of the House of Wangchuck.
Origins
Under Bhutan's early theocratic dual system of government, decreasingly effective central government control resulted in the de facto disintegration of the office of Shabdrung after the death of Shabdrung Ngawang Namgyal in 1651. Under this system, the Shabdrung reigned over the temporal Druk Desi and religious Je Khenpo. Two successor Shabdrungs - the son (1651) and stepbrother (1680) of Ngawang Namgyal - were effectively controlled by the Druk Desi and Je Khenpo until power was further splintered through the innovation of multiple Shabdrung incarnations, reflecting speech, mind, and body. Increasingly secular regional lords (penlops and dzongpons) competed for power amid a backdrop of civil war over the Shabdrung and invasions from Tibet, and the Mongol Empire. The penlops of Trongsa and Paro, and the dzongpons of Punakha, Thimphu, and Wangdue Phodrang were particularly notable figures in the competition for regional dominance.
Chogyal Minjur Tenpa (1613-1680; r. 1667-1680) was the first Penlop of Trongsa (Tongsab), appointed by Shabdrung Ngawang Namgyal. He was born Damchho Lhundrub in Min-Chhud, Tibet, and led a monastic life from childhood. Before his appointment as Tongsab, he held the appointed post of Umzey (Chant Master). A trusted follower of the Shabdrung, Minjur Tenpa was sent to subdue kings of Bumthang, Lhuntse, Trashigang, Zhemgang, and other lords from Trongsa Dzong. After doing so, the Tongsab divided his control in the east among eight regions (Shachho Khorlo Tsegay), overseen by Dungpas and Kutshabs (civil servants). He went on to build Jakar, Lhuentse, Trashigang, and Zhemgang Dzongs. :106 Within this political landscape, the Wangchuck family originated in the Bumthang region of central Bhutan. The family belongs to the Nyö clan, and is descended from Pema Lingpa, a Bhutanese Nyingmapa saint. The Nyö clan emerged as a local aristocracy, supplanting many older aristocratic families of Tibetan origin that sided with Tibet during invasions of Bhutan. In doing so, the clan came to occupy the hereditary position of Penlop of Trongsa, as well as significant national and local government positions.
The Penlop of Trongsa controlled central Bhutan; the rival Penlop of Paro controlled western Bhutan; and dzongpons controlled areas surrounding their respective dzongs. The Penlop of Paro, unlike Trongsa, was an office appointed by the Druk Desi's central government. Because western regions controlled by the Penlop of Paro contained lucrative trade routes, it became the object of competition among aristocratic families. Although Bhutan generally enjoyed favorable relations with both Tibet and British India through the 19th century, extension of British power at Bhutan's borders as well as Tibetan incursions in British Sikkim defined politically opposed pro-Tibet and pro-Britain forces.This period of intense rivalry between and within western and central Bhutan, coupled with external forces from Tibet and especially the British Empire, provided the conditions for the ascendancy of the Penlop of Trongsa.
After the Duar War with Britain (1864-65) as well as substantial territorial losses (Cooch Behar 1835; Assam Duars 1841), armed conflict turned inward. In 1870, amid the continuing civil wars, Penlop Jigme Namgyal of Trongsa ascended to the office of Druk Desi. In 1879, he appointed his 17-year-old son Ugyen Wangchuck as Penlop of Paro. Jigme Namgyal reigned through his death 1881, punctuated by periods of retirement during which he retained effective control of the country. The pro-Britain Penlop Ugyen Wangchuck ultimately prevailed against the pro-Tibet and anti-Britain Penlop of Paro after a series of civil wars and rebellions between 1882 and 1885. After his father's death in 1881, Ugyen Wangchuck entered a feud over the post of Penlop of Trongsa. In 1882, at the age of 20, he marched on Bumthang and Trongsa, winning the post of Penlop of Trongsa in addition to Paro. In 1885, Ugyen Wangchuck intervened in a conflict between the Dzongpens of Punakha and Thimphu, sacking both sides and seizing Simtokha Dzong. From this time forward, the office of Desi became purely ceremonial.
Nationhood under the Wangchucks
Trongsa Penlop Ugyen Wangchuck, firmly in power and advised by Kazi Ugyen Dorji, accompanied the British expedition to Tibet as an invaluable intermediary, earning his first British knighthood. Penlop Ugyen Wangchuck further garnered knighthood in the KCIE in 1904. Meanwhile, the last officially recognized Shabdrung and Druk Desi had died in 1903 and 1904, respectively. As a result, a power vacuum formed within the already dysfunctional dual system of government. Civil administration had fallen to the hands of Penlop Ugyen Wangchuck, and in November 1907 he was unanimously elected hereditary monarch by an assembly of the leading members of the clergy, officials, and aristocratic families. His ascendency to the throne ended the traditional dual system of government in place for nearly 300 years.
The title Penlop of Trongsa - or Penlop of Chötse, another name for Trongsa - continued to be held by crown princes. As King of Bhutan, Ugyen Wangchuck secured the Treaty of Punakha (1910), under which Britain guaranteed Bhutan's independence, granted Bhutanese Royal Government a stipend, and took control of Bhutanese foreign relations. After becoming the first King of Bhutan, Ugyen Wangchuck further merited the British Delhi Durbar Gold Medal in 1911; the Knight Commander of the Order of the Star of India (KCSI) in 1911; and the Knight Grand Commander of the Order of the Indian Empire (GCIE) in 1921. The first Druk Gyalpo Ugyen Wangchuck died in 1926.
The reign of the Second King Jigme Wangchuck (1926-1952) was characterized by an increasingly powerful central government and the beginnings of infrastructure development. Bhutan also established its first diplomatic relations with India under the bilateral Treaty of Friendship, largely patterned after the prior Treaty of Punakha. The Third King Jigme Dorji Wangchuck (r. 1952-1972) ascended the throne at the age of 16, having been educated in England and India. During the reign of the Third King, Bhutan began further political and legal reforms and started to open to the outside world. Notably, the Third King was responsible for establishing a unicameral National Assembly in 1953 and establishing relations with Indian Prime Minister Jawaharlal Nehru in 1958. Under Jigme Dorji Wangchuck, Bhutan also modernized its legal codes.
The Royal Familiy Titles and Styles
Sovereign of Bhutan bears the Titles and Styles of Mang-pos Bhur-ba'i rgyalpo, Druk Gyalpo, King of Bhutan, with the style of His Majesty. Wives of the Sovereign: Gyalmo, Queen with the style of Her Majesty. Mother of the Sovereign: Gyalyum, Queen Mother with the style of Her Majesty. Sons of the Sovereign: Gyalsay Dasho, Prince with the style of His Royal Highness. Daughters of the Sovereign: Ashi, Prince with the style of His Royal Highness.
Short Genealogy of the House

Below is an extended patrilineal genealogy of the House of Wangchuck through the present monarch.
Name
Birth
Death
Reign
start
Reign
end
Romanization
Wylie transliteration
Dzongkha
Sumthrang Chorji
Sum-phrang Chos-rje
སུམ་ཕྲང་ཆོས་རྗེ་
1179
1265
Zhigpo Tashi Sengye
Zhig-po bKra-shis Seng-ge
ཞིག་པོ་བཀྲ་ཤིས་སེང་གེ་
1237
1322
Bajra Duepa
Bajra 'Dus-pa
བཇ་ར་འདུས་པ་
1262
1296
Depa Paljor
bDe-pa'i dPal-'byor
བདེ་པའི་དཔལ་འབྱོར་
1291
1359
Palden Sengye
dPal-den Seng-ge
དཔལ་དེན་སེང་གེ་
1332
1384
Tenpa Nyima[nb 1]
bsTan-pa'i Nyi-ma
བསྟན་པའི་ཉི་མ་
1382
Dongrub Zangpo
Don-grub bZang-po
དོན་གྲུབ་བཟང་པ་
Pema Lingpa
Padma Gling-pa
པདྨ་གླིང་པ་
1450
1521
Khochun Chorji
mKho-chun Chos-rje
མཁོ་ཆུན་ཆོས་རྗེ་
1505
Ngawang
Ngag-dbang
ངག་དབང་
1539
Gyalba
rGyal-ba
རྒྱལ་བ་
1562
Dungkar Choji[19][nb 2]
Dun-dkar Chos-rje
དུན་དྐར་ཆོས་རྗེ་
1578
Tenpa Gyalchen
bsTan-pa'i rGyal-mchan
བསྟན་པའི་རྒྱལ་མཆན་
1598
1694
Tenpa Nyima
bsTan-pa'i Nyi-ma
བསྟན་པའི་ཉི་མ་
1623
1689
Dadrag
Zla-grags
ཟླ་གྲགས
1641
Tubzhong
gTub-zhong
གཏུབ་ཞོང་
1674
Pema Rije
Padma Rig-rgyas (Pemarigyas)
པདྨ་རིག་རྒྱས་
1706
1763
Rabje
Rab-rgyas (Rabgyas)
རབ་རྒྱས་
1733
Pema
Padma
པདྨ་
Dasho Pila Gonpo Wangyal
Pi-la mGon-po rNam-rgyal
པི་ལ་མགན་པོ་རྣམ་རྒྱལ་
1782
Dasho Jigme Namgyal
rJigs-med rNam-rgyal
རྗིགས་མེད་རྣམ་རྒྱལ་
1825
1881
King Ugyen Wangchuck
O-rgyan dBang-phyug
ཨོ་རྒྱན་དབང་ཕྱུག་
1862
1926
1907
1926
King Jigme Wangchuck
'Jigs-med dBang-phyug
འཇིགས་མེད་དབང་ཕྱུག་
1905
1952
1926
1952
King Jigme Dorji[nb 3]Wangchuck
'Jigs-med rDo-rje dBang-phyug
འཇིགས་མེད་རྡོ་རྗེ་དབང་ཕྱུག་
1928
1972
1952
1972
King Jigme Singye Wangchuck
'Jigs-med Seng-ge dBang-phyug
འཇིགས་མེད་སེང་གེ་དབང་ཕྱུག་
1955
-
1972
2006
King Jigme Khesar Namgyel Wangchuck
'Jigs-med Khe-sar rNam-rGyal dBang-phyug
འཇིགས་མེད་གེ་སར་རྣམ་རྒྱལ་དབང་ཕྱུག་
1980
-
2006
-