Earls and Marquesses of Huntly - Dukes of Gordon
Alexander Seton, son of William Seton, of that Ilk, married in 1408 Elizabeth, daughter of John Gordon, of Gordon and Huntly. Inheriting these important Gordon lands, he is sometimes considered to have been created Lord Gordon. He died 1440/1, and she on 16 Mar 1439. They had issue:
1a) Alexander Seton, later [ca 1457] Gordon, cr 1444/5 Earl of Huntly (d.Huntly 15 Jul 1470); m.1st ca 1427 (annulled) Gille Hay; m.2nd Elizabeth Crichton; the children of 2nd marriage all took surname Gordon, while the son of the 1st remained a Seton
1b) [by 1st m.]: Sir Alexander Seton, of Touch à issue
2b) [by 2nd m.]: George Gordon, 2nd Earl of Huntly (d.Stirling 1501); m.1st (div) Elizabeth Dunbar, Dowager Countess of Moray; m.2nd (div 1471) Pss Annabel of Scotland; m.3rd 1471 Elizabeth Hay
[by 1st m.]:
1c) Alexander, 3rd Earl of Huntly (d.Perth 21 Jan 1524); m.1st Lady Janet Stewart (d.Strathbogie 27 Oct 1510); m.2nd 1511 Elizabeth, Lady Glamis, née Gray (d.1526)
1d) George
2d) John, Lord Gordon (d.Abbey of Kinloss 5 Dec 1517); m.Nov 1512 Margaret Stewart, illegitimate dau. of King James IV
1e) George, 4th Earl of Huntly (1513-Corrichie 22 Oct 1562); m.27 Mar 1530 Elizabeth Keith
1f) Alexander, Lord Gordon (d.Edinburgh 1552/3); m.ca 1546 Lady Barbara Hamilton
2f) George, 5th Earl of Huntly (d.Strathbogie 19 Oct 1576); m.1558/9 Lady Anne Hamilton
1g) George, 6th Earl of Huntly, cr 1599 Marquess of Huntly, Earl of Enzie, and Lord Gordon of Badenoch (ca 1563-Dundee 13 Jun 1636); m.Holyrood 21 Jul 1588 Lady Henrietta Stuart (France 1573-France 2 Sep 1642)
1h) George, 2nd Marquess of Huntly (beheaded at Edinburgh 22 Mar 1649); m.1607 Lady Anne Douglas (1594-Aberdeen 14 Jun 1638)
1i) George, Lord Gordon (k.a.Alford 2 Jul 1645)
2i) James, Viscount Aboyne (d.Paris Feb 1649)
3i) Lewis, 3rd Marquess of Huntly (d.Dec 1653); m.Oct 1644 Mary Grant (fl 1707)
1j) GEORGE, 4th Marquess of Huntly, cr 1684 Duke of Gordon, Marquess of Huntly, Earl of Huntly and Enzie, etc. (1649-Leith 7 Dec 1716); m.Oct 1676 Lady Elizabeth Howard (d.Edinburgh 16 Jul 1732)
1k) ALEXANDER, 2nd Duke of Gordon, etc. (ca 1678-28 Nov 1728); m.ca 1707 Lady Henrietta Mordaunt (d.Prestonhall 11 Oct 1760)
1l) COSMO GEORGE, 3rd Duke of Gordon (ca 1721-Breteuil 5 Aug 1752); m.Dunkeld 3 Sep 1741 Lady Catherine Gordon (20 Oct 1718-10 Dec 1779)
1m) ALEXANDER, 4th Duke of Gordon (1743-London 17 Jun 1827); m.1st Ayton 23 Oct 1767 Jane Maxwell (Edinburgh 1748-London 14 Apr 1812); m.2nd Jul 1820 Jane Christie (d.17 Jun 1824), by whom he had had four children before marriage
1n) GEORGE, 5th Duke of Gordon (Edinburgh 2 Feb 1770-London 28 May 1836); m.11 Dec 1813 Elizabeth Brodie (London 20 Jun 1794-Huntly Lodge, Strathbogie 31 Jan 1864)
2n) Alexander (d.8 Jan 1808)
3n) Charlotte (Gordon Castle 20 Sep 1768-London 5 May 1842); m.Gordon Castle 9 Sep 1789 Charles Lennox, 4th Duke of Richmond and Lennox (9 Sep 1764-Canada 28 Aug 1818); their issue succeeded to Gordon Castle, added the surname Gordon, and were cr Dukes of Gordon
4n) Madelina (d.1847); m.1st 2 Apr 1789 Sir Robert Sinclair, Bt; m.2nd 25 Nov 1805 Charles Fyshe Palmer, of Luckley Park
5n) Susan (2 Feb 1774-Bedfont Lodge 26 Aug 1828); m.7 Oct 1793 William Montagu, 5th Duke of Manchester (London 21 Oct 1771-Rome 18 Mar 1843)
6n) Louisa (d.1850); m.17 Apr 1797 Charles Cornwallis, 2nd Marquess Cornwallis
7n) Georgiana (Gordon Castle 18 Jul 1781-Nice 24 Feb 1853); m.23 Jun 1803 John Russell, 6th Duke of Bedford (6 Jul 1766, d.Doune of Rothiemurchus 20 Oct 1839)
2m) William (d.1823); m.13 Feb 1781 Hon. Frances Irvine
1n) Frances (d.2 Sep 1831)
3m) George (d.1 Nov 1793)
4m) Susan (d.11 Dec 1814); m.1st London 28 May 1767 John Fane, 9th Earl of Westmorland (5 May 1728-25 Apr 1774); m.2nd London 28 Dec 1778 John Woodford (d.Edinburgh 18 Apr 1800)
5m) Anne; m.1782 Rev. Alexander Chalmers
6m) Catherine; m.Thomas Booker
2l) Charles (d.26 Apr 1780)
3l) Lewis (d.15 Jun 1754)
4l) Adam (d.13 Aug 1801); m.2 Sep 1767 Jane, Dowager Duchess of Atholl, née Drummond
5l) Henrietta (d.17 Feb 1789)
6l) Mary (d.26 Jul 1782)
7l) Anne (d.Edinburgh 22 Jun 1791); m.9 Dec 1729 William Gordon, 2nd Earl of Aberdeen (1679-Edinburgh 30 Mar 1745)
8l) Betty; m. Rev. John Skelly
9l) Jean (d.17 Jan 1792)
10l) Catherine (d.Edinburgh 21 Jan 1786); m.Preston Hall 13 Sep 1745 Francis Charteris, known as Earl of Wemyss (21 Oct 1723-Gosford 24 Aug 1808)
2k) Jane; m.Hon. James Drummond
2j) Anne; m.Cte de Crolly
3j) Mary (d.St.Germain-en-Laye 1726); m.1st 1667 Adam Urquhart, of Meldrum (1635-Edinburgh 10 Nov 1684); m.2nd ca Jan 1686 James Drummond, 4th Earl of Perth, Jacobite Duke of Perth (7 Jul 1648-St.Germain-en-Laye 11 May 1716)
4j) Jean; m.James Seton, 4th Earl of Dunfermline (d.St.Germain-en-Laye 26 Dec 1694)
4i) Charles, cr 1660 Earl of Aboyne and Lord Gordon of Strathavon and Glenlivet (d.Mar 1681); m.1st Margaret Irvine (d.Dec 1662); m.2nd Lady Elizabeth Lyon
1j) Charles, 2nd Earl of Aboyne (d.Apr 1702); m.Lady Elizabeth Lyon (d.Jan 1739)
1k) John, 3rd Earl of Aboyne (d.Charlton-Aboyne 7 Apr 1732); m.20 Jun 1724 Grace Lockhart (d.Darnaway 17 Nov 1738)
1l) Charles, 4th Earl of Aboyne (ca 1726-Edinburgh 28 Dec 1794); m.1st Edinburgh 22 Apr 1759 Lady Margaret Stewart (d.Aboyne Castle 12 Aug 1762); m.2nd London 14 May 1774 Lady Mary Douglas (d.Edinburgh 25 Dec 1816)
1m) George, 5th Earl of Aboyne, 9th Marquess of Huntly (Edinburgh 28 Jun 1761-London 17 Jun 1853); m.Stepney 4 Apr 1791 Catherine Anne Cope (1771-16 Nov 1832)
1n) Charles, 10th Marquess of Huntly (Orton 4 Jan 1792-Orton 18 Sep 1863); m.1st Royal Lodge, Windsor 20 Mar 1826 Lady Elizabeth Henrietta Conyngham (16 Feb 1799-Orton 24 Aug 1839); m.2nd London 10 Apr 1844 Maria Antoinetta Pegus (d.Orton 10 Aug 1893) à issue, includig the extant Marquesses of Huntly
2n) Rev. George (27 Jan 1794-25 Sep 1862); m.29 Jul 1851 Charlotte Anne Vaughan (d.23 Aug 1879)
3n) John Frederick, took additional surname Hallyburton (15 Aug 1799-29 Sep 1878); m.24 Aug 1836 Lady Augusta Kennedy-Erskine, née Fitzclarence (d.8 Dec 1865)
4n) Henry (31 Aug 1802-28 Aug 1865); m.6 Mar 1827 Louisa Payne (d.17 May 1867) à issue
5n) Cecil James (23 Feb 1806-15 Jan 1878); m.23 Apr 1841 Emily Moore (d.26 Apr 1902) à issue
6n) Francis Arthur (20 Jan1808-26 Jun 1857); m.17 Apr 1835 Isabel Grant (d.7 Jan 1892)
7n) Mary (16 Oct 1797-13 Jun1825); m.15 Apr 1822 Lord Frederick Seymour (1 Feb 1797-7 Dec 1856)
8n) Catherine Susan (d.14 Dec 1866); m.16 Jun 1814 Charles Compton Cavendish, Lord Chesham (28 Aug 1793-10 Nov 1863)
2m) Catherine (d.young)
3m) Margaret (d.23 May 1786); m.5 May 1783 William Beckford
4m) Douglas, took surname Hallyburton (10 Oct 1777-25 Dec 1841); m.16 Jul 1807 Louisa Leslie (d.2 Oct 1851)
2l) John (19 Jun 1728-30 Oct 1778); m.18 May 1761 Clementina Lockhart (d.31 Mar 1803)
1m) John (8 Jul 1765-1832); m.Nov 1810 Eliza Morris
2m) Grace Margaret (d.1832); m.William Graham, of Mossknowe (d.1832)
3l) Lockhart (1732-Calcutta 24 Mar 1788); m.3 Oct 1770 Hon, Catherine Wallop (d.May 1813)
2k) Helen; m.George Kinnaird
2j) Elizabeth; m.1685 (div 1698) John Mackenzie [later, 2nd Earl of Cromartie] (ca 1656-20 Feb 1731)
5i) Henry
6i) Anne (d.9 Jan 1656); m.James Drummond, 3rd Earl of Perth (d.2 Jun 1675)
7i) Mary; m.Alexander Irvine, of Drum (d.1687)
2h) Adam, of Auchindoun
3h) John, cr 1627 Viscount Melgum and Lord Aboyne (d.Frendraught 9 Oct 1630); m.1626 Lady Sophia Hay (d.12 Mar 1642)
1i) Henrietta
4h) Anne; m.James Stuart, 3rd Earl of Moray (d.Darnaway 6 Aug 1638)
5h) Elizabeth (d.Edinburgh Jul 1616); m.Alexander Hope [later, 2nd Earl of Linlithgow] (d.1648)
6h) Mary (d.1674); m.15 Sep 1632 William Douglas, Marquess of Douglas (1589-19 Feb 1660)
7h) Jane; m.28 Nov 1632 Claud Hamilton, Lord Strabane (d.14 Jun 1638)
2g) Jean; m.ca 1585 George Sinclair, 5th Earl of Caithness (d.Caithness Feb 1643)
3f) Sir John (executed 1562)
4f) Sir Adam (d.1580)
5f) Elizabeth; m.John Stewart, 4th Earl of Atholl (d.24 Apr 1579)
6f) Jean (1546-Dunrobin 14 May 1629); m.1st 24 Feb 1566 (div 1567) James Hepburn, 4th Earl of Bothwell (ca 1535-Draxholm 14 Apr 1578); m.2nd Strathbogie 13 Dec 1573 Alexander Gordon, 12th Earl of Sutherland (d.Dunrobin 6 Dec 1594); m.3rd 1599 Alexander Ogilvy, of Boyne
7f) Margaret (d.Ghent 1 Jan 1606); m.Nov 1558 (div 1574) John Forbes, 8th Lord Forbes (3 Jul 1542-Putachie 29 Jun 1606)
8f) Janet; m.Duncan Stewart, the younger, of Appin
2e) Alexander, Bp of the Isles, and of Galloway, titular Archbp of Athens
3e) James
3d) Alexander, of Strathavon; m.___ Grant
1e) Alexander, of Cluny; m.___ Ogilvie
1f) a dau
2e) John, of Cluny; m.Margaret Gordon
1f) Sir Thomas, of Cluny à issue
2f) John, of Brismore; m.___ Gordon à issue
4d) William, Bp of Aberdeen
5d) Jane; m.Colin Campbell, 3rd Earl of Argyll (d.1529)
2c) Adam, Lord of Aboyne (d.17 Mar 1538); m.1500 Elizabeth, 10th Countess of Sutherland (d.Aboyne Castle Sep 1535); though they inherited the Sutherland estates and titles, their descendants kept the surname Gordon for several generations
1d) Alexander, Master of Sutherland (d.Dunrobin 15 Jan 1530); m.Lady Janet Stewart
1e) John, 11th Earl of Sutherland (1525-d.of poison at Dunrobin 23 Jun 1567); m.1st 1545/6 Elizabeth, Dowager Countess of Moray, née Campbell; m.2nd ca 1548 Helen, Dowager Countess of Erroll, née Stewart (d.ca 1564); m.3rd Marion, Dowager Countess of Menteith, née Seton (d.of poison at Dunrobin 23 Jun 1567); all issue was by 2nd m.
1f) John, Master of Sutherland (d.an infant)
2f) Alexander, 12th Earl of Sutherland (Darnaway Castle 1552-Dunrobin 6 Dec 1594); m.1st ca 1567 (div 1572) Lady Barbara Sinclair; m.2nd Strathbogie 13 Dec 1573 Lady Jean Gordon, divorced Css of Bothwell (d.Dunrobin 14 May 1629); all issue by 2nd m.
1g) John, 13th Earl of Sutherland (20 Jul 1576-Dornoch 11 Sep 1615); m.Edinburgh 5 Feb 1600 Hon. Agnes Elphinstone (27 Oct 1579-Crakaig 18 Sep 1617)
1h) Patrick, Master of Sutherland (b.1604, d.young)
2h) Alexander (d.young)
3h) Robert (d.young)
4h) John, 14th Earl of Sutherland (9 Mar 1609-14 Oct 1679); m.1st Seton 14 Feb 1632 Lady Jean Drummond (d.Edinburgh 29 Dec 1637); m.2nd 24 Jan 1639 Hon. Anne Fraser (1619-Dunrobin 29 Jul 1658)
1i) John, Lord Strathnaver (Dornoch 21 Nov 1632-Dornoch 14 Oct 1637)
2i) George, 15th Earl of Sutherland (Dornoch 2 Nov 1633-Edinburgh 4 Mar 1703); m.Edinburgh 11 Aug 1659 Lady Jean Wemyss (d.Rosebank, Inveresk 5 Jan 1715)
1j) John Gordon, later, Sutherland, 16th Earl of Sutherland (1661-Chelsea 27 Jun 1733); m.1st Paisley 28 Apr 1680 Hon. Helen Cochrane (d.1690); m.2nd Lady Katherine Tollemache (d.ca 1705); m.3rd London 12 Aug 1727 Frances Hodgson (d.London 15 Dec 1732)
1k) William Sutherland, Lord Strathnaver (1683-19 Jul 1720); m.Katharine Morison (d.Edinburgh 21 Mar 1765)
1l) John Sutherland, Lord Strathnaver (Nov 1706-Dec 1720)
2l) William Sutherland, 17th Earl of Sutherland (2 Oct 1708-Montauban 7 Dec 1750); m.Lady Elizabeth Wemyss (d.Dunrobin 20 Feb 1647)
1m) William Sutherland, 18th Earl of Sutherland (28 May 1735-Bath 16 Jun 1766); m.Edinburgh 14 Apr 1761 Mary Maxwell (d.Bath 1 Jun 1766)
1n) Catherine (London 24 May 1764-Dunrobin 3 Jan 1766)
2n) Elizabeth, 19th Countess of Sutherland (Leven Lodge 24 May 1765-Hamilton Place, London 29 Jan 1839); m.London 4 Sep 1785 George Granville Leveson-Gower, 2nd Marquess of Stafford, cr 1833 Duke of Sutherland
2m) Elizabeth (d.24 Jan 1803); m.29 Aug 1757 James Wemyss of Wemyss
3l) George (d.13 Mar 1736)
4l) Helen (d.7 Jan 1791); m.12 Apr 1740 Sir James Colquhoun of Luss, Bt. (22 Feb 1714-18 Nov 1786)
5l) Janet Sutherland (d.9 Jun 1795); m.24 Oct 1740 George Sinclair, of Ulbster
2k) Jean (d.11 Feb 1747); m.31 Aug 1702 James, Lord Maitland (d.1709)
3i) Robert (31 Dec 1635-1671); m.Hon. Jane Mackay
4i) Jean (10 Oct 1634- ); m.Robert Stewart, of Eday
5h) Adam (15 May 1613-k.a.Nordlingen 27 Aug 1634)
6h) George (9 Feb 1616- ); m.Lady Rose Macdonnell
7h) Elizabeth; m.25 Feb 1619 James Crichton, of Frendraught
8h) Anne (d.at sea Jul 1648); m.Dec 1623 Sir Gilbert Menzies, of Pitfodels
2g) Sir Robert, of Gordonstoun, cr Baronet 1625 (14 May 1580-Mar 1654); m.16 Feb 1613 Louisa Gordon (d.Sep 1680) à issue
3g) Sir Alexander (5 Mar 1585- ); m.Margaret Mcleod à issue
4g) Jane (1 Nov 1574- ); m.Dec 1589 Hugh Mackay, of Farr
5g) Mary (14 Aug 1582-1605); m.David Ross, of Balnagowan
3f) Jean (d.Jan 1584); m.1st Alexander Innes, of that Ilk; m.2nd Hon. Thomas Gordon
2e) Alexander (d.Elgin 1552)
3e) Janet; m.1537 Sir Patrick Dunbar, of Cumnock
4e) Beatrice; m.William Sinclair, of Dunbeath
2d) John
1e) a dau; m.George Gordon, of Cochlarachie
3d) Adam (k.a.Pinkie 10 Sep 1547)
4d) Gilbert; m.Isabel Sinclair (killed herself in prison in Edinburgh, where she had been condemned for poisoning the 11th Earl and his wife; she had purportedly been urged into this crime by her cousin, the Earl of Caithness)
1e) a son
3c) Sir William (k.a.Flodden 1513)
4c) Sir James, of Letterfourie, ancestor of the Gordon of Letterfourie Baronets
5c) Margaret; m.Patrick Hepburn, Earl of Bothwell (d.18 Oct 1508)
6c) Elizabeth; m.William Keith, 2nd Earl Marischal (d.1526/7)
[by 2nd m.]:
7c) Catherine; m.1st Perkin Warbeck; m.2nd James Strangways; m.3rd Sir Matthew Cradock; m.4th Christopher Ashton
8c) Agnes; m.Gilbert Hay, of Kilmallock
9c) Eleanor; m.John Crichton, of Invernytie
10c) [illegitimate] Agnes; m.Sir James Ogilvy
3b) Sir Alexander, of Abergeldie; m.Beatrice Hay; ancestor of the Gordons of Abergeldie
4b) Adam (d.1528); he had illegitimate issue, whereby he was ancestor of the Gordons of Wardhouse
5b) Janet; m.Sir James Innes, of that Ilk
6b) Margaret (d.1506); m.Hugh Rose, of Kilravock (d.17 Mar 1517)
7b) Christian; m.William Forbes, 3rd Lord Forbes
8b) Elizabeth; m.1st Nicholas Hay, 2nd Earl of Erroll (d.1470); m.2nd John Kennedy, 2nd Lord Kennedy
2a) William (k.a.Brechin 18 May 1452); m.Elizabeth Meldrum; he and his descendants kept the surname Seton
1b) Alexander, of Meldrum (d.ca 1512); m.Muriella Sutherland
1c) William, of Meldrum; m.Elizabeth Leslie
1d) Alexander, of Meldrum; m.1st Agnes Gordon; m.2nd Janet Leith
1e) [by 1st m.] William, of Meldrum; m.1st Janet Gordon; m.2nd Margaret Innes
1f) [by 1st m.] Alexander, of Meldrum; m.1st Elizabeth Irvine; m.2nd Jean Abernethy
1g) [by 1st m.] Alexander (d.1590); m.1584 Christian Fraser
1h) Elizabeth, of Meldrum; m.1st 1610 John Urquhart (d.8 Nov 1631); m.2nd 1634 Alexander Fraser, 11th Lord Saltoun (Mar 1604-Fraserburgh 11 Aug 1693); Meldrum was inherited by the issue of her first marriage
2g) [by 2nd m.] John, of Meldrum (d.1619); m.Lady Grizel Stewart
3g) [by 2nd m.] William, of Meldrum; m.Anne Crichton
4g) [by 2nd m.] Margaret; m. ___ Chalmers, of Balbithan
5g) [by 2nd m.] Isabel; m. ___ Erskine, of Pittodrie
2f) [by 1st m.] John, of Lumphard, Broomhill and Mounie; m.Marjorie Panton
1g) William, of Mounie
3f) [by 1st m.] William, of Slattie
4f) [by 2nd m.] George, of Barra
5f) [by 2nd m.] James, of Bourtie, ancestor of the Setons, of Pitmedden
2e) [by 1st m.] Alexander
3e) [by 2nd m.] John
2c) Katharine; m.William Forbes, of Keldrum
3a) Elizabeth.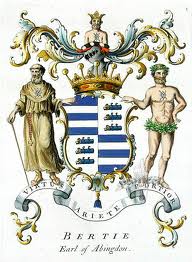 House of Ancaster
Abingdon - Lindsey

Richard Bertie (d.9 Apr 1582) m.ca 1553 Katherine, 12th Baroness Willoughby de Eresby, Dowager Duchess of Suffolk (22 Mar 1519-19 Sep 1580), and had issue:

1a) Peregrine Bertie, 13th Lord Willoughby de Eresby (Wesel 12 Oct 1555-Berwick 25 Jun 1601); m.1577/8 Lady Mary de Vere (d.ca 1624)

1b) Robert, 14th Lord Willoughby de Eresby, cr 1626 Earl of Lindsey (ca 1582-k.a.Edgehill 23 Oct 1642); m.ca 1605 Hon. Elizabeth Montagu (1586-30 Nov 1654)

1c) Montagu, 2nd Earl of Lindsey (d.London 25 Jul 1666); m.1st London 18 Apr 1627 Martha, Dowager Countess of Holdernesse, née Cokayne (1605-Jul 1641); m.2nd Bridget Sackville, née Wray, 4th Baroness Norreys of Rycote (12 May 1627-1657)

[by 1st m.]:

1d) Robert, 3rd Earl of Lindsey (ca 1630-8 May 1701); m.1st 1654 Mary Massingberd; m.2nd Hon. Elizabeth Wharton (d.ca 1669); m.3rd Elizabeth, Lady Lee, née Lady Elizabeth Pope (d.1 Jul 1719)

[by 1st m.]:

1e) Arabella (d.28 Feb 1717); m.1684 Thomas Savage, 3rd Earl Rivers (ca 1628-London 14 Sep 1694)

[by 2nd m.]:

2e) ROBERT, cr 1706 Marquess of Lindsey, cr 1715 Duke of Ancaster and Kesteven (20 Oct 1660-Grimsthorpe 26 Jul 1723); m.1st Westminster Abbey 30 Jul 1678 Mary Wynn (d.20 Sep 1689); m.2nd 6 Jul 1705 Albinia Farrington (d.29 Jul 1745)

[by 1st m.]:

1f) Robert, Lord Willoughby de Eresby (6 Feb 1684-Wolfenbüttel ca 4 May 1704)

2f) PEREGRINE, 2nd Duke of Ancaster and Kesteven (29 Apr 1686-1 Jan 1742); m.Jun 1711 Jane Brownlow (d.Grimsthorpe 26 Aug 1736)

1g) PEREGRINE, 3rd Duke of Ancaster and Kesteven (1714-Grimsthorpe 12 Aug 1778); m.1st 22 May 1735 Mrs Elizabeth Nicoll, née Blundell (dsp 17 Dec 1743); m.2nd Newmarket 27 Nov 1750 Mary Panton (d.Naples 19 Oct 1793)

1h) Peregrine Thomas, Marquess of Lindsey (London 21 May 1755-12 Dec 1758)

2h) ROBERT, 4th Duke of Ancaster and Kesteven (Grimsthorpe 17 Oct 1756-Grimsthorpe 8 Jul 1779); at his death he was engaged to Lady Horatia Waldegrave

3h) Priscilla Barbara Elizabeth; m.23 Feb 1779 Peter Burrell; their issue eventually inherited the old Barony of Willoughby de Eresby, along with Grimsthorpe and many of the Ancaster estates

4h) Georgiana Charlotte (7 Aug 1764-London 23 Jun 1838); m.London 25 Apr 1791 George James Cholmondeley, Marquess of Cholmondeley (Hardingstone 11 May 1749-London 10 Apr 1827)

2g) a son (d.16 May 1765)

3g) BROWNLOW, 5th Duke of Ancaster and Kesteven (Lindsey House 1 May 1729-Grimsthorpe 8 Feb 1809); m.1st London 11 Nov 1762 Harriot Pitt (1745-Apr 1763); m.2nd London 2 Jan 1769 Mary Anne Layard (Sutton Friars 5 Mar 1743-London 13 Jan 1704)

4g) Mary (d.23 May 1774); m.21 Feb 1747 Samuel Greatheed (1710-1765)

5g) Albinia (d.1754); m.Francis Beckford, of Basing Park

6g) Jane; m.Edward Mathew

7g) Carolina (d.1774); m.George Dewar

3f) Elizabeth

4f) Eleanor

5f) Mary

[by 2nd m.]:

6f) Vere (1712-1768); m.1736 Anne Casey [natural dau. of Sir Cecil Wray, 11th Bt.]

1g) Albinia (d.Nocton 11 Mar 1816); m.Chislehurst 16 May 1757 George Hobart, 3rd Earl of Buckinghamshire (London 8 Sep 1731-Nocton 14 Nov 1804)

2g) Louisa; m.19 Apr 1778 Hon. Sir Charles Stuart (Jan 1753-25 May 1801)

7f) Montagu (d.1753); m.Elizabeth Piers

1g) Augusta (d.Bath 4 Feb 1766); m.London 26 Mar 1758 John Fane, Lord Burghersh [later, 9th Earl of Westmorland] (5 May 1728-25 Apr 1774)

2g) Frances

8f) Robert (1721-10 Mar 1782); m.5 Apr 1762 Hon. Chetwynd Blundell

9f) Thomas (d.21 Jul 1749)

10f) Louisa; m.1736 Thomas Bludworth

3e) Peregrine (d.10 Jul 1711)

4e) Philip (d.15 Apr 1728)

5e) Noreys

6e) Albemarle (1668-23 Jan 1742)

[by 3rd m.]:

7e) Charles

8e) Elizabeth

2d) Peregrine; m.Susan Monins

1e) Bridget (d.23 Mar 1748); m.1702 John, Earl Poulett (ca 1668-28 May 1743)

2e) Elizabeth

3e) Mary; m.1st Anthony Henley; m.2nd Hon. Henry Bertie (below)

3d) Richard (d.1685)

4d) Vere (d.13 Feb 1680)

5d) Charles; m.Mary, Lady Jones, née Tryon

1e) Charles, of Uffington (d.1730); m.1704 Mary Narbonne

1f) Peregrine (1709-1779); m.1736 Elizabeth Payne

1g) Albemarle, 9th Earl of Lindsey (17 Sep 1744-Uffington 18 Sep 1818); m.1st 7 May 1794 Mrs Eliza Maria Scrope, née Clay (d.Jul 1806); m.2nd Greenwich 18 Nov 1809 Charlotte Susanna Elizabeth Layard (d.Uffington House 28 Nov 1858)

1h) George Augustus Frederick Albemarle, 10th Earl of Lindsey (Uffington 4 Nov 1814-Uffington House 21 Mar 1877)

2h) Montagu Peregrine, 11th Earl of Lindsey (25 Dec 1815-London 29 Jan 1899); m.London 30 May 1854 Felicia Elizabeth Welby (d.16 Mar 1927)

1i) Montagu Peregrine Albemarle, 12th Earl of Lindsey (3 Sep 1861-2 Jan 1938); m.Sydney, N.S.W. 12 Feb 1890 Millicent Emma Cox (d.17 Aug 1931)

1j) Muriel Felicia Vere; m.1st 20 Jan 1922 Henry Herbert Liddell-Grainger (d.3 Nov 1935); m.2nd23 Mar 1938 Sir Charles Malcolm Barclay-Harvey

3h) Charlotte Elizabeth (d.15 Jan 1895); m.1st 29 Jul 1833 Sir Josiah John Guest, Bt. (d.26 Nov 1852); m.2nd 10 Apr 1855 Charles Schreiber (d.31 Mar 1884)

2e) Elizabeth (24 Jul 1675-London 20 Dec 1738); m.8 Jun 1693 Charles Mildmay, 18th Lord Fitzwalter (31 Aug 1670-16 Feb 1728)

6d) Elizabeth (d.1683); m.6 Jul 1655 Baptist Noel, 3rd Viscount Campden (1612-29 Oct 1682)

7d) Bridget (bap 6 Jun 1629-Wimbledon 7 Jan 1704); m.1653 Thomas Osborne, Duke of Leeds (20 Feb 1632-Easton Neston 26 Jul 1712)

8d) Catherine; m.Robert Dormer

[by 2nd m.]:

9d) James, 5th Lord Norreys of Rycote [through his maternal grandmother], cr 1682 Earl of Abingdon (1653-London 22 May 1699); m.1st Adderbury, Oxon 1 Feb 1672 Eleanora Lee (1658-31 May 1691); m.2nd 1698 Catherine, Dowager Viscountess Wenman, née Chamberlayne (d.9 Feb 1742)

1e) Montagu, 2nd Earl of Abingdon (d.16 Jun 1743); m.1st 22 Sep 1687 Anne Venables (7 May 1674-28 Apr 1715); m.2nd Beaconsfield 13 Feb 1717 Mrs Mary Churchill, née Gould (burned to death 10 Jan 1757)

1f) James, Lord Norreys (14 Nov 1717-25 Feb 1718)

2e) James, of Stanwell (13 Mar 1673-18 Oct 1735); m.1692 Hon. Elizabeth Willoughby (d.26 Sep 1716)

1f) Willoughby, 3rd Earl of Abingdon (Lindsey House 28 Nov 1692-10 Jun 1760); m.Florence Aug 1727 Anna Maria Collins (d.21 Dec 1763)

1g) James, Lord Norreys (1735-burned to death in his bed at Rycote 12 Oct 1745)

2g) Willoughby, 4th Earl of Abingdon (16 Jan 1740-26 Sep 1799); m.London 7 Jul 1768 Charlotte Warren (d.Rycote 28 Jan 1794)

1h) Montagu, 5th Earl of Abingdon (30 Apr 1784-Wytham Abbey 16 Oct 1854); m.1st London 27 Aug 1807 Emily Gage (London 25 Apr 1776-London 28 Aug 1838); m.2nd London 11 Mar 1841 Lady Frederica Augusta Kerr (d.London 26 Nov 1864)

1i) Montagu, 6th Earl of Abingdon (19 Jun 1808-8 Feb 1884); m.Nuneham 7 Jan 1835 Elizabeth Lavinia Harcourt (1816-Wytham Abbey 16 Oct 1858)

1j) Montagu Arthur, 7th Earl of Abingdon (London 13 May 1836-10 Mar 1928); m.1st London 10 Jul 1858 Caroline Theresa Towneley (d.Wytham Abbey 4 Sep 1873); m.2d Portsmouth 16 Oct 1883 Mary Dormer (13 Oct 1867-16 Sep 1942)

1k) Mary (11 Aug 1859-21 Apr 1938); m.5 Aug 1879 Edmund Bernard Fitzalan-Howard, Viscount Fitzalan of Derwent (1 Jun 1855-18 May 1947)

2k) Montagu Charles Francis, took surname Towneley-Bertie, Lord Norreys (3 Oct 1860-24 Sep 1919); m.25 Jul 1885 Hon.Rose Riversdale Glyn (d.21 Dec 1933)

1l) Montagu Henry Edmund Cecil, 8th Earl of Abingdon & 13th Earl of Lindsey (2 Nov 1887-11 Sep 1963); m.11 Aug 1928 Elizabeth Valetta Montagu-Stuart-Wortley (d.24 Oct 1978)

2l) Alexandra (17 Oct 1886-21 Apr 1952)

3k) Alice Josephine (2 Mar 1865-7 May 1950); m.1st 1 Feb 1890 Sir Gerald Herbert Portal (d.25 Jan 1894); m.2d Robert Reyntiens (d.13 Oct 1913)

4k) Cecil (22 Jul 1873-3 Oct 1895); m.18 Jul 1895 Brig-Gen Paul Aloysius Kenna (16 Aug 1862-30 Aug 1915)

5k) Gwendoline (20 Nov 1885-7 Jul 1941); m.8 Aug 1908 John Strange Spencer-Churchill (Feb 1880-23 Feb 1947)

6k) Arthur Michael (29 Sep 1886-2 Feb 1957); m.1st 15 May 1929 Mrs Aline Rose Ramsay, née Arbuthnot-Leslie (d.5 Jul 1948); m.2d 7 May 1949 Lilian Isabel Cary-Elwes

1l) Richard Henry Rupert, 9th Earl of Abingdon, 14th Earl of Lindsey (b.28 Jun 1931); m.5 Jan 1957 Norah Elizabeth Farquhar-Oliver

1m) Henry Mark Willoughby, Lord Norreys (b.6 Jun 1958); m.1989 Lucinda Sol Moorsom

1n) William Henry Constantine St.Maur (b.15 Jan 1996)

2n) James Frederick Christopher St.Ninian (b.26 Aug 1997)

2m) Alexander Michael Richard (b.8 Apr 1970); m.17 Apr 1998 Catherine Davina Cameron

1n) Fergus (15 Aug 2000)

2n) Emily (8 Apr 2004)

3m) Annabel (11 Mar 1969)

7k) Elizabeth Constance (12 Mar 1895- ); m.21 Apr 1914 Sigismund William Joseph Trafford (d.8 Sep 1953); m.2d 5 Sep 1956 Henry Antrobus Cartwright (d.Port Elizabeth 30 Jul 1957)

8k) James Willoughby (22 Sep 1901-11 May 1966); m.12 Jun 1928 Lady Jean Crichton-Stuart

1l) Andrew Willoughby Ninian, 78th Grand Master of the Sovereign Order of the Knights of Malta (15 May 1929-7 Feb 2008)

2l) Charles Peregrine Albemarle (b.2 Jan 1932); m.20 Apr 1960 Susan Griselda Ann Lyon Wills (b.8 Apr 1940)

1m) David Montague Albemarle (b.12 Feb 1963); m.12 Feb 1994 Catherine Cecily Mason-Hornby (b.1964)

1n) Charlotte Iona Rose (b.Slough 27 Mar 1995)

2n) Lucy Victoria Isabelle (b.Slough 5 Feb 1998)

3n) Hugo Peregrine Anthony (b.Slough 18 May 2001)

4n) Rory Willoughby James (b.9 Sep 2003)

2m) Caroline Georgiana Rose (b.16 Mar 1965); m.Tattendon, Berks 3 Aug 1991 Andrew Carrington

2j) Elizabeth Emily (1838-4 May 1923)

3j) Lavinia Louisa (1843-5 Jul 1928); m.16 Jan 1883 Robert Bickersteth (24 Jun 1847-10 Jul 1916)

4j) Francis Leveson, Viscount Bertie of Thame (1844-26 Sep 1919); m.11 Apr 1874 Lady Feodorowna Wellesley (d.30 Mar 1920)

1k) Vere Frederick, 2nd Viscount Bertie of Thame (1878-29 Aug 1954); m.1901 Nora Webb

5j) Rev. Alberic Edward (14 Nov 1846-20 Mar 1928); m.27 Apr 1881 Lady Caroline McDonnell (d.23 Feb 1930)

1k) Aubrey Charles (22 Jan 1882-14 Jan 1944); m.23 May 1916 Jeanne Georgina Vissers

1l) Christine Caroline (b.25 Dec 1917)

2l) Albert Arnaud (10 Jun 1919-2002); m.10 Jun 1950 Joan Nelly Sidery (d.2001)

1m) John Peregrine, took surname Oleani (b.1952); m.1st 1972 (div 1977) Rosemary Rosenvinge; m.2d 1986 (div 200_) Belinda Adkin; m.3rd 200_ Gerhild Krups à issue

2m) Peter Mark (b.1959); m.1993 Karen Hewitt

2k) Irene Elsie (25 Dec 1883-30 Dec 1970)

3k) Lavinia May (10 Mar 1887-1978); m.29 Sep 1921 Theodore Stephen Hubbard (d.8 Oct 1934)

4k) Schomberg Montagu (12 Aug 1888-17 Aug 1937); m.5 Sep 1922 Edith Mary England (d.1982)

1l) Caroline Edith (b.2 Nov 1923); m.29 Jan 1952 Gordon Ernest Ross (d.1971)

2l) Rose Patricia (b.8 May 1926); m.3 Feb 1951 Harold Edwin Kleinschmidt

5k) Alberic Willoughby (10 Jan 1891-15 Feb 1969); m.1st 1 Oct 1910 (div) Florence Winifred Kitts; m.2d 21 Dec 1922 Flore Maria Reinhart (d.2 Mar 1925)

1l) John Edward (k.a.in North Africa 9 May 1943)

2l) Mary Lucette (d.7 Apr 2009); m.4 Sep 1943 Ronald Frank Kershaw (d.2007)

6k) Ninian Mark Kerr (19 Nov 1896-k.a.8 May 1915)

7k) Olivia Bridget (5 Nov 1900-2 Jul 1987)

6j) Frances Evelyn (1848-29 Aug 1929)

7j) George Aubrey Vere (2 May 1850-8 Nov 1926); m.13 Oct 1885 Harriet Blanche Elizabeth Farquhar (d.30 Jan 1923)

1k) Vere Mary (30 Sep 1886-14 Jan 1964)

2k) Margaret Adine (29 Apr 1888-13 Dec 1978)

3k) Claude Peregrine (13 Jul 1890-k.a.19 Mar 1917)

8j) Charles Claude (31 Aug 1851-4 Sep 1920); m.29 Apr 1890 Adelaide Burroughes (d.28 Aug 1903)

9j) Reginald Henry (26 May 1856-15 Jun 1950); m.18 Oct 1892 Lady Amy Courtenay (d.21 Dec 1948)

2h) Rev. Frederic (12 Feb 1793-4 Feb 1868); m.17 Oct 1825 Lady Georgina Anne Emily Kerr (3 Jul 1806-20 May 1881)

1i) Charles M'Donnell (17 Feb 1829-8 Sep 1884)

2i) Montagu Mark (5 Mar 1831-d.at sea 27 Mar 1850)

3i) Willoughby (29 Jan 1834-Torquay 8 May 1860)

4i) Vere Clinton (19 Dec 1835-1907)

5i) Frederic Arthur (24 Sep 1837-20 Sep 1885); m.15 Jul 1873 Rose Emily de Montmorency (d.19 Mar 1935)

1j) Richard Frederic Norreys (16 Jul 1876-k.a.20 Nov 1917)

2j) Kathleen Adela Helen (d.1 May 1959); m.9 Sep 1899 Charles Frederick McKee (d.17 Sep 1954)

3j) Mary Georgina Rose (d.5 Mar 1928); m.27 Apr 1908 Cecil Edward Bateman Dashwood (d.1936)

4j) Henrietta Emily Cecil (d.7 Jun 1913); m.11 Feb 1905 Hon.Alec Puleston Henderson (23 Oct 1876-2 Nov 1931)

5j) Margaret Grace (1883-1978); m.6 Jul 1914 Hugh Cleivion Jagger (d.6 Nov 1931)

6i) Peregrine Francis (18 Dec 1841-26 Nov 1905); m.22 Feb 1888 Elizabeth Anne Satchwell (d.12 Nov 1899)

7i) Albemarle Henry (26 Feb 1847-24 Feb 1906); m.1888 Rose Weston (d.1913)

1j) Adela Harriet Blossom (1889- )

8i) Adela Mary (d.27 Feb 1925); m.12 Dec 1876 Cecil Newton Lane (27 May 1833-29 Mar 1897)

3h) Caroline; m.Charles Baillie-Hamilton

3g) Mary; m.Miles Stapleton

4g) Jane; m.Thomas Clifton

3e) Henry (1675-1735); m.1st Hon. Annabella Hamilton, Lady Dungannon; m.2nd Mary Bertie Henley

4e) Anne; m.Sir William Courtenay

5e) Bridget (d.Thame, Oxon 13 Jun 1753); m.1703 Richard Bulkeley, 4th Viscount Bulkeley (19 Sep 1682-Bath 4 Jun 1724)

10d) Edward

11d) Henry (d.1734); m.Philadelphia Norris

1e) James; m.Elizabeth Harris

1f) Norreys (1718-1766)

2e) Catherine; m.Francis Carr Clerke (d.27 May 1730)

12d) Mary (London 1 Sep 1655-London 30 Jun 1709); m.Charles Dormer, 2nd Earl of Carnarvon (25 Oct 1632-Ascott House 29 Nov 1709)

2c) Sir Roger (d.15 Oct 1654); m.Ursula Lawley

1d) Robert (d.Aug 1699)

3c) Robert (d.1608)

4c) Peregrine; m.Anne Hardeby

1d) Elizabeth (d.1715); m.London 12 Jan 1654 William Widdrington, 2nd Lord Widdrington (d.London 1675)

5c) Francis (k.a.1641)

6c) Robert; m.1st Alice Osbaston, née Barnard (d.1677); m.2nd Elizabeth Bennet; m.3rd Mary Crosby, née Halsey

7c) Henry (k.a.Newberry)

8c) Vere (1 Jan 1619- )

9c) Edward (17 Oct 1624-25 Dec 1686); m.Jane Rogers

10c) Catherine (d.1636); m.Sir William Paston, Bt.

11c) Elizabeth (d.28 Feb 1683); m.Sir Miles Stapleton

12c) Anne (d.1660)

13c) Sophia (d.20 Dec 1689); m.Sir Richard Chaworth

14c) Mary; m.1st Rev. John Hewit; m.2nd Sir Abraham Shipman

2b) Sir Peregrine (d.1640); m.Hon. Margaret Saunderson

1c) Nicholas (d.Jan 1671); m.Mary Raybone

1d) Peregrine (14 Jan 1655-1721); m.NN à issue

3b) Henry; m.Dorothy Corbet à issue

4b) Vere

5b) Roger

6b) Catherine (d.15 Feb 1611); m.1609 Sir Lewis Watson, of Rockingham Castle [later, Lord Rockingham] (1584-Rockingham 5 Jan 1653)