Kingdom of Montenegro
Kraljevina Crna Gora
The Kingdom of Montenegro (Serbian: Краљевина Црнa Горa, Kraljevina Crna Gora) was a monarchy in southeastern Europe during the tumultuous years on the Balkan Peninsula leading up to and during World War I. Legally it was a constitutional monarchy, but absolutist in practice. On November 26, 1918 Montenegro was incorporated into the Kingdom of Serbs, Croats and Slovenes following the country's annexation by the Kingdom of Serbia.The Kingdom of Montenegro was proclaimed by Nicholas I in Cetinje, on 28 August 1910. Nicholas I, which had ruled the country as Prince since 1860, initiated several modernizing reforms in the beginning of the 20th century such as introducing a constitution and a new currency, the Montenegrin perper.
Montenegro enthustiastically joined the First Balkan War in 1912, hoping to get a share in the last Ottoman-controlled areas of Rumelia. At first, Montenegro did make further territorial gains by splitting Sandžak with Serbia on 30 May 1913. Later though, the newly-captured city of İşkodra (Skadar in Montenegrin, now Shkodër) had to be given up to the new state of Albania at the insistence of the Great Powers despite the Montenegrins having invested 10,000 lives into the capture of the town from the Ottoman-Albanian forces of Esad Pasha. When, in 1913 after the war, conflict broke out between Bulgaria and Serbia, it was natural for King Nicholas to side with Serbia and once again Montenegro was tossed into war, in which Montenegro indeed was granted substantial additional territory.
During the Great War, Montenegro was allied with the Triple Entente, in line with King Nicholas' pro-Serbian policy. From 15 January 1916 to October 1918, the country was occupied by Austria-Hungary. On 20 July 1917, the Corfu Declaration was signed; it declared the unification of Montenegro with Serbia. On 26 November 1918, Montenegrin unification with Serbia was proclaimed. Nicholas I was a staunch supporter of unification with Serbia to form a great Serbian state for all Serbs but was in conflict with the kings of Serbia concerning who would be the ruler of the new kingdom. Nicholas I was eventually dethroned and exiled.
Nominally, a later Kingdom of Montenegro existed during World War II. In reality, the area was under Italian and then German control, and there was no monarch, with all candidates having refused the crown. Italian-appointed governors ruled this puppet state from 1941 through 1943, and when Italy withdrew, the region came under direct control by German troops. Yugoslav Partisans under Josip Broz Tito took control in December 1944, terminating the ostensible second Kingdom of Montenegro.
House of Petrović-Njegoš
The House of Petrović-Njegoš (Serbian Cyrillic: Петровић-Његош) was the reigning family of Montenegro from 1696 to 1918. Montenegro had enjoyed de facto independence from the Ottoman Empire from 1711 but only received formal international recognition as an independent principality in 1878. Montenegro was ruled from inception by Vladikas, Prince-Bishops, who had a dual temporal and spiritual role. In 1852 this role was amended to be a purely temporal office. In 1910 the ruling prince Nikola I announced his elevation to King. In 1916 King Nikola I was ousted by the invasion and occupation of his country by Austria-Hungary that was followed by his formal deposition by the Podgorica Assembly in 1918 as Montenegro was annexed by the emergent Kingdom of Serbs, Croats and Slovenes.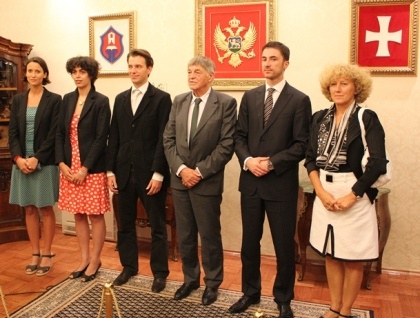 A period of eighty years of control from Belgrade followed during which Nikola I died in exile in France in 1921 followed shorty afterwards by the surprise abdication of his son and heir, Danilo III, the same year. The latter's nephew, Michael Petrović-Njegoš, inherited the titles of his predecessors whilst in exile in France and survived arrest and internment by order of Adolf Hitler for refusing to head up a puppet Montenegrin state aligned to the Axis Powers. Later, he served the Yugoslav Communist regime as Head of Protocol. He was succeeded by his son Nicholas Petrović-Njegoš in 1986. Nicholas returned to Montenegro to support the Montenegrin independence movement that went on to achieve full sovereignty for the Republic of Montenegro in 2006 referendum. The present head of the house is Nicholas II of Montenegro.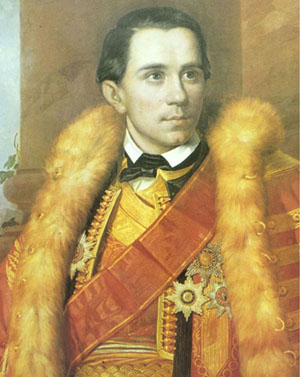 The List of Princes and Kings of Montenegro - 1696 - 1918
Prince-Bishops from the House of Petrović-Njegoš
Picture
Name
Born - Died
Reign
Territory
Notes
Prince-Bishop
Danilo I
1670 - January 11, 1735
July 1696 - January 22, 1735
Prince-Bishopric of Montenegro
Founder of the House of Petrović-Njegoš.
Prince-Bishop
Sava II
January 18, 1702 - March 9, 1782
January 22, 1735 - March 9, 1782
Prince-Bishopric of Montenegro
Ruled jointly with Vasilije III from 1750 until March 10, 1766.
Prince-Bishop
Vasilije III
1709 - March 10, 1766
1750 - March 10, 1766
Prince-Bishopric of Montenegro
Ruled jointly with Sava II.
Prince-Bishop
Petar I
1747 - October 30, 1830
March 1782 - October 30, 1830
Prince-Bishopric of Montenegro
Canonized as Saint Peter of Cetinje by the Serbian Orthodox Church.
Prince-Bishop
Petar II
November 13, 1813 - October 31, 1851
October 30, 1830 - October 31, 1851
Prince-Bishopric of Montenegro
Most famous as a poet. His notable works include The Mountain Wreath, The Light of Microcosm, The Serbian Mirror and False Tsar Stephen the Little.
Prince-Bishop
Danilo II
May 25, 1826 - August 13, 1860
1851 - March 13, 1852
Prince-Bishopric of Montenegro
Proclaimed Prince of Montenegro
Principality of Montenegro - House of Petrović-Njegoš

Picture
TitleName
Born - Died
Reign
Territory
Notes
Prince
Danilo I
May 25, 1826 - August 13, 1860
March 13, 1852 - August 13, 1860
Principality of Montenegro
First secular ruler of Montenegro after centuries of theocratic rule. Assassinated in Kotor.
Prince
Nikola I
October 7, 1841 - March 1, 1921
August 13, 1860 - August 28, 1910
Principality of Montenegro
Proclaimed King of Montenegro
Kingdom of Montenegro - House of Petrović-Njegoš

Picture
TitleName
Born - Died
Reign
Territory
Notes
King
Nikola I
October 7, 1841 - March 1, 1921
August 28, 1910 - November 26, 1918
Kingdom of Montenegro
In exile from January 15, 1916; Deposed on the Podgorica Assembly on November 26, 1918.
Pretenders to the Montenegrin throne since 1918
House of Petrović-Njegoš
Nikola I (26 November 1918 - 1 March 1921)
Danilo III (1 March 1921 - 7 March 1921)
Michael I (7 March 1921 - 24 March 1986)
Nikola II (24 March 1986 - Present) (Nikola II is also the hereditary Grand Master of the Order of Prince Danilo I; The Order of Saint Peter of Cetinje and the Order of the Golden Obilić).
Royal Family Titles and Styles
The members of this family bear the title Prince or Princess Petrovich Njegosh of Montenegro, together with the formal appellation of His or Her Royal Highness.
The Genealogy of the Royal House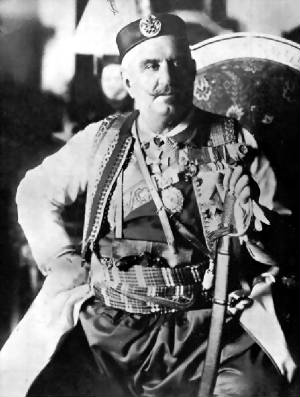 NIKOLA I, Prince of Montenegro in succession to his uncle 13 Aug 1860, assumed the title King of Montenegro 28 Aug 1910, forced into exile 13 Nov 1918 when Montenegro was annexed to the new Kingdom of the Serbs, Croats and Slovenes (Yugoslavia); b.Njegosh 7 Oct 1841, d.Cap d'Antibes 1 Mar 1921; m.Cetinje 8 Nov 1860 Milena Vukotic (Cevo 4 May 1847-Cap d'Antibes 16 Mar 1923)
1a) Zorka Ljubica (Cetinje 23 Dec 1864-Cetinje 28 Mar 1890); m.Cetinje 11 Aug 1883 Pr Peter Karageorgevich [later, Prince and King of Serbia and then King of the Serbs, Croats and Slovenes] (Belgrade 11 Jul 1844-Belgrade 16 Aug 1921)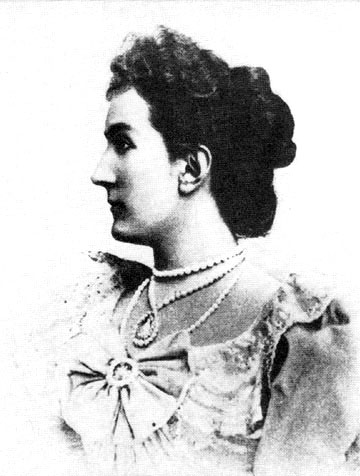 2a) Militza (Cetinje 26 Jul 1866-Alexandria, Egypt 5 Sep 1951); m.Peterhof 7 Aug 1889 Peter, Grand Duke of Russia (St.Petersburg 22 Jan 1864-Cap d'Antibes 17 Jun 1931)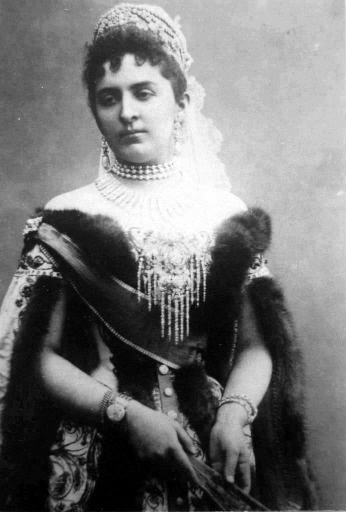 3a) Stana (Anastasia) (Cetinje 4 Jan 1868-Cap d'Antibes 15 Nov 1935); m.1st Peterhof 28 Aug 1889 (div 1906) George Pr Romanovsky, Duke von Leuchtenberg (St.Petersburg 29 Feb 1852-Paris 3 May 1912); m.2d Yalta 12 May 1907 Nicholas, Grand Duke of Russia (St.Petersburg 18 Nov 1856-Cap d'Antibes 5 Jan 1929)
4a) Marija (Maritza) (Cetinje 29 Mar 1869-St.Petersburg 7 May 1885)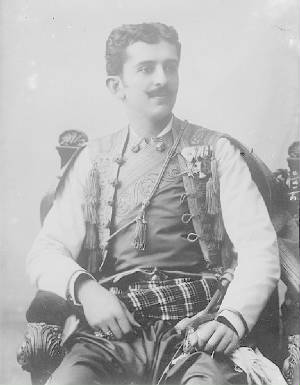 5a) DANILO Alexander, he assumed the title of King of Montenegro on the death of his father and abdicated in favor of his nephew 7 Mar 1921 (Cetinje 29 Jun 1871-Vienna 24 Sep 1939); m.Cetinje 27 Jul 1899 Jutta Dss of Mecklenburg-Strelitz (Neustrelitz 24 Jan 1880-Rome 17 Feb 1946)
6a) Jelena (Elena) (Cetinje 8 Jan 1873-Montpellier 28 Nov 1952); m.Rome 24 Oct 1896 King Vittorio Emanuele I of Italy (Naples 11 Nov 1869-Alexandria, Egypt 28 Dec 1947)
7a) Anna (Cetinje 18 Aug 1874-Montreux 22 Apr 1971); m.Cetinje 18 May 1897 Franz Joseph Pr von Battenberg (Padua 24 Sep 1861-Schaffhausen, Switzerland 31 Jul 1924)
8a) Sophia (Cetinje 2 May 1876-Cetinje 14 Jun 1876)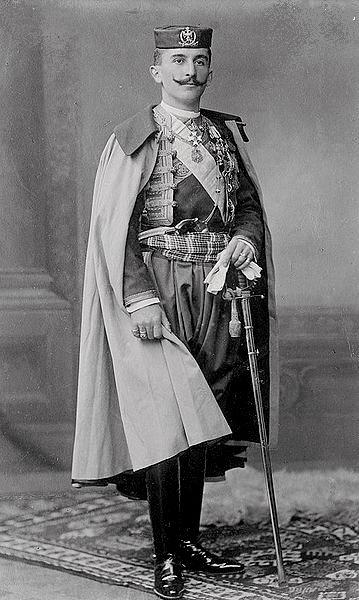 9a) Mirko Dimitri, Grand Voivode of Grahovo and Zetà (Cetinje 17 Apr 1879-Vienna 2 Mar 1918); m.Cetinje 25 Jul 1902 (div 1917) Natalija Constantinovic (Trieste 10 Oct 1882-Paris 21 Aug 1950)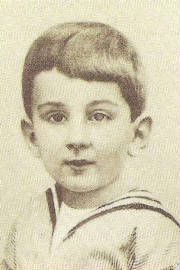 1b) Shchepac (Stephan) (Cetinje 27 Aug 1903-Cannes 15 Mar 1908)
2b) Stanislav (Cetinje 30 Jan 1905-Cattaro 4 Jan 1908)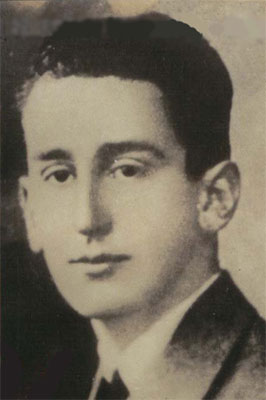 3b) MICHAEL, assumed the title King of Montenegro (Podgorica 14 Sep 1908-Paris 24 Mar 1986); m.Paris 27 Jan 1941 (div 1949) Geneviève Prigent (Saint-Brieuc 4 Dec 1919-Lannion 26 Jan 1990)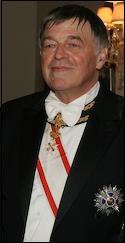 1c) NIKOLA Michael Francis (b.Saint-Nicolas-du-Pelem 7 Jul 1944); m.Trebeurden 27 Nov 1976 Francine Navarro (Casablanca 27 Jan 1950-Paris 6 Aug 2008)
1d) Altinaï (b.Les Lilas 27 Oct 1977); m.Paris 12 May 2009 Anton Martynov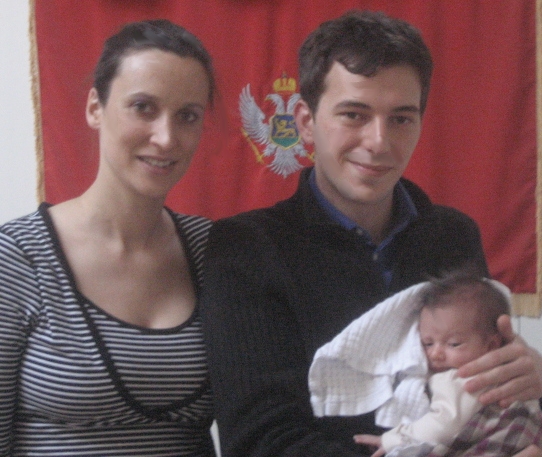 2d) Boris (b.Les Lilas 21 Jan 1980); m.12 May 2007 Véronique Haillot Canas da Silva (b.São Sebastião da Pedreira, Lisbon, Portugal 27 Jul 1976)
1e) Milena (b.Les Lilas 11 Feb 2008)
4b) Paul, Pr of Raska (Podgorica 16 May 1910-Jun 1933)
5b) Emanuel (Cetinje 10 Jun 1912-Biarritz 26 Mar 1928)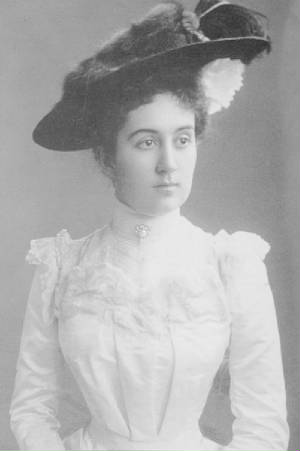 10a) Xenia (Cetinje 22 Apr 1881-Paris 10 Mar 1960)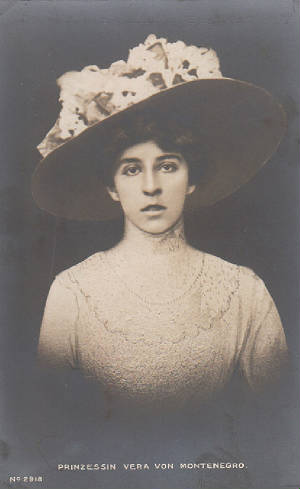 11a) Vera (Rijeka 22 Feb 1887-Cap d'Antibes 31 Oct 1927)
12a) Peter, Grand Voivode of Zahumlije (Cetinje 10 Oct 1889-Meran 7 May 1932); m.Paris 29 Apr 1924 Violet Wegner (London 26 Jan 1887-Monte Carlo 17 Oct 1960)