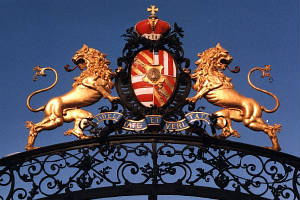 Mediatized House of Wied
Wied was a County of Rhineland-Palatinate, Germany, located on the river Wied where it meets the Rhine. Wied emerged as a County earlier than many other German states. From 1243-1462, Wied was united with an Isenburgian County as Isenburg-Wied. Wied was partitioned twice: between itself and Wied-Dierdorf in 1631, and between Wied-Neuwied and Wied-Runkel in 1698.
The Counts of Wied (c. 860-1243)
* Matfried I (c. 860- )
* Eberhard
* Matfried II
* Richwin I
* Richwin II
* Richwin III
* Richwin IV (1093-1112)
* Matfried III (1093-1129)
* Burchard (? -1152)
* Siegfried (1129-61)
* Theodoric (1158-89)
* Lothar ( -1243)
The Counts of Wied (1462-1698)
* Frederick I (1462-87)
* William III, Count of Mörs (1487-1526)
* John I (1487-1533)
* Philip (1533-35)
* John II (1535-81)
* Herman I (1581-91)
* William IV (1581-1612)
* Herman II (1581-1631)

* Frederick II (1631-98)
The Princely House of Wied of Albania
Prince William of Wied, Prince of Albania (Wilhelm Friedrich Heinrich) (26 March 1876 - 18 April 1945) reigned briefly as the sovereign of Albania from 7 March 1914 to 3 September 1914 when he left for exile. His reign officially came to an end on 31 January 1925 when the country was declared a republic. Outside the country and in diplomatic correspondence, he was styled "The Sovereign Prince", but in Albania he was referred to as mbret, or king. He was also styled Skanderbeg II, in homage to Skanderbeg, the national hero. Born in Neuwied, he was the third son of William (Wilhelm in German), 5th Prince of Wied (Prinz zu Wied in German)(brother of Queen Elisabeth of Romania), and his wife Princess Marie of the Netherlands (sister of Queen Louise of Sweden).
His paternal grandparents were Hermann, Prince of Wied, and Marie Wilhelmine Friederike Elisabeth of Nassau-Weilburg. Marie was a daughter of Wilhelm, Duke of Nassau and his first wife Charlotte Louise of Saxe-Altenburg. Charlotte was a daughter of Frederick, Duke of Saxe Altenburg and Duchess Charlotte Georgine of Mecklenburg-Strelitz. His maternal grandparents were Prince Frederik of the Netherlands and Princess Louise of Prussia. Louise was a daughter of Frederick William III of Prussia and Louise of Mecklenburg-Strelitz. Prince William served as a Prussian cavalry officer before becoming a captain in the German General Staff in 1911.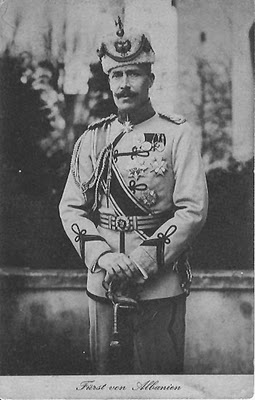 Prince William's aunt Queen Elisabeth of Romania, on learning that the Great Powerswere looking for a prince to rule over Albania, asked Take Ionescu to attempt to persuade the great powers to appoint her nephew to the post. Eventually the European Great Powers- Austria-Hungary, the United Kingdom of Great Britain and Ireland, the French Third Republic, the German Empire, the Russian Empire and the Kingdom of Italy selected William, a member of the German princely house of Wied, to rule over newly-independent Albania. The announcement was made in November 1913 and the decision was accepted by Ismail Qemali, the head of the provisional government. The offer of the Albanian throne was first made to him in the spring of 1913 but he turned it down. Despite rejecting the offer, the Austrians put pressure on Prince William in an attempt to change his mind.
He let the Great Powers know on 7 February 1914 that he would accept the throne. On 21 February 1914 a delegation of Albanian notables made a formal request, which he accepted thereby becoming By the grace of the powers and the will of the people the Prince (Mbret) of Albania. One month after accepting the throne on 7 March, he arrived in his provisional capital of Durrës and started to organise his government, appointing Turhan Pasha Përmeti to form the first Albanian cabinet. This firt cabinet was dominated by members of nobility (prince Essad pacha Toptani defence and foreign affairs, prince George Adamidi bey Frachery finances, prince Aziz pacha Vrioni agriculture).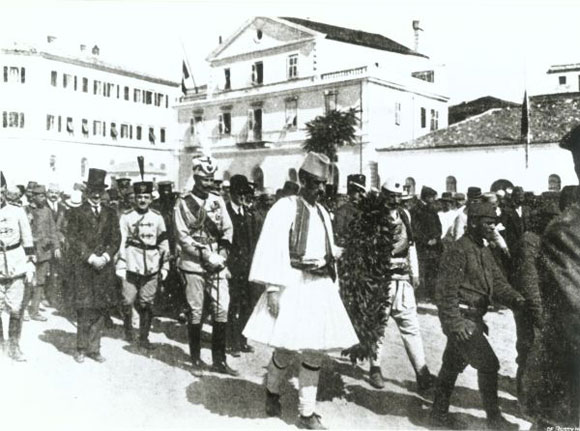 His brief reign proved a turbulent one. Immediately following his arrival revolts broke out in central Albania against his Chief Minister, Essad Pasha, and against foreign domination. Greece encouraged the formation of "provisional government of North Epirus". Although an agreement was made to grant extra rights to the Greek minority, the Hellenic Army occupied Southern Albania excluding Berat and Korçë. William's position was also undermined by own officials, notably Essad Pasha himself, who accepted money from Italy to finance a revolt and to stage a coup against William. Pasha was arrested on 19 May 1914 and tried for treason and sentenced to death. Only the intervention of Italy saved his life and he escaped to Italy in exile. The outbreak of World War I presented more problems for Prince William as Austria-Hungary demanded that he send Albanian soldiers to fight alongside them. When he refused, citing the neutrality of Albania in the Treaty of London, the remuneration that he had been receiving was cut off.
With Albania in a state of civil war since July 1914, Greece occupying the south of the country, the great powers at war with one another, his regime collapsed, and so Prince William left the country on 3 September 1914 originally heading to Venice. Despite leaving Albania he did so insisting that he remained head of state. Although several of the factions competing for power in postwar Albania billed themselves as regencies for William, once central authority was definitively restored in 1924 the country was declared a republic on 31 January 1925, officially ending his reign. With the monarchy in Albania set to be restored with President Ahmet Zogu becoming king, Prince William reaffirmed his claim to the throne announcing he still claimed the throne for himself and his heirs. Prince William died in Predeal, near Sinaia, in Romania leaving his son Hereditary Prince Carol Victor as heir to his Albanian claims. He was buried in the Lutheran church in Bucharest.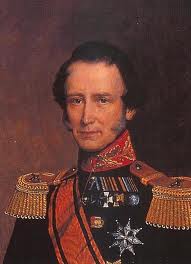 The Titles and Styles of the Princely House

The members of this family bear the title Prince or Princess zu Wied together with the formal appellation of His or Her Serene Highness.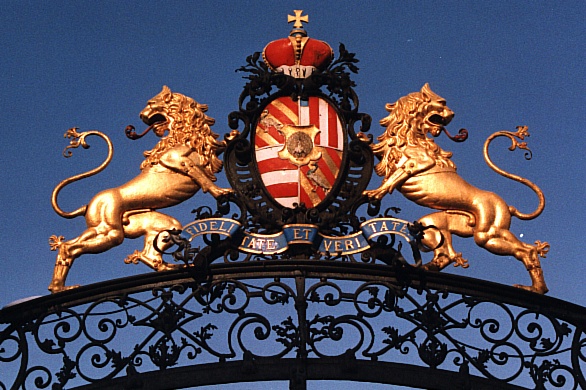 The Genealogy of The Princely House

JOHANN FRIEDRICH ALEXANDER, cr 1784 Fürst zu Wied (18 Nov 1706-7 Aug 1791); m.2 Jan 1739 Karoline Bggfn von Kirchberg (19 Oct 1720-19 Jan 1795)

1a) Sophia Karolina (16 Apr 1740-1 Oct 1742)

2a) Fst FRIEDRICH KARL zu Wied-Neuwied (25 Dec 1741-1 Mar 1809); m.26 Jan 1766 Marie Luise Wilhelmine Gfn zu Sayn-Wittgenstein-Berleburg (13 May 1747-15 Nov 1823)

1b) Klemens Karl Friedrich Ludwig Wilhelm (21 Dec 1769-2 Apr 1800)

2b) Maria Karoline Christiana (1 Mar 1771-14 Feb 1803)

3b) Luise Philippine Charlotte (11 Mar 1773-18 Apr 1864)

4b) Christian Friedrich (8 Mar 1775-k.a.27 Jul 1800)

5b) Antoinette Charlotte Viktoria (11 Oct 1776-26 Oct 1777)

6b) Fst JOHANN KARL AUGUST zu Wied (26 May 1779-24 Apr 1836); m.Braunfels 11 Jun 1812 Pss Sophie Auguste zu Solms-Braunfels (Braunfels 24 Feb 1796-23 Jan 1855)

1c) Luitgarde (4 Mar 1813-9 Jun 1870); m.11 Sep 1832 Otto Gf zu Solms-Laubach (d.1872)

2c) Wilhelm HERMANN Karl Fst zu Wied (Neuwied 22 May 1814-Neuwied 5 Mar 1864); m.Biebrich 20 Jun 1842 Marie Pss of Nassau-Weilburg (Biebrich 29 Jan 1825-Neuwied 24 Mar 1902)

1d) Pauline Elisabeth Ottilie Luise (Neuwied 29 Dec 1843-Bucharest 3 Mar 1916); m.Neuwied 15 Nov 1869 Karl Pr von Hohenzollern, who in 1866 became reigning prince of Romania and in 1881 became King Carol I of Romania (Schloß Sigmaringen 27 Apr 1839-Bucharest 10 Oct 1914)

2d) WILHELM Adolph Maximilian Carl Fst zu Wied (Neuwied 22 Aug 1845-Neuwied 22 Oct 1907); m.Wassenaar 18 Jul 1871 Marie Pss of the Netherlands (Paauw 5 Jul 1841-Neuwied 22 Jun 1910)

1e) Wilhelm FRIEDRICH Hermann Otto Karl Fst zu Wied (Neuwied 27 Jun 1872-Neuwied 18 Jun 1945); m.Stuttgart 29 Oct 1898 Pauline Pss of Württemberg (Stuttgart 29 Dec 1877-Ludwigsburg 7 May 1965)

1f) Hermann Wilhelm Friedrich Erbpr zu Wied (Potsdam 18 Aug 1899-k.a.Rezeszow, Poland 5 Nov 1941); m.Neuwied 29 Apr 1930 Maria Antonia Gfn zu Stolberg-Wernigerode (Várpalota 6 Feb 1909-Dierdorf 24 Jan 2003)

1g) FRIEDRICH WILHELM Heinrich Konstantin Fst zu Wied (Stuttgart 2 Jun 1931-Salmon Arm, British Columbia 28 Aug 2000); m.1st Arolsen (civ) 31 Aug 1958 (rel) 9 Sep 1958 (div 1962) Guda Pss zu Waldeck und Pyrmont (b.Arolsen 22 Aug 1939); m.2d (civ) Neuwied 14 Jul 1967 (rel) Runkel 15 Jul 1967 Sophie Charlotte Pss zu Stolberg-Stolberg (b.Nordhausen 4 Oct 1943)

1h) Johann Friedrich Alexander Hermann Josias Wilhelm, renounced rights as first-born son 4 Oct 2000 (b.Neuwied 29 Sep 1960)

2h) Friedrich August Maximilian Wilhelm CARL Fst zu Wied (b.Neuwied 27 Oct 1961); m.Birstein 25 Apr 1998 Isabelle Pss von Isenburg (b.Frankfurt 26 Apr 1973)


1i) Franz Alexander Friedrich Wilhelm Maximilian (b.Neuwied 10 Aug 1999)

2i) Franz Alexander Heinrich Konstantin Friedrich-Wilhelm (b.Neuwied 12 Jun 2001)

3i) Marie Elisabeth (b.and d.Neuwied 29 Mar 2003)

4i) Anastasia Isabelle Luise (b.Neuwied 2 Nov 2004)

3h) Christina Elisabeth Sophie Wilhelmine Friederike (b.Neuwied 9 Jun 1970); m.Neuwied 8 Jun 1996 Wolf-Eckart Frhr von Gemmingen-Hornberg (b.Bamberg 21 Oct 1959)

4h) Wolff-Heinrich Friedrich Wilhelm Ello (b.Neuwied 12 Feb 1979)

2g) Metfried Alexander Wilhelm Friedrich (b.Stuttgart 25 Apr 1935); m.(civ) Andernach 12 Feb 1968 (rel) Neuwied 14 Feb 1968 Felicitas Frn von der Pahlen (b.Linnich 31 Dec 1948)

1h) Friedrich Christian Hermann Wilhelm Alexis (b.Waldbröl 5 Aug 1968); m.Runkel 28 Jun 2002 (rel) 29 Jun 2002 Sibylle Garbe (b.Freiburg 29 Jun 1972)

1i) Ferdinand Constantin Georg Friedrich Wilhelm (b.Frankfurt 9 Oct 2003)

2i) Friedrich Conrad Leopold Günter Wilhelm (b.Frankfurt 5 Jan 2006)

3i) Friedrich Carl Metfried Alexander Wilhelm (b.Frankfurt 20 May 2007)

4i) Friedrich Christian Franz Gustav Wilhelm Ulrich (b.Gelnhausen 17 Sep 2010)

2h) Magnus Alexander Wilhelm Friedrich (b.Waldbröl 6 Jun 1972); m.Munich 23 Sep 2005 (rel) Runkel 2 Oct 2005 Marie-Therese Schroth (b.Exeter 8 Feb 1977)

1i) Sidonie Eva Katharina Marie-Therese (b.Munich 28 Dec 2008)

3g) Wilhelmine Friederike Elisabeth Henriette Anastasia Osterlind (b.Stuttgart 8 Apr 1939); m.Neuwied 7 Sep 1964 Werner von Klitzing (b.Hannover 3 Aug 1934)

2f) Dietrich Wilhelm Friedrich Karl Paul (Potsdam 30 Oct 1901-Ludwigsburg 8 Jan 1976); m.Berlin 8 Jul 1928 Julie Gfn Grote (Berlin 9 Oct 1902-Ludwigsburg 17 Feb 1988)

1g) Wilhelm Friedrich Otto Hermann Maximilian (Hannover 30 May 1929-Agatharied-Hausham 5 Jun 2008)

2g) Wilhelm Friedrich Ulrich (Stuttgart 12 Jun 1931-Rottach-Egern 12 Sep 2010); m.Munich 2 Dec 1968 Ilke Fischer (b.Bonn 9 Dec 1936)

1h) Wilhelm Friedrich Ulrich (b.Munich 26 Jun 1970); m.Birmingham 1 Jul 2000 Clarissa Elizabeth Makepeace-Massingham (b.Evesham 8 Jul 1971)

1i) Wilhelmn Friedrich Ulrich Maximilian Georg (b.London 9 May 2001)

2i) George Edward August Wilhelm (b.London 7 Mar 2004)

3i) Philipp Ulrich Edward Albert Wilhelm (b.3 Jun 2010)

2h) Wilhelmine Friederike Pauline Elisabeth Marie (b.Munich 27 Dec 1973); m.Altshausen 11 Nov 1993 (rel) 12 Nov 1993 Friedrich, Duke of Württemberg (b.Friedrichshafen 1 Jun 1961)

3g) Wilhelm (Stuttgart 24 Aug 1936-Stuttgart 24 Apr 1937)

4g) Wilhelm Friedrich Dietrich Ludwig-Eugen (Stuttgart 27 Aug 1938-Munich 11 May 2001); m.Munich (civ) 30 May 1966 (rel) 8 Jun 1966 Helga Gemeinert (Sorau, Niederlausitz 7 May 1941-Munich 11 Dec 2004)

1h) Wilhelm Friedrich Dietrich Ludwig Karl Edzard (b.Munich 16 Jan 1968)

2e) Wilhelm Alexander Friedrich Karl Hermann (Neuwied 28 May 1874-Neuwied 15 Jan 1877)

3e) Wilhelm, elected Prince of Albania in 1914, deposed 7 months later; see Albania

4e) Wilhelm Friedrich Adolf Hermann Viktor (Neuwied 7 Dec 1877-Moosburg 1 Mar 1946); m.Schloß Wildenfels 6 Jun 1912 Gisela Gfn zu Solms-Wildenfels (Wildenfels 30 Dec 1891-Oberammergau 20 Aug 1976)

1f) Marie Elisabeth Charlotte Sophie Anna Pauline Luise Solveig (Oslo 14 Mar 1913-Augsburg 30 Mar 1985)

2f) Benigna-Viktoria Ingeborg Anna Wilhelmine (Oslo 23 Jul 1918-Oberammergau 16 Jan 1972); m.Berlin 19 Dec 1939 Ernst Hartmann Frhr von Schlotheim (Wiesbaden 27 Dec 1914-Wiesbaden 31 Oct 1952)

5e) Wilhelmine Friederike Auguste Alexandrine Marie Elisabeth Luise (Neuwied 24 Oct 1880-Mon Repos 29 Aug 1965)

6e) Elisabeth (Neuwied 28 Jan 1883-Neuwied 14 Nov 1938)

3d) Otto (22 Nov 1850-Neuwied 18 Feb 1862)

3c) Thekla (19 Jul 1817-10 Jan 1867)

4c) Otto (30 Sep 1818-19 May 1835)

7b) Ludwig Georg Karl (31 Dec 1780-14 Nov 1781)

8b) Heinrich Viktor (7 Nov 1783-k.a.28 Jan 1812)

9b) Maximilian Alexander Philipp (23 Sep 1782-3 Feb 1867)

10b) Karl Emil Friedrich Heinrich (20 Aug 1785-4 Oct 1864)

3a) Alexander August (18 Mar 1747-27 Apr 1750)