Dukes of Bolton - Marquesses of Winchester - Earls Poulett
Part 1
Sir John Paulet (d.1378) m.Elizabeth Creedy and had issue:
1a) Sir Thomas Paulett; m.Margaret Boulton
1b) Sir William Paulett; m.Elizabeth Denehand
1c) Sir Amias Paulett; m.Margaret Paulet (below)
1d) Sir Hugh Paulett; m.1st NN; m.2nd Philippa Pollard
1e) [by 2nd m.] Sir Amias Poulett (d.1588); m.Margaret Harvey
1f) Sir Anthony Poulett (d.22 Jul 1600); m.1583 Catherine Norris
1g) John Poulett, cr 1627 Lord Poulett (ca 1585-20 Mar 1649); m.ca 1614 Elizabeth Kenn; for his issue see Part 2, below
2g) Margaret; m.1614 Sir Edmund Fowell, Bt. (d.Oct 1674)
3g) Margery; m.John Sydenham, of Combe
2f) Sarah (d.13 Jun 1608); m.Sir Francis Vincent, [later, Bt.] (d.1640)
2c) Elizabeth; m.Sir William Cary
3c) Alice; m.Sir John Paulet (below)
2a) William Paulet (d.8 Aug 1435); m.Eleanore de la Mere
1b) Sir John Paulet; m.Constance de Poynings
1c) John Paulet; m.Eleanor Roos
1d) Sir John Paulet; m.Alice Poulett (above)
1e) William, cr 1539 Lord St.John of Basing, cr 1550 Earl of Wiltshire, cr 1551 Marquess of Winchester (d.10 Mar 1572); m.Elizabeth Capel; for his issue see part 3, below
2e) Thomas
3e) Sir George (d.1558); m.NN; he left five sons and five daughters, of whom:
1f) William; m.NN
1g) William, of Ewalden, Somerset; m.Elizabeth Codingham
1h) Elizabeth (d.Melchbourne, Beds 1655); m.Apr 1602 Oliver St.John, Earl of Bolingbroke (ca 1584-Jun 1646)
4e) Richard; m.NN
1f) Sir Richard; m.NN
1g) Lucy; m.Sir Thomas Jervoise (11 Jun 1587-20 Oct 1654)
2g) dau
5e) Eleanor; m.Sir William Gifford
6e) Katherine; m.Sir William Fermor
2d) Margaret; m.Sir Amias Poulett (above)
Part 2
John, Lord Poulett (see Part 1, above) had issue:
1a) John, 2nd Lord Poulett (ca 1615-Court de Wick, Somerset 15 Sep 1665); m.1st Catherine St.John, née Vere; m.2nd Hinton St.George 30 Jan 1653 Anne Browne (b.10 Jul 1635, d.by 1711); he had four sons and seven daughters, of whom:
1b) John, 3rd Lord Poulett (ca 1642-1679); m.1st 1663 Essex Popham; m.2nd 1667 Lady Susan Herbert; all issue by 1st m.
1c) John, 4th Lord Poulett, cr 1706 Earl Poulett (ca 1668-28 May 1743); m.1702 Bridget Bertie (d.23 Mar 1748)
1d) John, 2nd Earl Poulett (London 10 Dec 1708-5 Nov 1764)
2d) Peregrine (1708-26 Aug 1752)
3d) Vere, 3rd Earl Poulett (18 May 1710-14 Apr 1788); m.London 4 Mar 1755 Mary Butt (bap 24 Aug 1732-London 26 Apr 1819)
1e) John, 4th Earl Poulett (3 Apr 1756-14 Jan 1819); m.1st 22 Jul 1782 Sophia Pocock (d.24 Jan 1811); m.2nd 23 Jul 1816 Margaret, Lady Burges, née Burges (d.27 May 1737); all issue by 1st m.
1f) John, 5th Earl Poulett (5 Jul 1783-20 Jun 1864); m.28 Aug 1820 Charlotte Fanny Portman (d.27 Mar 1877)
1g) John Rolle, Viscount Hinton (Paris 8 Jun 1821-London 18 Aug 1843)
2g) Vere, Viscount Hinton (20 Aug 1822-London 29 Aug 1857)
3g) Amias Lucien (6 Feb 1835-20 Feb 1857)
2f) George (10 May 1786-10 Feb 1854); m.9 Dec 1811 Catherine Sophia Dallas (d.11 Apr 1831)
1g) George (12 Jun 1821-5 Oct 1850)
2g) Henry Vane Ashton (2 Apr 1824-26 Aug 1846)
3g) William Henry, 6th Earl Poulett (London 22 Sep 1827-London 22 Jan 1899); m.1st Portsea 21 Jun 1849 Elizabeth Lavinia Newman (d.Southsea 9 Aug 1871); m.2nd 20 Sep 1871 Emma Sophia Johnson (d.Hinton St.George 16 Sep 1876); m.3rd 1 Mar 1879 Rosa Melville (d.London 2 Jan 1915)
1h) William Turnour Thomas, b.to Lady Poulett at Southsea 15 Dec 1849, and later claimed the Poulett titles, but the House of Lords found that he was not the son of the 6th Earl, and denied the claim
2h) William John Lydston, 7th Earl Poulett (London 11 Sep 1883-11 Jul 1918); m.2 Sep 1908 Sylvia Lilian Storey (d.20 Jul 1947)
1i) George Amias Fitzwarine, 8th Earl Poulett (23 Jun 1909-1973)
2i) Bridgett Elizabeth Felicia Henrietta Augusta (1912-____); m.1948 Luis Robledo
3h) Eleanor Augusta Rosa (d.23 Apr 1944)
4h) Violet Nita; m.6 Dec 1904 Cecil John Talbot Rhys Wingfield (d.29 Apr 1915)
3f) William (12 Sep 1789-28 Nov 1805)
4f) Vere (7 Dec 1791-11 Mar 1812)
5f) Frederic Charles (6 Jul 1798-16 Nov 1808)
6f) Sophia (16 Mar 1785-Raby Castle 9 Jan 1859); m.London 18 Nov 1809 Henry Vane, 2nd Duke of Cleveland (6 Aug 1788-Raby Castle 18 Jan 1864)
7f) Mary (24 Feb 1788-11 Jun 1860); m.9 Aug 1821 Lord Charles Henry Somerset (12 Dec 1767-20 Feb 1831)
2e) Vere (1761-15 Mar 1812); m.N Beecher
1f) John (1789- )
2f) Anne Lucy (1 Jan 1790-18 Apr 1848); m.Aylesbury 6 Sep 1813 George Nugent-Grenville, Lord Nugent (31 Dec 1789-26 Nov 1850)
4d) Anne [son] (11 Jul 1711-5 Jul 1785)
5d) Bridget (d.21 Jul 1773); m.21 May 1724 Pollexfen Bastard, of Kitley (d.1733)
6d) Catherine (d.16 Aug 1758); m.26 Jun 1725 John Parker, of Saltram
2c) Catherine (9 Mar 1664-ca 1687); m.Jun 1682 William Fermor, Lord Leominster (3 Aug 1648-7 Dec 1711)
3c) Letitia; m.Sir William Monson, 4th Bt. (d.7 Mar 1727)
2a) Susannah; m.M Wharton
3a) Florence; m.1st Thomas Smith; m.2nd Rt Hon Thomas Pigott
4a) Margaret; m.1st Dennis Rolle; m.2nd Sir Richard Cholmley
5a) Elizabeth; m.1st William Ashburnham; m.2nd Sir William Hartopp
Part 3
William, Marquess of Winchester (see Part 1, above) had issue:
1a) John, 2nd Marquess of Winchester (ca 1510-Chelsea 4 Nov 1576); m.1st Elizabeth Willoughby; m.2nd 1554 Elizabeth, Lady Cromwell, née Seymour; m.3rd Winifred, Lady Sackville, née Brydges (d.ca 1586); all issue by 1st m.
1b) William, 3rd Marquess of Winchester (1532/3-24 Nov 1598); m.Agnes Howard (d.18 Nov 1601)
1c) William, 4th Marquess of Winchester (d.Hackwood 4 Feb 1629); m.London 28 Feb 1587 Lady Lucy Cecil (Burghley 7 Mar 1568-Oct 1614)
1d) William, Lord St.John (1588-1621); m.ca 1614 Hon. Mary Browne (d.Nov 1692)
2d) John, 5th Marquess of Winchester (ca 1598-5 Mar 1675); m.1st 1622 Lady Jane Savage (d.1631); m.2nd 1633 Lady Honora Bourke (19 Aug 1610-10 Mar 1662); m.3rd Lady Isabella Theresa Lucy Howard (1644-2 Sep 1691)
1e) [by 1st m.] CHARLES, 6th Marquess of Winchester, cr 1689 Duke of Bolton, changes spelling of name to Powlett (ca 1630-Amport 27 Feb 1699); m.1st 28 Feb 1652 Hon. Christian Frescheville (13 Dec 1633-22 May 1653); m.2nd 12 Fbe 1655 Mary, Lady Leppington, née le Scrope (d.Moulins, France 1 Nov 1680)
1f) CHARLES, 2nd Duke of Bolton (1661-London 21 Jan 1722); m.1st London 10 Jul 1679 Hon. Margaret Coventry (Hothfield House, Kent 14 Sep 1657-7 Feb 1682); m.2nd London 8 Feb 1683 Frances Ramsden (bap 14 Jun 1661-22 Nov 1696); m.3rd 1697 Henrietta Crofts, nat.dau of Duke of Monmouth (d.27 Feb 1730)
1g) CHARLES, 3rd Duke of Bolton (Chawton, Hants 3 Sep 1685-Tunbridge Wells 26 Aug 1754); m.1st 21 Jul 1713 Lady Anne Vaughan (d.20 Sep 1751); m.2nd Aix-en-Provence 20 Oct 1751 Lavinia Beswick; he had three sons, by 2nd wife before marriage:
1h) Rev. Charles Powlett (28 Dec 1728-29 Jan 1809)
2h) Percy Powlett
1i) Rev. Charles Powlett
3h) Horatio Armand Powlett; m.Jane N
1i) Charles Powlett (24 Feb 1763-16 Jan 1776)
2g) HARRY, 4th Duke of Bolton (London 24 Jul 1691-9 Oct 1759); m.Catharine Parry
1h) CHARLES, 5th Duke of Bolton (ca 1718-shot himself to death London 5 Jul 1765)
1i) [by Mrs Mary Browne Banks] Jean Mary Browne-Powlett, heires of Bolton and many Powlett estates on the death of her uncle (d.Bristol 14 Dec 1814); m.London 7 Apr 1778 Thomas Orde, later Orde-Powlett, cr 1797 Lord Bolton of Bolton Castle (30 Aug 1740-Hackwood Park 30 Jul 1807)
2h) HARRY, 6th Duke of Bolton (6 Nov 1720-Hackwood 25 Dec 1794); m.1st London 7 May 1752 Mary Munn (d.Bath 31 May 1764); m.2nd London 8 Apr 1765 Katharine Lowther (d.London 21 Mar 1809)
1i) [by 1st m.] Mary Henrietta (Oct 1753-30 Mar 1779); m.London 1 Mar 1766 John Montagu, Viscount Hinchingbrooke [later, 5th Earl of Sandwich (26 Jan 1744-London 6 Jun 1814)
2i) [by 2nd m.] Katherine (1766-Cleveland House, London 17 Jun 1807); m.Hackwood 17 Sep 1787 William Harry Vane, Duke of Cleveland (27 Jul 1766-London 29 Jan 1842)
3h) Henrietta (d.22 Dec 1753); m.12 Jul 1741 Robert Colebrooke, of Chilham Castle (d.10 May 1784)
4h) Catherine (d.1775); m.1st William Ashe (d.1750); m.2nd Adam Drummond, of Megginch
3g) [by 2nd m.] Mary; m.1st Charles O'Neil; m.2nd Arthur Moore
4g) [by 2nd m.] Frances (d.30 Jul 1715); m.1708 John, Lord Mordaunt (d.5 Apr 1710)
5g) [by 3rd m.] Nassau (d.1741); m.Lady Isabella Tufton
1h) Isabella (d.Odell Castle 8 Sep 1821); m.London 4 Jun 1765 John James Perceval, 3rd Earl of Egmont (London 29 Jan 1738-Odell Castle 25 Feb 1822)
2f) William (1667-25 Sep 1729); m.1st Louisa de la Force; m.2nd Oct 1699 Anne Egerton (d.1737)
1g) William (1693-Feb 1757); m.10 Feb 1721 Lady Annabella Bennet (d.21 Nov 1769)
1h) Annabella (d.Apr 1761); m.Rev. Richard Smyth; their issue took the surname Powlett into the family of the Earls of Portsmouth
2g) Sir Charles Armand (1694-Nov 1751); m.Jun 1738 Elizabeth, Lady Dashwood, née Lewes (d.Sep 1756)
3g) [by 1st m.] Mary (d.15 Oct 1718); m.25 Jun 1714 Earl of Rosse (d.26 Jun 1741)
4g) [by 2nd m.] Henrietta (d.1755); m.29 May 1725 Hon. William Townshend (d.29 Jan 1738)
2e) [by 2nd m.] Francis; m.NN
1f) Anne; m.Rev. Nathan Wrighte (d.1721)
3e) [by 2nd m.] Anne (d.1694); m.John Belasyse, Lord Belasyse (Newborough 24 Jun 1614-10 Sep 1689)
3d) Henry (d.1672); m.Lucy Philpot
1e) Francis (d.25 Feb 1696); m.20 May 1674 Elizabeth Norton
1f) Norton (1680-6 Jun 1741); m.Jane Morley
1g) Norton (1705-14 Mar 1759); m.Anne N
1h) [illegitimate] Thomas Norton Powlett
2g) Henry (d.1743)
3g) John (d.Worms ca 1750)
4g) Charles (d.4 Apr 1762)
5g) William (d.15 Nov 1772)
6g) Herbert (d.1746)
7g) Francis (d.1742)
8g) George, 12th Marquess of Winchester, surnamed Paulet (7 Jun 1722-Amport House 22 Apr 1800); m.Dinton, Bucks 7 Jan 1762 Martha Ingoldsby (d.London 14 Mar 1796)
1h) Charles Ingoldsby, 13th Marquess of Winchester (27 Jan 1764-London 29 Nov 1843); m.31 Jul 1800 Anne Andrews (4 May 1773-21 Mar 1841)
1i) John, 14th Marquess of Winchester (Amport House 3 Jun 1801-Amport House 4 Jul 1887); m.London 29 Nov 1855 Hon. Mary Montagu (31 Mar 1828-Amport House 5 Sep 1868)
1j) Augustus John Henry Beaumont, 15th Marquess of Winchester (6 Feb 1858-k.a.Magersfontein 11 Dec 1899)
2j) Henry William Montagu, 16th Marquess of Winchester (London 30 Oct 1862-28 Jun 1962); m.1st 23 Feb 1892 Mrs Charlotte Josephine Garnett, née Howard (d.London 28 Dec 1924); m.2nd London 19 Jan 1925 Mrs Caroline Marks, née Hoffnung (d.Miami 10 Feb 1949); m.3rd 2 Jul 1952 Bapsy Pavry (1902-6 Sep 1995)
3j) Lilian Mary (26 Jul 1859-11 Nov 1952); m.28 Jul 1884 (div 1898) Randolph Gordon Erskine-Wemyss
2i) Rev. Charles (13 Aug 1802-23 Jul 1870); m.1st 18 Aug 1831 Caroline Margaret Ramsden; m.2nd 10 Aug 1850 Joan Frederica Mathewana Granville (d.10 Dec 1918)
1j) Charles William (27 Sep 1832-8 Apr 1897); m.1st 3 Dec 1863 Susan Amelia Georgina Standish (d.18 Oct 1885); m.2nd 25 Sep 1890 Mary Clerk (d.19 Feb 1901)
1k) Charles Standish (Oct 1873-18 Sep 1953); m.24 Oct 1901 Lillian Jane Charlotte Fosbery (d.Mar 1972)
1l) Richard Charles, 17th Marquess of Winchester (8 Jul 1905-5 Mar 1968)
2l) Pamela (1909-1991); m.197_ Hans Nieter O'Leary
3l) Eileen Cecil Theo (b.1917); m.1st Harry Evan Martin (d.1947); m.2nd 1949 Joseph Fitton
2k) Cecil Henry (Mar 1875-k.a.26 Feb 1916); m.6 Sep 1898 Ethel Frances Cowan (d.3 Sep 1961)
1l) George Cecil (25 Feb 1905-9 Aug 1961); m.23 Aug 1937 Hazel Margaret Wheeler
1m) Nigel George, 18th Marquess of Winchester (b.23 Dec 1941); m.25 Nov 1967 Rosemary Anne Hilton
1n) Christopher John Hilton, Earl of Wiltshire (b.1969); m.1992 Christine Town
1o) Michael John, Lord St.John
2o) Ema Louise
2n) Richard George
3n) Susan; m.Lloyd Benjamin Haynes
2m) Timothy Guy (b.1944); m.1973 Gillian Margaret Preahcer à issue
3m) Jane Angela (b.1939); m.1872 (div 1989) Christopher John Fisher
2l) John Valentine (14 Feb 1909-1970); m.5 Mar 1945 Mira Elizabeth Smith
1m) Michael John (1945-19__); m.1967 Gail Lisbeth Ward
2m) Pamela Elizabeth (b.1947)
3l) Violet Susan Mary (1903- )
2j) Frederick John (d.26 Sep 1846)
3j) Cecil Henry (14 Oct 1841-1864)
4j) Ernest Ingoldsby (22 Aug 1851-5 Feb 1853)
5j) Adela (22 Feb 1854-15 Jul 1893); m.5 Jun 1886 Frederick La Coque Thorne
6j) Eleanor Mary (d.27 Mar 1950); m.1 Jun 1889 Sir Edward Thomas Henry Hutton (d.4 Aug 1923)
3i) George (12 Aug 1803-22 Nov 1879); m.11 Jul 1835 Georgina Wood (d.17 Jan 1889)
1j) George (16 Jun 1836-12 Nov 1891)
2j) St.John Claude (30 Apr 1839-9 Jul 1908)
4i) William (7 Jul 1804-9 May 1893)
5i) Frederick (12 May 1810-1 Jan 1871)
6i) Annabella (d.26 May 1855); m.6 Aug 1827 William Ramsden
7i) Cecilia (d.23 Aug 1890); m.Dec 1842 Sir Charles des Voeux, 2nd Bt. (d.28 Sep 1858)
2h) Henry (31 Mar 1767-28 Jan 1832); m.26 Oct 1813 Anne Maria Ravenscroft (d.15 Apr 1876)
1i) Sir Henry Charles, cr Bt. 1836 (1 Aug 1814-11 Dec 1886)
2i )Edward (28 Feb 1825-6 Nov 1838)
3i) Anna Maria (d.19 Dec 1851); m.3 Jun 1845 Rev. Wellesley Pole Pigott
4i) Urania Elizabeth (d.2 Dec 1858); m.1 Feb 1844 Hon. Sir Edward Butler (d.22 Oct 1858)
3h) Urania Anne (d.Sydney Lodge, nr Southampton 27 Dec 1843); m.1st London 17 Mar 1785 Henry Bourke, Marquess of Clanricarde (8 Jan 1743-Portumna Castle 8 Dec 1797); m.2nd London 28 Oct 1799 Peter Kington (k.in attack on Buenos Aires 6 Jul 1807); m.3rd 22 May 1813 Sir Joseph Sidney Yorke (drowned in his yacht in the Hamble River 5 Apr 1831)
4d) Charles; m.NN
1e) Jane; m.Sir John Huband, Bt. (d.1710)
2c) Anne; m.Sir Thomas Dennis
3c) Katherine; m.Sir Giles Wroughton
4c) Elizabeth; m.Sir Edward Hoby
5c) [illegitimate] Sir William Paulet; m.NN
1d) Elizabeth; m.11 Mar 1631 Robert Devereux, 3rd Earl of Essex (d.London 14 Sep 1646)
2b) George (murdered at Londonderry May 1608)
3b) Richard
4b) Thomas
5b) Mary (d.10 Oct 1592); m.Henry Cromwell, 2nd Lord Cromwell (d.20 Nov 1592)
2a) Thomas; m.NN
1b) Sir George; m.NN
1c) Rachel; m.Sir Philip Carteret
2c) Frances; m.Thomas Gollop, of Strode (d.1623)
2b) Margery; m.Robert Frampton, of Moreton
3a) Chidiock; m.NN
1b) Susan; m. Sir John Seymour
4a) Giles; m.NN à issue
5a) Alice; m.Richard Stawell, of Cotherston
6a) Margaret; m.Sir William Berkeley
7a) Margery; m.Sir Richard Waller
8a) Eleanor; m.Sir Richard Pecksall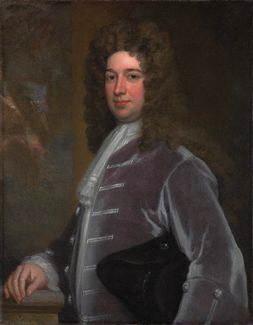 House of Pierrepont
Dukes of Kingston-upon-Hull
Evelyn Pierrepont, 5th Earl and 1st Duke of Kingston-upon-Hull (c. 1655 - 5 March 1726) had been member of parliament for East Retford before his accession to the peerage in 1690. While serving as one of the commissioners for the union with Scotland he was created Marquess of Dorchester in 1706, and took a leading part in the business of the House of Lords. He was made a privy councillor and in 1715 was created Duke of Kingston; afterwards serving as Lord Privy Seal and Lord President of the Council. The Duke was a prominent figure in the fashionable society of his day. He was twice married, and had five daughters, among whom was Lady Mary Wortley Montagu, and Evelyn Pierrepont who married John Leveson-Gower, 1st Earl Gower; and one son, William, Earl of Kingston, who died of smallpox, aged 20, in July 1713. He was succeeded by his grandson Evelyn Pierrepont, 2nd Duke of Kingston-upon-Hull.
Sir Henry Pierrepont, of Holme Pierrepont, married Frances Cavendish and had issue:
1a) Robert, cr 1627 Viscount Newark and Lord Pierrepont of Holme Pierrepont, cr 1628 Earl of Kingston-upon-Hull (6 Aug 1584-k.25 Jul 1643); m.8 Jan 1601 Gertrude Talbot (d.1649)
1b) Henry, 2nd Earl of Kingston-upon-Hull, cr 1645 Marquess of Dorchester (Mar 1607-London 8 Dec 1680); m.1st Hon. Cecilia Bayning (bap 8 Apr 1613-Twickenham 19 Sep 1639); m.2nd Sep 1652 Lady Catherine Stanley; all isue by 1st m.
1c) Robert (bap 17 Mar 1632, d.an infant)
2c) Henry, Viscount Newark (d.1649)
3c) Anne (bap 9 Mar 1631); m.Highgate 13 Jul 1658 (div 1668) John Manners, Lord Ros [later, Duke of Rutland] (29 May 1638-10 Jan 1711); she had two sons during this marriage, but they were bastardized by the divorce and were probably not the sons of her husband; she was said to have m. again
4c) Grace (d.25 Mar 1703)
2b) William, of Thoresby (d.1679); m.Elizabeth Harris
1c) Robert (d.26 Apr 1669); m.Elizabeth Evelyn
1d) Robert, 3rd Earl of Kingston-upon-Hull (ca 1660-Dieppe Jun 1682)
2d) William, 4th Earl of Kingston-upon-Hull (ca 1662-17 Sep 1690); m.Hon. Anne Greville (d.1702)
3d) EVELYN, 5th Earl of Kingston-upon-Hull, cr 1706 Marquess of Dorchester, cr 1715 Duke of Kingston-upon-Hull (ca 1665-5 Mar 1726); m.1st 1687 Lady Mary Feilding (d.1697); m.2nd 2 Aug 1714 Lady Isabella Bentinck (d.Paris 23 Feb 1728)
1e) William, Viscount Newark (21 Oct 1692-London 1713); m.1711 Rachel Hall (bap 14 Apr 1695-18 May 1722)
1f) EVELYN, 2nd Duke of Kingston-upon-Hull (1711-Bath 23 Sep 1773); m.8 Mar 1769 Elizabeth Chudleigh (ca 1720-château de Saint-Assize 28 Aug 1788); she had previously been married to Hon. Augustus Hervey (later, 6th Earl of Bristol), and that marriage had dissolved, but apparently not completely, as in 1776 the House of Lords found that the Kingston marriage was bigamous; however, she continued to be called Duchess of Kingston by contemporaries during her subsequent life in exile
2f) Frances; m.1734 Philip Medows
1g) Evelyn Philip Medows, of Conbolt, Hants (3 Dec 1736-4 Jul 1826); m.1st Margaret Cramond; m.2nd 25 May 1811 Harriot Maria Norie
2g) Charles Pierrepont Medows, later Pierrepont, succeeded to the estates of the 2nd Duke on the death of his widow, cr 196 Viscount Newark and Lord Pierrepont, cr 1806 Earl Manvers (14 Nov 1737-London 17 Jun 1816); m.Richmond, Surrey 14 Mar 1774 Anne Orton Mills (14 Sep 1756-Holme Pierrepont 24 Aug 1832)
1h) Evelyn Henry Frederick (1775-Thoresby Park 22 Oct 1801)
2h) son
3h) Charles Herbert, 2nd Earl Manvers (Ranger's Lodge, Richmond Park 11 Aug 1778-Thoresby Park 27 Oct 1860); m.Grove, Notts 23 Aug 1804 Mary Letitia Eyre (London 11 Ict 1784-Thoresby Park 7 Sep 1860)
1i) Charles Evelyn, Viscount Newark (Holme Pierrepont 2 Sep 1805-Torquay 23 Aug 1850); m.Penkridge, Staffs 16 Aug 1832 Hon. Emily Littleton (16 Nov 1814-Torquay 10 Mar 1851)
2i) Sydney William Herbert, 3rd Earl Manvers (Holme Pierrepont 12 Mar 1825-Thoresby Park 16 Jan 1900); m.London 15 Jun 1852 Georgine Jane Elizabeth Fanny de Franquetot (4 Aug 1826-London 28 Jul 1910)
1j) Charles William Sidney, 4th Earl Manvers (London 2 Aug 1854-London 17 Jul 1926); m.Ardgowan 26 Sep 1880 Helen Shaw-Stewart (18 Jul 1859-11 Mar 1939)
1k) Evelyn Robert, 5th Earl Manvers (25 Jul 1888-6 Apr 1940)
2k) Cicely Mary (4 Nov 1886-24 Oct 1936); m.6 Oct 1915 Francis Henry Hardy
3k) Alice Helen (30 Aug 1889- )
4k) Sibell (19 May 1892- ); m.10 Apr 1923 Hubert Davys Argles
2j) Evelyn Henry (23 Aug 1856-4 Jun 1926); m.1 Jun 1880 Sophia Arkwright (d.5 Jun 1941)
1k) Gervas Evelyn, 6th Earl Manvers (15 Apr 1881-13 Feb 1955); m.5 Feb 1918 Marie-Louise Roosevelt Butterfield
1l) Evelyn Louis Butterfield (8 May 1924-29 Sep 1928)
2l) Mary Helen Venetia (22 May 1920-21 Feb 1930)
3l) Frederica Rozelle Ridgway (17 Nov 1925- ); m.1st 1953 (div 1961) Alexander Montgomerie Greaves Beattie; m.2nd 1965 Richard Hollings Raynes
2k) Eva Mary (23 Oct 1882- ); m.4 Jul 1906 Elliot Scott MacKirdy
3k) Clare Isma (2 Sep 1884- ); m.20 Sep 1919 Fred Somerset Hartnell
4k) Ida Helen (27 Jan 1886-6 Aug 1894)
3j) Henry Sydney (18 Aug 1863-4 Mar 1882)
4j) Emily Annora Charlotte (16 Mar 1853-11 May 1935); m.24 Sep 1878 Frederick Lygon, 6th Earl Beauchamp (10 Nov 1830-19 Feb 1891)
5j) Mary Augusta (21 Dec 1865-6 Mar 1917); m.4 Apr 1899 John Peter Grant, of Rothiemurchus
3i) Mary Frances (d.12 Jun 1905); m.21 Aug 1845 Edward Egerton
4i) Annora Charlotte (d.22 Mar 1888); m.18 Aug 1853 Charles Watkin Williams Wynn
4h) Henry, of Conbolt Park (18 Mar 1780-10 Nov 1851); m.1818 Lady Sophia Cecil (d.1823)
1i) Augusta Sophia Anne (d.13 Jul 1893); m.9 Jul 1844 Lord Charles Wellesley
5h) Philip Sydney, of Evenley Hall (13 Jun 1786-15 Feb 1864); m.10 Aug 1820 Mrs Georgiana Edwards, née Browne (d.14 Oct 1872)
6h) Frances Augusta (d.10 Feb 1847); m.1st 20 Oct 1802 William Bentinck (d.21 Feb 1813); m.2nd 30 Jul 1821 H W Stephens
3g) Rt Hon Sir William Medows (31 Jan 1739-1813); m.1770 Frances Augusta Hammerton
4g) Edward Medows (d.1813); m.1785 Mary Brodie
5g) Frances Medows (d.1770); m.3 Sep 1768 Alexander Campbell
2e) Mary [the celebrated Lady Mary Wortley-Montagu]; m.Edward Wortley-Montagu
3e) Frances (d.4 Mar 1761); m.Acton, Midx 20 Jul 1714 John Erskine, Earl of Mar, Jacobite Duke of Mar (Alloa Feb 1675-Aix-la-Chapelle May 1732)
4e) Evelyn (6 Sep 1691-London 26 Jun 1727); m.London 13 Mar 1712 John Gower, 2nd Lord Gower [later, Earl Gower] (10 Aug 1694-25 Dec 1754)
4d) Gertrude (d.London 11 Jun 1732); m.Chelsea 6 May 1680 William Cheyne, 2nd Viscount Newhaven (bap 14 Jul 1657-26 May 1728)
2c) Gervase, cr 1714 Lord Pierrepont of Hanslope (d.22 May 1715); m.Lucy Pelham (d.1721)
3c) Frances (d.London 23 Sep 1695); m.Henry Cavendish, 2nd Duke of Newcastle (24 Jun 1630-Welbeck 26 Jul 1691)
4c) Grace (d.Jul 1702); m.London 9 Jul 1655 Gilbert Holles, 3rd Earl of Clare (24 Apr 1633-Warwick House 16 Jan 1689)
5c) Gertrude (d.1 Oct 1727); m.Nov 1672 George Savile, Marquess of Halifax (11 Nov 1633-5 Apr 1695)
3b) Francis (d.1657); m.Elizabeth Bray
1c) Robert; m.Anne Murray
1d) Francis
2d) George
3d) William; he had sons, who dsp
4d) Jane; m.Rev. Bernard Gilpin
5d) Anne (d.17 Feb 1735); m.Thomas Newport, Lord Torrington (1654/5-27 May 1719)
2c) William
3c) Henry
4c) Frances (d.1681); m.William Paget, 6th Lord Paget (10 Feb 1637-26 Feb 1713)
4b) Robert
5b) Gervase (d.1679)
6b) George; m.N Jones
1c) Henry
2c) Samuel
7b) Frances; m.Philip Rolleston