Mediatized House of Starhemberg
Starhemberg is the name of an Austrian noble family hailing from Upper Austria, specifically Steyr and Steinbach, who were Counts of the Empire from 1643, raised to princes in 1765. The family's museum is in Castle Starhemberg in Eferding, Upper Austria.
Notable Members of The Princely Family

Eberhard IV of Starhemberg (ca 1370-1429), Archbishop of Salzburg from 1427 until his death
Erasmus of Starhemberg
Count Ernst Rüdiger von Starhemberg (1638-1701), Austrian politician, field marshal, the defender of Viennaagainst the Turks in 1683, commander of the Vienna city defence
Maximilian Lorenz Starhemberg (ca 1640-89), Imperial field marshal and commander of the fortress ofPhilippsburg, brother of Ernst Rüdiger
Gundaker Starhemberg Thomas (1663-1745), half-brother of Ernst Rüdiger, financial expert
Bohunka Starhemberg (died 1530), wife of the Bohemian noble Jost III of Rosenberg, who died at the birth of their daughter
Guido Starhemberg (1657-1737), Austrian commander during the War of the Spanish Succession
Maria Eva Sophia of Starhemberg (1722-73)
Ernst Rüdiger von Starhemberg (1861-1927), Austrian politician and landowner
Fanny von Starhemberg (1875-1943), Austrian politician for the Christian Social Party
Ernst Rüdiger Starhemberg (1899-1956), Austrian politician, Vice-Chancellor of Austria and Heimwehr
Heinrich Starhemberg, (1934-97) son of Ernst Rüdiger and Nora Gregor, actor and writer using the pseudonymHenry Gregor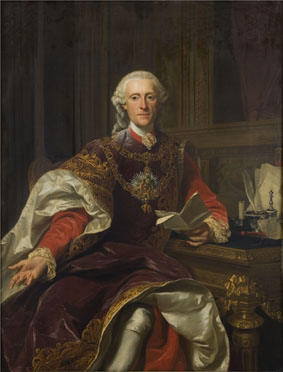 The Titles and Styles of the House
The Head of the House bears the title of Furst together with the formal appellation of His Serene Highness, present members of this family bear the title Graf or Gräfin von Starhemberg together with the formal appellation of His or Her Illustrious Highness.
The Genealogy of the Princely House
Karl-Gundakar Graf von Starhemberg (27 May 1777-3 Oct 1859); m.1st 1802 Maria Anna Gfn von Colloredo (1787-20 Sep 1807); m.2d 1835 Clara Frn Luzensky (20 Apr 1808-4 Jan 1884)
1a) CAMILLO Rüdiger Gundackar, cr Fürst von Starhemberg (8 Sep 1804-9 Jun 1872); m.1st 1834 Guidobaldine von Steinmetz (d.19 Aug 1835); m.2d 28 Aug 1838 Marie Leopoldine Gfn von Thurheim (4 Apr 1817-12 Mar 1886)

1b) CAMILLO Heinrich Fürst von Starhemberg 1872 (Cilli 31 Jul 1835-Vienna 3 Feb 1900); m.Bad Ischl 6 Feb 1860 (div 1876, reconciled 1890) Sophie Gfn von Sickingen-Hohenburg (Prague 13 Aug 1842-Bad Ischl 23 May 1913)

1c) Marietta (Bergheim, Upper Austria 24 Nov 1860-Steyregg 31 Jul 1940); m.Vienna 2 Aug 1879 Konrad Ungnad Gf von Weißenwolff (Dubiecko 14 Jan 1855-Steyregg 24 Oct 1912)

2c) ERNST RÜDIGER Camillo Maria Fst von Starhemberg (Bergheim 30 Nov 1861-Schloß Auhof bei Linz 16 Nov 1927); m.Vienna 28 Jul 1898 Franziska Gfn Larisch von Moennich (Vienna 24 Oct 1875-Bad Darkau 27 Apr 1943)

1d) ERNST RÜDIGER Camillo Fst von Starhemberg (Eferding 10 May 1899-Schruns, Vorarlberg 15 Mar 1956); m.1st Vienna 4 Sep 1928 (annulled 1937) Marie Elisabeth Altgfn zu Salm-Reifferscheidt-Raitz (Donaueschingen 1 Mar 1908-Gmunden 10 Apr 1984); m.2d Vienna 2 Dec 1937 Nora Gregor (Görz 3 Feb 1901-Santiago, Chile 20 Jan 1949)

1e) HEINRICH Rüdiger Karl Georg Franciscus Fst von Starhemberg (Luzern 4 Oct 1934-Buenos Aires 30 Jan 1997)

2d) Ferdinand Franz Konrad Maria (Eferding 26 Jul 1900-1961)

3d) Sophie Marie Gabriele Henriette (Eferding 19 Oct 1902-1970); m.Linz 28 Jul 1923 Georg Gf von Thurn u.Valsassina-Como-Vercelli (Vienna 13 Apr 1900- )

4d) Georg Adam Wilhelm Gottfried Maria (Eferding 10 Apr 1904-Moosburg 12 Feb 1978); m.Birstein 17 Apr 1929 Anna Agnes Pss von Isenburg (Birstein 7 Mar 1904-Klagenfurt 5 Nov 1970)

1e) Franziska Sophie Marie Friederike (b.Eisenkappel, Carinthia 10 Jul 1930); m.Eltville 23 May 1956 Karl Theodor Mayer (Vienna 5 Feb 1924-Oberjeserz bei Rosegg, Carinthia 5 Jul 1990)

2e) Sophie Marie Elisabeth Therese Franziska Alexandra Anna (Eisenkappel 14 Sep 1931-20 Jul 2006); m.Eisenkappel 14 May 1951 Alexander Matz Gf von Spiegelfeld (b.Graz 2 Nov 1925)

3e) Franz Josef Salvator Ernst Rüdiger Georg Thaddäus Friedrich Maria (Bad Ischl 18 Jul 1933-Moosburg 28 Sep 1995); m.Maria Wörth 25 Jun 1960 Itha Hauninger Edle von Haueningen (b.Vienna 24 Nov 1938)

1f) GEORG ADAM Salvator Franz Josef Ernst Rüdiger Camillo Maria Fst von Starhemberg (b.Klagenfurt 7 Apr 1961); m.Maissau, Lower Austria (civ) 2 Sep 1988 (rel) 4 Sep 1988 Nadejda Gfn von Abensperg u.Traun (b.Köln-Lindenthal 29 Jun 1961)

1g) Larissa Maria Franziska Katharina (b.Madrid 9 Sep 1989)

2g) Kalina Maria Felicia Cecilia (b.Madrid 25 Jan 1991)

3g) Constantin Franz-Josef Ernst Gundacker Maria (b.Vienna 17 Sep 1992)

4g) Ernst Ferdinand Michael Simeon Franz-Josef Maria (b.Linz 13 Aug 1995)


2f) Franz Josef Johannes Salvator Clemens Maria (b.Klagenfurt 24 Jun 1963); m.Karnburg 30 Sep 2000 (div 2004) Georgina Tennant (b.Klagenfurt 31 Jan 1978)

1g) Nicolaus Franz-Josef Salvator Maximilian Petrus Maria (b.Klagenfurt 18 Jan 2001)

2g) Anna Carolina Georgina Maria (b.Klagenfurt 3 Nov 2002)

3f) Franziska Sophie Benedikta Anna Agnes Maria (b.Klagenfurt 2 Dec 1964); m.Moosburg 6 Mar 1993 (rel) Gurk, Carinthia 3 Apr 1993 Ernst Benedikt Hoffmann von Rumerstein (b.Vienna 29 Feb 1964)

4f) Felicia Friederike Camilla Bernadette Katharina Maria (b.Klagenfurt 6 Apr 1967); m.Moosburg 7 May 1994 Gustav Pichelmann (b.Vienna 12 Feb 1955)

4e) Friederike Olivia Helene Louise Ludviga Stefania Maria (b.Reichwaldau 20 Aug 1936); m.Eisenkappel (civ) 16 May 1955 (rel) 8 Jun 1955 Karl Pr von Auersperg-Breunner (b.Goldegg 26 Apr 1930)

5e) Irene (b.Birstein 7 Mar 1940); m.1st Eisenkappel 16 Jul 1959 (div 1971) Johannes Pr von Auersperg (b.Weitwörth 29 Jan 1934); m.2d Vienna 1 Sep 1972 (div 1985) Johann Heinrich Frhr von Tinti (Pöchlarn an der Donau 2 Apr 1919-Pöchlarn 23 Dec 1986)

3c) Wilhelm (Bergheim 30 Oct 1862-Ebelsberg bei Linz, Upper Austria 18 May 1928); m.Vienna 9 Oct 1915 Sophie Frn Kast von Ebelsberg (Steyr 6 Apr 1895-19__)

4c) Robert (22 Dec 1865-15 Nov 1885)

5c) Eva Guidobaldine Franziska (Auhof 10 Jul 1869-Wolfsberg 1 May 1940); m.Vienna 14 Oct 1893 Alfons Gf Henckel von Donnersmarck (Kunau 25 Nov 1868-Wolfsberg 18 Dec 1963)

2a) Guido Franz von Paul Joseph Karl Anton Kamillo (2 Apr 1806-1832)