Mediatized House of Hohenlohe
Fürstentum Hohenlohe
House of Hohenlohe
The family is first mentioned in the 12th century as possessing the castle of Burg Hohlach (Hohenloch or Hohenlohe), near Uffenheim, and its influence was soon perceptible in several of the Franconian valleys, including those of the Kocher, the Jagst and the Tauber. At first rulers of a county, its two branches were raised to the rank of principalities of the Holy Roman Empire in 1744 and 1764 respectively; in 1806 they lost their independence and their lands formed part of the Kingdoms of Bavaria and of Württemberg. At the time of the mediatization the area of Hohenlohe was 1 760 km² and its estimated population was 108,000.
Hohenlohe Family took their name from the territory of Hohenlohe in Franconia, which, originally a countship and afterwards a principality, lost its independence in 1806, and is now Included partly in Wurtemberg and partly in Bavaria. They are first mentioned as possessing in the 12th century the castle of Holloch near Uffenheim. At an early period they extended their influence into several of the Franconian valleys, including those of the Kocher, the Jagst, the Tauber, and the Gotlach. The first count of the name was Qottfried, who was on terms of intimacy with the emperor Henry VI., and whose sons founded the lines of Hohenlohe-Bruneck and Hohenlohe-Holloch. The former became extinct in the fourth generation, and the latter in 1340 divided into the lines of Hohenlohe-Hohenlohe and HohenloheSpeckfeld. Of these the former became extinct in 1412, after the most of the possessions had been alienated through the marriage of the female heir; and the latter in 1551 divided into the present lines of Hohenlohe-Neuenstein and Hohenlohe-Woldenhurg, which were elevated, the former in 1764 and the latter in 1744, to principalities of the empire. Hohenlohe-Neuenstein, which adopted Protestantism, became divided into the lines Hohenlohe-Neuenstein Ochringen and Hohenlohe -Neuenstein-Langenburg, the former of which separated into the branches of HohenloheWeickersheim and Hohenlohe-Oehringen, the one becoming extiact in 1756 and the other in 1805, after which their possessions were inherited by the Hohenlohe-NeuensteinLaugenburg line, which latter became divided into three branches-the Hohenlohe-Langenburg, the HohenloheLangenburg-Oehringen, and the Hohenlohe-Longenburg-Kirchberg, the last becoming extinct in 1861.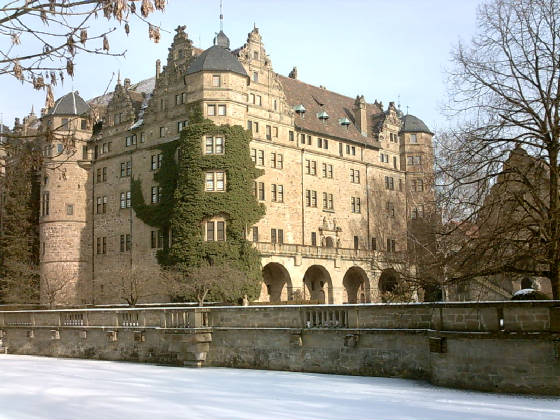 The line of Hohenlohe-Woldenburg, which remained Catholic, and in which was established in 1754 the order of the Phoenix, divided itself into two branches, the Hohenlohe-WaldenburgBartenstein and the Hohenlohe-Waldenburg-Schillingsfurst, the former subdividing into the branches of HohenloheBartenstein and Hohenlohe-Jagstberg. Of the Hohenlohe family the following members are noted as having attained individual eminence.
Friedrich Ludwig - 1746-1818

Prince of Hohenlohe Ingelfingen, a Prussian general, was born 31st January 1746. Entering the Prussian service at an early age he became colonel in 1788, and in the campaigns of 1792 and 1793, where he was commander of a division, he distinguished himself in several engagements. In 1794 he gained a brilliant victory at Kuiserslautern, and in 1796 he was promoted lieutenant-general and appointed to the command of the army of the Ems. In the same year he succeeded to the principality of his father. Having been appointed general of infantry in 1800, he in 1805 commanded a Prussian corps between the Saale and the Thuringian Forest. He was severely defeated at Jena in 1806, and after the duke of Brunswick was mortally wounded at Auerstadt, hs succeeded to the chief command, and led to the Oder the fragments of the Prussian army which capitulated at Prenzlau on the 28th October. On account of the blame to which this disaster exposed him, he had to retire from the army. He died at Slawentzitz, Silesia, 15th February 1818.
Ludwig Aloysius - 1765-1829
Prince of HohenloheWaldenburg-Bartenstein, marshal and peer of France, was born 18th August 1765. In 1784 he entered the service of the palatinate, which he quitted in 1792 in order to take the command of a regiment raised by his father for the service of the emigrant princes of France. He greatly distinguished himself under Prince Conde in the campaigns of 1792-1793, especially at the storming of the lines of Weissenburg. Subsequently he entered the service of Holland, and, when almost surrounded by the army of General Picbegru* conducted a masterly retreat from the island of BommneL From 1794 to 1799 he served as colonel in the Austrian campaigns; in 1799 he was named major-general by the archduke Charles; and after obtaining the rank of lieutenant-general he was appointed by the emperor of Austria governor of the two Galicias. Napoleon offered to restore to him his principality on condition that he adhered to the confederation of the Rhine, but as he refused, it was united to Wurtemberg. After Napoleon's fall in 1814 he entered the French service, and in 1815 he held the command of a regiment raised by himself, with which he took part in the Spanish campaign of 1823. In 1827 he was created marshal and peer of France. He died at LuneviUe, May 30, 1829.
Alexander Leopold Franz Emmerich - 1794-1849
Prince of Hohenlohe-Waldenburg-Schillingsfurst, priest and reputed miracle-worker, was born at Kupferzell near Waldenburg, 17th August 1794. By his mother,'the daughter of an Hungarian nobleman, he was from infancy destined for the church; and she entrusted the care of his early education to the ex-Jesuit Kiel In 1804 he entered . "Thereaianum" at Vienna, in 1808 the academy at Bern, in 1810 the archiepiscopal seminary at Vienna, and afterwards he studied at Tyrnau and Ellwangen. He was ordained priest in 1815, and in the following year he went to Rome, where he entered the society of the " Fathers of the Sacred Heart." Subsequently, at Munich and Bamberg, he was blamed for Jesuit and obscurantist tendencies, but obtained considerable reputation as a preacher. His first so-called miraculous cure was effected, in conjunction with a peasant Martin Michel, on a princess of Schwarzenberg who had been for some years paralytic Immediately he acquired such fame as a performer of miraculous cures that multitudes from various countries flocked to partake of the beneficial influence of his supposed supernatural gifts. Ultimately, on account of the interference of the authorities with his operations, he went in 1821 to Vienna and then to Hungary, where he became canon at Grosswardein, and in 1841 titular bishop of Sardica. He died at Voslau near Vienna, 17th November 1849. He was the author of a number of ascetic and controversial writings, which were collected and published in one edition by Brunner at Ratisbon in 1851."
Heinrich I
Heinrich I (d. 1183) was the first to take the title of Count of Hohenlohe, and in 1230 his grandsons, Gottfried and Conrad, supporters of Emperor Frederick II, founded the lines of Hohenlohe-Hohenlohe and Hohenlohe-Brauneck, names taken from their respective castles. The latter became extinct in 1390, its lands passing later to Brandenburg, while the former was divided into several branches, only two of which, however, Hohenlohe-Weikersheim and Hohenlohe-Uffenheim-Speckfeld, need be mentioned here. Hohenlohe-Weikersheim, descended from Count Kraft I (d. 1313), also underwent several divisions, that which took place after the deaths of Counts Albert and George in 1551 being specially important. At this time the lines of Hohenlohe-Neuenstein and Hohenlohe-Waldenburg were founded by the sons of Count George. Meanwhile, in 1412, the family of Hohenlohe-Uffenheim-Speckfeld had become extinct, and its lands had passed through the marriages of its heiresses into other families.
The existing branches of the Hohenlohe family are descended from the lines of Hohenlohe-Neuenstein and Hohenlohe-Waldenburg, established in 1551. The former of these became Protestant, while the latter remained Roman Catholic. Of the family of Hohenlohe-Neuenstein, which underwent several partitions and inherited Gleichen in 1631, the senior line became extinct in 1805, while in 1701 the junior line divided itself into three branches, those of Langenburg, Ingelfingen and Kirchberg. Kirchberg died out in 1861, but members of the families of Hohenlohe-Langenburg and Hohenlohe-Ingelfingen are still alive, the latter being represented by the branches of Hohenlohe-Ingelfingen and Hohenlohe-Öhringen. The Roman Catholic family of Hohenlohe-Waldenburg was soon divided into three branches, but two of these had died out by 1729. The surviving branch, that of Schillingsfürst, was divided into the lines of Hohenlohe-Schillingsfürst and Hohenlohe-Bartenstein; other divisions followed, and the four existing lines of this branch of the family are those of Waldenburg, Schillingsfürst, Jagstberg, and Bartenstein. The family of Hohenlohe-Schillingsfürst possesses the Duchies of Ratibor and of Corvey, inherited in 1834. The current prince is Friedrich-Karl zu Hohenlohe-Waldenburg-Schillingsfürst who lives at Waldenburg.
Territories of the House of Hohenlohe
Bartenstein, Brauneck, Entsee, Haltenbergstetten, Ingelfingen, Jagstberg, Kirchberg, Langenburg , Möckmühl, Neuenstein, Öhringen, Pfedelbach, Pfitzingen, Röttingen, Schillingsfürst, Uffenheim, Waldenburg, Weikersheim, Wernsberg
Lines of the House of Hohenlohe
The House of Hohenlohe is divided into two principal branches, each of which has several collateral branches, which occasioned a confusion in the division of territory. The eldest branch of Nevenstein, which is attached to the Lutheran religion, includes two branches; that of Neustein, and that of Langenburg, which has now two more branches; that of Ingelfingen, and that of Kirchberg. All these Lutheran branches possess the cities Oehringen, Ernspacb, Kunsetzen, Kirchberg, Ingelfingen, and Wikersheim. The catholic and younger branch, in general bears the name of Waldenburg; it is divided into two collateral branches of Bartenstein and Schillingfurst; they possess the cities of Bartenstein, Farnkenaw, Pledelbach, Kupperzell, and some boroughs. The prince, in the service of Prussia, is of the Lutheran branch of Langenburg-Ingelfingen.
Notable members of the von Hohenlohe family include:
Heinrich von Hohenlohe, 13th century Grand Master of the Teutonic Knights
Gottfried von Hohenlohe, 14th century Grand Master of the Teutonic Knights
Frederick Louis, Prince of Hohenlohe-Ingelfingen (1746-1818), Prussian general
Louis Aloy de Hohenlohe-Waldenburg-Bartenstein (1765-1829), marshal and peer of France
Prince Alexander of Hohenlohe-Waldenburg-Schillingsfürst (1794-1849), priest
Kraft, Prinz zu Hohenlohe-Ingelfingen (1827-1892), Prussian general and writer
Prince Chlodwig zu Hohenlohe-Schillingsfürst (1819-1901), Chancellor of Germany
Prince James zu Hohenlohe-Neustein (1961-
Kraft, Fürst zu Hohenlohe-Öhringen (1933-
The Titles and Styles of the Princely House
The members of this family bear the title Prince or Princess zu Hohenlohe, together with the formal appellation of His or Her Serene Highness
The Genealogy of the Princely House
Line One: Hohenlohe-Langenburg
Hohenlohe-Langenburg was a German county of northeastern Baden-Württemberg, Germany, located around Langenburg. Hohenlohe-Neuenstein was partitioned into it, Hohenlohe-Ingelfingen and Hohenlohe-Kirchberg in 1701. Hohenlohe-Langenburg was raised from a county to a principality in 1701, and was mediatised to Württemberg in 1806. The House of Hohenlohe-Langenburg remained Protestant, and has remained closely related to Europe's Protestant ruling dynasties. Queen Adelaide of the United Kingdom was a Hohenlohe-Langenburg on her mother's side, and her cousin, Prince Ernst, married in 1828 Feodora of Leiningen, the half-sister of the future Queen Victoria. In 1896, Feodora's grandson, another Prince Ernst, married Victoria's granddaughter, Princess Alexandra of Edinburgh and Saxe-Coburg-Gotha.
Counts of Hohenlohe-Langenburg - 1610-1764
Philipp Ernst 1584-1628; held title 1610-1628; son of Wolfgang zu Hohenlohe (d. 1610).
Louis Kraft (1628-1632)
Joachim Albert (1632-1650; also Count of Hohenlohe-Kirchberg)
Henry Frederick (1650-1699)
Christian Kraft (1699-1701; also Count of Hohenlohe-Ingelfingen)
Frederick Eberhard (1699-1701; also Count of Hohenlohe-Kirchberg)
Albert Wolfgang (1701-1715)
Princes of Hohenlohe-Langenburg - 1764-present
Louis (1764-1765)
Christian Albert (1765-1789)
Carl Ludwig (1789-1825)
Ernst Christian Carl (1825-1860)
Carl Ludwig Wilhelm Leopold (1860)
Hermann Ernst Franz Bernhard (1860-1913)
Ernest William Frederick Charles Maximilian (1913-1950)
Gottfried Hermann Alfred Paul Maximilian Viktor (1950-1960)
Kraft Alexander Ernst Ludwig Georg Emich (1960-2004)
Philipp Gottfried Alexander (2004-)
Max Leopold Ernst Kraft Peter (b. 2005), his heir apparent
LUDWIG Gf zu Hohenlohe-Langenburg 17 Apr 1715, cr Fürst zu Hohenlohe-Langenburg 7 Jan 1764 (Langenburg 20 Oct 1696-Langenburg 16 Jan 1765); m.Schloß Lorentzen 25 Jan 1723 Eleonore Gfn von Nassau-Saarbrücken, cr Fürstin von Nassau-Saarbrücken 14 Jul 1742 (Saarbrücken 1 Jul 1707-Langenburg 15 Oct 1769)
1a) CHRISTIAN ALBRECHT LUDWIG Fst zu Hohenlohe-Langenburg, Gf von Gleichen (Langenburg 27 Mar 1726-Ludwigsruhe 4 Jul 1789); m.Gedern 13 Apr 1761 Karoline Pss zu Stolberg-Gedern (Gedern 27 Jun 1732- Langenburg 28 May 1796)
1b) CARL LUDWIG Fst zu Hohenlohe-Langenburg (Langenburg 10 Sep 1762-Langenburg 4 Apr 1825); m.Schloß Klitschdorf 30 Jan 1789 Amalia Gfn zu Solms-Baruth (Klitschdorf 30 Jan 1768-Carlsruhe, Upper Silesia 31 Oct 1847)
1c) Luise Caroline (b.and d.Langenburg 14 Nov 1789)
2c) Elise Eleonore Charlotte (Langenburg 22 Nov 1790-Holitsch, Hungary 6 Oct 1830); m.Langenburg 10 Sep 1812 Viktor Amadeus, Landgrave of Hesse-Rotenburg (d.Schloß Zembowitz 12 Nov 1834)
3c) Caroline Friederike Constanze (Langenburg 23 Feb 1792-Rauden 25 Jul 1847); m.Schillingsfürst 29 Mar 1815 Franz Fst zu Hohenlohe-Schillingsfürst (d.Corvey 14 Jan 1841)
4c) Emilie Friederike Christiane (Langenburg 27 Jan 1793-Castell 20 Jul 1859); m.Langenburg 25 Jun 1816 Friedrich Ludwig Gf zu Castell-Castell (Castell 2 Nov 1791-Castell 21 Apr 1875)
5c) ERNST Christian Carl Fst zu Hohenlohe-Langenburg (Langenburg 7 May 1794-Baden-Baden 12 Apr 1860); m.Kensington Palace 18 Feb 1828 Feodora Pss zu Leiningen (Amorbach 7 Dec 1807- Baden-Baden 23 Apr 1872)
1d) CARL Ludwig Fst zu Hohenlohe-Langenburg, renounced his rights 21 Apr 1860 (Langenburg 25 Oct 1829-Salzburg 16 May 1907); m.(morganatically) Paris 22 Feb 1861 Maria Grathwohl, cr Freifrau von Bronn by the King of Württemberg 4 Mar 1890 (Weikersheim 1 Feb 1837-Salzburg 19 May 1901)
1e) Carl Frhr von Bronn, cr 18 Jul 1911, by the Emperor of Austria, Fürst von Weikersheim (Serene Highness) by primogeniture, with the title Graf/Gräfin von Weikersheim for his other issue (Weikersheim 25 Jan 1862-Gräfelfing 28 Sep 1925); m.Prague 13 May 1899 Maria Aloysia Gfn Czernin von und zu Chudenitz (Bensen 10 May 1879-Gauting 9 Jan 1963)
1f) Carl Rudolf Maria Joseph Antonius Benedictus Fst von Weikersheim, renounced the title of Fürst 30 Sep 1925 (Pardubitz 6 Feb 1900-m.i.a.Russia Feb 1945); m.1st Altberun 23 Feb 1925 Valerie Dlugay (Altberun 12 Dec 1905-Brünn 27 Sep 1936); m.2d Mährisch-Schönberg 15 Sep 1940 Ludwiga Pospiech (b.Prachatitz 27 Jul 1916)
2f) Marie Emma Josepha Antonia Benedicta Gfn von Weikersheim (Przemysl 3 Apr 1901-Pembury, Tunbridge Wells 18 Mar 1958)
3f) Franz Maria Joseph Antonius Benedictus Fst von Weikersheim (Vienna 26 Feb 1904-Farringdon, Hants 17 Oct 1983); m.Vienna 25 Apr 1936 Irma Pss zu Windisch-Grätz (Lána, Bohemia 22 Sep 1913-Farringdon 20 Jun 1984)
1g) Cecilia Gfn von Weikersheim (b.London 27 Oct 1937); m.London 30 Jun 1960 Alexander Dundas McEwen (b.Marchmont, Berwickshire 16 May 1935)
1h) Sophie Cristina McEwen, b.Greenland, Berwickshire 8 Apr 1961
2h) Alexander Charles Francis McEwen, b.Edinburgh 12 Jun 1962; m.1988 Natasha Marr
1i) Thomas Peter Dundas McEwen, b.London 6 Sep 1989
2i) Archie James McEwen, b.Iserlohn 18 Jul 1992
3i) Maximilian McEwen, b.1996
3h) Hugo Gabriel McEwen, b.Duns, Scotland 28 Feb 1965; m.6 Jul 1996 Monica Blom
1i) Emma McEwen
2i) Hector McEwen, b. Stockholm 19 Jun 2005
4f) Aloysia Maria Josepha Antonia Benedicta Gfn von Weikersheim (Vienna 19 Apr 1906-Gauting 3 Feb 1988); m.Andechs 10 Oct 1938 Rudolf Hofmüller (Dresden 12 Feb 1898-Gauting 17 Jul 1976)
1g) Agnes Maria Hofmüller, b.Munich 7 Dec 1941
2g) Lucinde Maria Bettina Josefa Hofmüller, b.Gräfeling 17 Jul 1945
3g) Sibylle Regina Alice Marion Hofmüller, b.Gauting 29 Jul 1948
5f) Emma Philippine Maria Josepha Antonia Gfn von Weikersheim (Vienna 4 Sep 1907-Gauting 29 Oct 1977)
2e) Vitkoria Frn von Bronn (Weikersheim 8 Jan 1863-Schloß Bohdalitz, Moravia 10 Oct 1946); m.Salzburg 2 Sep 1879 Ernst Christian Rr von Manner zu Mätzelsdorff (Schloß Kojatek 7 Sep 1844-Brünn 23 Nov 1922)
3e) Beatrix Frn von Bronn (Weikersheim 14 Oct 1868-Ischl 17 Apr 1932)
2d) Elise (Langenburg 8 Nov 1830-Venice 27 Feb 1850)
3d) HERMANN Ernst Franz Bernhard Fst zu Hohenlohe-Langenburg (Langenburg 31 Aug 1832-Langenburg 9 Mar 1913); m.Karlsruhe 24 Sep 1862 Leopoldine Pss of Baden (Karlsruhe 22 Feb 1837-Strassburg 13 Dec 1903)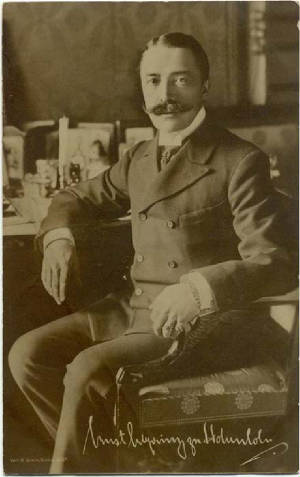 1e) ERNST Wilhelm Friedrich Carl Maximilian Fst zu Hohenlohe-Langenburg (Langenburg 13 Sep 1863-Langenburg 11 Dec 1950); m.Coburg 20 Apr 1896 Alexandra Ps of Great Britain and Ireland, Pss of Saxe-Coburg-Gotha, etc (Coburg 1 Sep 1878- Schwäbisch Hall 16 Apr 1942)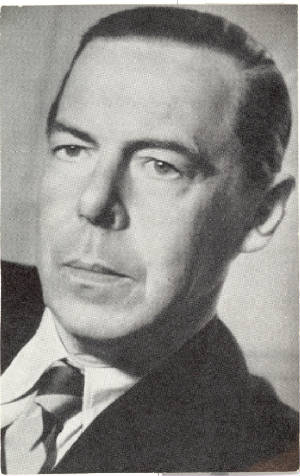 1f) GOTTFRIED Hermann Alfred Paul Maximilian Viktor Fst zu Hohenlohe- Langenburg (Langenburg 24 Mar 1897-Langenburg 11 May 1960); m.Langenburg 27 Apr 1931 Margarita Pss of Greece and Denmark (Athens 18 Apr 1905-Bad Wiessee 24 Apr 1981)
1g) KRAFT Alexander Ernst Ludwig Georg Emich Fst zu Hohenlohe- Langenburg (Schwäbisch-Hall 25 Jun 1935-Schwäbisch-Hall 16 Mar 2004); m.1st (civ) Langenburg 5 Jun 1965 (rel) Schloß Zwingenberg 16 Jul 1965 (div 1990) Charlotte Pss von Croÿ (b.London 31 Dec 1938); m.2d Graz 22 May 1992 Irma Pospesch (b.Graz 19 Jun 1946)
1h) Cécile Marita Dorothea (b.Crailsheim 16 Dec 1967); m.abbaye de Cadouin, Dordogne 6 Jun 1998 Cte Cyril de Commarque (b.Peregueux 12 Aug 1970; see Bonaparte)
2h) PHILIPP Gottfried Alexander Fürst zu Hohenlohe-Langenburg (b.Crailsheim 20 Jan 1970); m.Langenburg 6 Sep 2003 Diessen am Ammersee 13 Sep 2003 Saskia Binder (b.Munich 15 Jan 1973)
1i) Max Leopold Ernst Kraft Peter (b.Munich 22 Mar 2005)
2i) Gustav Philipp Friedrich Alexander (b.Bad Mergentheim 28 Jan 2007)
3h) Xenia Margarita Anne (b.Crailsheim 8 Jul 1972); m.Obertaufkirchen 13 Aug 2005 (rel) Langenburg 26 Aug 2006 Maximilian Gabriel Soltmann (b.Munich 10 Dec 1973)
1i) Ferdinand Gabriel Kraft Soltmann, b.5 Nov 2005
2g) Beatrix Alice Marie Melita Margarete (Schwäbisch-Hall 10 Jul 1936- Schwäbisch-Hall 15 Nov 1997)
3g) Georg Andreas Heinrich (b.Schwäbisch-Hall 24 Nov 1938); m.Burghausen-an-der-Inn 9 Sep 1968 Luise Pss von Schönburg-Waldenburg (b.Frankfurt an der Oder 12 Oct 1943)
1h) Katharina Clementine Beatrix (b.Munich 21 Nov 1972); m.29 Sep 2002 Nikolaus Pr zu Waldeck u.Pyrmont (b.Limburg an der Lahn 2 Nov 1970)
2h) Tatjana Luise (b.Munich 10 Feb 1975)
4g) Ruprecht Sigismund Philipp Ernst (Langenburg 7 Apr 1944-Munich 7 Apr 1976)
5g) Albrecht Wolfgang Christoph (Langenburg 7 Apr 1944-committed suicide Berlin 23 Apr 1992); m.Berlin-Zehlendorf 23 Jan 1976 Maria-Hildegard Fischer (b.Freiberg 30 Nov 1933)
1h) Ludwig (b.Berlin-Neuköln 21 Apr 1976)
2f) Marie Melita Leopoldine Viktoria Alexandra Sophie (Langenburg 18 Jan 1899-Munich 8 Nov 1967); m.Coburg 15 Feb 1916 Wilhelm Friedrich, Duke of Schleswig-Holstein (Grünholz 23 Aug 1891-Grünholz 10 Feb 1965)
3f) Alexandra Beatrice Leopoldine (Coburg 2 Apr 1901-Coburg 26 Oct 1963)
4f) Irma Helene (Langenburg 4 Jul 1902-Heilbronn 8 Mar 1986)
5f) Alfred (Langenburg 16 Apr 1911-Langenburg 18 Apr 1911; Europäische Stammtafeln says that he was born and died at Fabron, near Nice.
2e) Elise (Langenburg 4 Sep 1864-Gera 18 Mar 1929); m.Langenburg 11 Nov 1884 Heinrich XXVII Fst Reuss zu Schleiz (Gera 10 Nov 1858-Gera 21 Nov 1928)
3e) Feodore (Langenburg 23 Jul 1866-Waldleiningen 1 Nov 1932); m.Langenburg 12 Jul 1894 Emich Fst zu Leiningen (Osborne, Isle of Wight 18 Jan 1866-Schlossau 18 Jul 1939)
4d) Viktor Ferdinand Franz Eugen Gustav Adolf Constantin Friedrich (Langenburg 11 Nov 1833-London 31 Dec 1891); m.London 24 Jan 1861 Laura Wilhelmina Seymour, cr Gräfin von Gleichen in Gotha 24 Jan 1861 (London 27 Jan 1833-London 13 Feb 1912); this marriage was apparently considered morganatic by the Hohenlohe House, though in Great Britain Queen Victoria seems to have considered the marriage as equal and sometimes referred to Gfn von Gleichen as Pss Viktor.
1e) Feodora Gfn von Gleichen, later known as Lady Feodora Gleichen (London 20 Dec 1861-London 22 Feb 1922)
2e) Albert Edward Wilfred Gf von Gleichen, later known as Lord Edward Gleichen (London 15 Jan 1863- London 14 Dec 1937); m.London 2 Jul 1910 Sylvia Gay Edwardes (Paris 16 Feb 1880-Bath 27 Oct 1942)
3e) Victoria (Valda) Gfn von Gleichen, later known as Lady Valda Machell (London 28 Nov 1868-London 10 Sep 1951); m.London 5 Dec 1905 Percy Wilfred Machell (k.a.nr Warly-Baillon 1 Jul 1916)
1f) Roger Victor Machell (23 Jul 1908-18 Jan 1984)
4e) Helena Gfn von Gleichen, later known as Lady Helena Gleichen (London 1 Feb 1873-Ashmead House, Gloucs 28 Jan 1947)
5d) Adelheid Viktorie Amalie Luise Marie Constanze (Langenburg 20 Jul 1835-Dresden 25 Jan 1900); m.Langenburg 11 Sep 1856 Friedrich, Duke of Schleswig-Holstein-Sonderburg-Augustenburg (Augustenburg 6 Jul 1829-Wiesbaden 14 Jan 1880)
6d) Feodora Victorie Adelheid Pauline Amalie Marie (Stuttgart 7 Jul 1839-Meiningen 10 Feb 1872); m.Langenburg 23 Oct 1858 Georg II, Duke of Saxe-Meiningen (Meiningen 2 Apr 1826-Wildungen 25 Jun 1914)
6c) Friedrich Wilhelm (Langenburg 2 Oct 1797-Klitschdorf 20 Nov 1797)
7c) Marie (Langenburg 22 Sep 1798-Langenburg 24 Sep 1798)
8c) Luise Charlotte Johanna (Langenburg 22 Aug 1799-Koschentin, Upper Silesia 17 Jan 1881); m.Langenburg 19 Apr 1819 Adolf Pr zu Hohenlohe-Ingelfingen (Breslau 29 Jan 1797-Koschentin 24 Apr 1873)
9c) Johanna Henriette Philippine (Langenburg 8 Nov 1800-Koschentin 12 Jul 1877); m.Büdingen 21 Mar 1829 Emil Gf zu Erbach-Schönberg (Zwingenberg 2 Dec 1789-Büdingen 26 May 1829)
10c) Gustav Heinrich (Langenburg 9 Oct 1806-Schloß König, Odenwald 16 Nov 1881)
11c) Marie Agnes Henriette (Langenburg 5 Dec 1804-Haid, Bohemia 9 Sep 1833); m.Rotenburg an der Fulda 31 May 1829 Constantin Erbprinz zu Löwenstein-Wertheim-Rosenberg (28 Sep 1802- Kleinheubach 27 Dec 1838)
12c) Helene (Langenburg 22 Nov 1807-Gera [or, Schloß Heinrichsruh, nr Schleiz] 5 Sep 1880); m.Langenburg 11 Sep 1827 Eugen, Duke of Württemberg (Oels 18 Jan 1788-Carlsruhe, Silesia 16 Sep 1857)
13c) Johann Heinrich Friedrich (Langenburg 18 Aug 1810-Holitsch, Hungary 16 Sep 1830)
2b) Luise Eleonore (Langenburg 11 Aug 1763-Meiningen 30 Apr 1837); m.Langenburg 27 Nov 1782 Georg I, Duke of Saxe-Meiningen (Frankfurt 4 Feb 1761-Meiningen 24 Dec 1803)
3b) Gustav Adolf (Langenburg 9 Oct 1764-Ludwigsruhe 21 Jul 1796)
4b) Christiane Karoline (Langenburg 19 Nov 1765-6 Dec 1768)
5b) Ludwig Wilhelm (Langenburg 16 Feb 1767-17 Dec 1768)
6b) Christian August (15 Mar 1768-Ansbach 18 Apr 1796)
7b) Auguste Karoline (Langenburg 15 Nov 1769-30 Jul 1803)
2a) Friedrich Karl (Langenburg 19 Feb 1728-Langenburg 17 Jun 1728)
3a) Sophie Henriette (Langenburg 5 Nov 1729-13 Feb 1735)
4a) Auguste Karoline (Langenburg 30 Apr 1731-Langenburg 6 Jul 1736)
5a) Luise Charlotte (Langenburg 20 Dec 1732-Kirchberg 5 Aug 1777); m.Langenburg 4 Jun 1760 Christian Friedrich Karl Fst zu Hohenlohe-Kirchberg (Kirchberg 19 Oct 1729-Kirchberg 18 Aug 1819)
6a) Eleonore Juliane (Langenburg 22 Jul 1734-Öhringen 20 Sep 1813); m.Langenburg 5 Nov 1766 Albrecht Wolfgang Erbprinz zu Hohenlohe-Ingelfingen (Kirchberg 22 Sep 1743-22 Apr 1778)
7a) Wilhelm Friedrich Gustav (Langenburg 21 May 1736-Öhringen 18 Jan 1805)
8a) Philipp Karl (Langenburg 3 Feb 1738-Langenburg 31 Mar 1753)
9a) Friedrich August (Langenburg 11 Jan 1740-Langenburg 12 Feb 1810)
10a) Ludwig Gottfried (Langenburg 27 Jan 1742-Langenburg 22 Sep 1765)
11a) Christiane Henriette Friederike (Langenburg 20 Feb 1744-Langenburg 26 Feb 1744)
12a) Karoline Christiane (Langenburg 10 Jul 1746-Langenburg 6 Sep 1750)
13a) Friedrich Ernst (Langenburg 16 May 1750-d.a French prisoner at Villers Collerets 24 Oct 1794); m.Schloß Wolwega, Friesland 7 Feb 1773 Jvr Magdalena Zwier van Haren (The Hague 23 Apr 1746-Minnertsberga 28 Sep 1822)
1b) Ludwig Christian August (Wolwega 23 Jan 1774-Stuttgart 31 Jan 1844); m.Kirchberg 24 Sep 1816 Luise Pss zu Hohenlohe-Kirchberg (Kirchberg 16 Sep 1784-14 Jan 1821)
2b) Auguste Eleonore Karoline (30 Mar 1775-Berlin 24 Jan 1813); m.The Hague Jul 1803 Dirk van Hogendorp, Comte de l'Empire (d.Novo Sion, nr Rio de Janeiro 29 Oct 1822)
3b) Karl Johann Wilhelm (Leeuwarden 29 Aug 1777-Brünn 26 Jun 1866); m.Brünn 15 Jan 1816 Friederike Ladislava Ldgfn zu Fürstenberg (Wels 27 Jul 1781-Brünn 11 Jul 1858)
1c) Friedrich Ernst (Brünn 7 Apr 1817-Vienna 1 Dec 1835)
2c) Ludwig Karl Gustav (Graz 11 Jan 1823-k.a.Königgrätz 26 Jul 1866); m.Prague 20 Sep 1857 Gabriele Gfn von und zu Trauttmansdorff-Weinsberg (Prague 30 Sep 1840-Rotenhaus, Bohemia 29 Jun 1923)
1d) Marie Isabelle Gabriele (Prague 30 Jul 1858-Starnberg 23 Jul 1939); m.Prague 1 Oct 1884 Paul Gf von Almeida (Lisbon 28 Aug 1861-Tutzing 13 Feb 1942)
2d) Gottfried Karl Joseph (Czegled, Hungary 15 Jan 1860-Rothenhaus, Bohemia 19 Nov 1933); m.Vienna 31 Aug 1890 Anna Gfn von Schönborn-Buchheim (Vienna 4 Mar 1865-Schloß Weikersheim bei Mergentheim 25 Jul 1954)
1e) Marie Isabella Gabrielle Franziska Ferdinandine (Rothenhaus 30 May 1891-Bad Mergentheim 10 Sep 1982); m.Vienna 29 Apr 1919 Alfred Pr zu Windisch-Grätz (Gonobitz 12 Mar 1890-Weikersheim 7 Mar 1972)
2e) Ludwig Erwein Gottfried Karl Eduard Maria (Rothenhaus 13 Oct 1892-Ödenburg 26 May 1945); m.Seregélyes 5 Nov 1921 Ilma Gfn Hadik von Futak (Tornanádaska 5 Jul 1894-Dorfen, Upper Bavaria 9 Dec 1967)
1f) Alexander Gottfried Ludwig Johann Maria (Seregélyes 3 Sep 1922-Großstockach 27 Feb 1993); m.1st Budapest 11 Oct 1946 (div 1968) Ilona Tóth (b.Budapest 29 Mar 1914); m.2d Munich 16 Jun 1970 Rosa Theresia Bittermann (Trostberg, Upper Bavaria 4 Feb 1927-30 Jul 2006)
1g) Alexander Ludwig Gottfried (Budapest 1 Dec 1946-Bonn 14 Nov 1992); m.Frankfurt 5 Feb 1969 Brigitta Rupp (b.Vienna 3 Oct 1947)
2g) Albrecht Ladislaus Alfred (b.Tornyapeszta or Tatabánya, Hungary 15 May 1948)
2f) Max Egon Gottfried (b.Seregélyes 27 Nov 1924); m.1st Hintersee bei Berchtesgaden 6 May 1961 (div 1976) Uta von Freyhold (b.Freiburg 13 Jun 1936); m.2d Unterwössen 17 Dec 1979 Ursula Roll (b.Diepholz 8 Jun 1951)
1g) Andrea Christina Maria (b.Munich 2 Sep 1961)
2g) Hubertus Konstantin Ludwig Franz Maria (b.Prien am Chiemsee 11 Dec 1967); m.1999 Karina Therese Marie Frowein (b.1968)
1h) Conrad Alfred Felix Philipp Max Ernst Maria (b.Munich 10 Jan 2001)
2h) Casimir Patrick Carl Hubertus Louis Ernst Maria (b.Munich 12 Nov 2002)
3g) Christian (b.Prien 14 Jan 1980)
3f) Johanna Amalie Susanne Maria Henriette (b.Seregélyes 20 Sep 1926)
4f) Louis Johann Karl Anton Maria (b.Seregélyes 16 Sep 1930)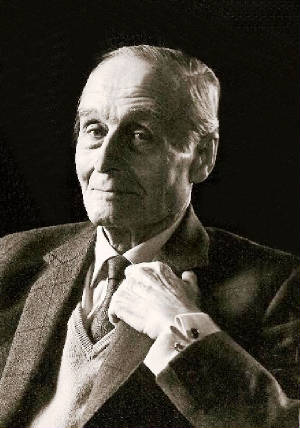 3e) Gottfried Konstantin Erwin Maria (Rothenhaus 11 Sep 1893-Bad Mergentheim 2 Jun 1973)
4e) Max Egon Maria Erwin Paul (Rothenhaus 19 Nov 1897-Marbella 13 Aug 1968); m.Madrid 12 Oct 1921 Doña Maria de la Piedad Iturbe y Scholtz Marquesa de Belvis de las Navas (Paris 31 Aug 1892-Madrid 26 Nov 1990)
1f) Maria de la Piedad y de la Consolacion Francisca de Asis Maximiliana Manuela Godofreda Anna Mathilde Jesusa de Lexo Guadelupe de la Santisima Trinidad y todos los Santos, Marquesa de Belvis de las Navas (San Sebastián 26 Aug 1922-4 Jan 2007); m.Madrid 13 Jun 1945 Claudio Gamazo y Arnús Marques de Soto de Aller (Madrid 3 Feb 1916-Madrid 4 Dec 1984)
1g) Ana Isabel Gamazo y de Hohenlohe-Langenburg; m.Juan Abelló y Gallo
1h) Juan Claudio Abelló y Gamazo; m.Madrid 4 Mar 2000 Marta del Rey y Guil
2h) Miguel Abelló y Gamazo
3h) Cristián Abelló y Gamazo
4h) Alberto Abelló y Gamazo
2g) Xandra Gamazo Hohenlohe
3g) Clara Gamazo Hohenlohe
4g) German Manuel Gamazo Hohenlohe, Marques de Soto de Aller, cr 2000 Cde de Gamazo and Vscde de Miravalles; m.Isabelle Sourdeau Conadau
1h) Manuel Claudio Gamazo Sourdeau, b.1980
2h) Diego Gamazo Sourdeau, b.1982
2f) Alfonso Maximiliano Victorio Eugenio Alexandro Maria Pablo de la Santisima Trinidad y todos los Santos (Madrid 28 May 1924-Marbella 21 Dec 2003); m.1st Venice (civ) 17 Sep 1955 (rel) 21 Sep 1955 (div 1960, annulled 1969) Virginia (Ira) Pss zu Fürstenberg (b.Rome 18 Apr 1940); m.2d Las Vegas 3 May 1973 (div 1985) Jacqueline Lane (b.16 May 1943); m.3d Vaduz 15 Feb 1991 Marilys Healing (York 16 Feb 1941- Ronda, Spain 31 Oct 2000)
1g) Christoph Victorio Egon Humberto (Lausanne 8 Nov 1956-Bangkok Aug 2006)
2g) Hubertus (b.Mexico City 31 May 1959)
3g) Arriana Theresa Mara (b.London 15 Oct 1975); m.Marbella 30 Jun 2001 Dennie Dixon Boardman (b.7 Nov 1945)
4g) [by Heidi Balzer] Desirée von Hohenlohe-Langenburg (b.1980)
3f) Christian Kraft Ferdinand Viktor Maria de la Santisima Trinidad y todos los Santos (Eisenberg, Bohemia 28 Jul 1925-Marbella 11 Nov 1980); m.El Quexigal, Spain 4 May 1955 Carmen de la Cuadra y de Medina (b.Madrid 6 Jun 1933)
1g) Fernando Alfonso Maximiliano Federico Sanson Timoteo de la Santisima Trinidad y todos los Santos (b.Madrid 24 Jan 1956); m.Francesca Garrigues y Aldrich
2g) Maria de la Santisima Trinidad (b.Madrid 8 Apr 1957); m.Marbella 4 Jul 1977 (div) Alfonso Martínez de Irujo y Fitzjames-Stuart, Duque de Aliaga (b.Madrid 22 Oct 1950)
3g) Christine Eugenie Maria de la Santisima Trinidad y todos los Santos (b.Madrid 1 Nov 1958); m.Madrid 19 Jun 1982 José Maria Juncadella y Salisachs (b.20 Apr 1935)
4f) Elisabeth Christine de la Santisima Trinidad Luise Maria de la Natividad y Todos los Santos (Madrid 25 Dec 1927-Madrid 23 Apr 1975); m.El Quexigal 11 Jun 1952 Joaquin Bertran y Caralt (b.Barcelona 3 Feb 1928)
5f) Max Emanuel Maria Alexander Vicot Bruno de la Santisima Trinidad y todos los Santos (Vienna 6 Oct 1931-Marbella 1 Dec 1994); m.1st Seville 3 Jun 1961 (div 1985) Ana de Medina y Fernández de Córdoba, Marquesa de Navahermosa, Cdsa de Ofalia (b.Seville 2 May 1940; see Fernández de Córdoba); m.2d Madrid 7 Jan 1989 Magdalena Foncuberta y Alonso-Martínez (b.Barcelona 10 Jul 1939)
1g) Marco (b.Madrid 8 Mar 1962); m.Ronda 1 Jun 1996 (div) Sandra Schmidt-Polex
1h) Victoria, b.Malaga 17 Mar 1997
2h) Alexander, b.Malaga 9 Mar 1999
2g) Pablo (b.Madrid 5 Mar 1963); m.Toledo 8 Jun 2002 Maria del Prado Mugiro
3g) Flavia (b.Madrid 9 Mar 1964); m.Capilla Casa Pilatos, Palacio Medinaceli, Seville 10 Nov (rel) 17 Dec 1990 José Luis Villalonga-Suarez
1h) Rafael Luis Villalonga y Hohenlohe-Langenburg, b.London 23 Jul 1991
2h) José Luis Villalonga y Hohenlohe-Langenburg, b.London 23 Jul 1991
3h) Max Villalonga y Hohenlohe-Langenburg, b.London 9 Mar 1995
6f) Beatriz Maria Christina Johanna Margarita Alexandra Feodora Charlotte Taddea Dagoberta Pia de la Piedad Heilige Dreifaltigkeit und aller Heiligen (b.Rothenhaus 5 May 1935); m.El Quexigal 7 May 1959 (div 1990) Gonzalo Alfonso Fernández de Córdoba y Larios, Duque de Arión (b.Malaga 14 Feb 1934)
5e) Karl Erwin Leopold Gottfried Franziskus Maria (Rothenhaus 1 Dec 1903-Ravensburg 4 May 1983); m.Grundlsee 21 Aug 1934 Victoria Gfn Czernin von und zu Chudenitz (Vienna 21 Oct 1914-Hoßkirch bei Aulendorf , Württemberg 19 Dec 1988)
1f) Alexandra Anna Maria Viktoria Karoline Elisabeth Vincenzia (b.Dresden 19 Jul 1935); m.Hoßkirch 18 Jul 1959 Thilo von Trotha (Skopau 4 Oct 1926-Pfaffenhofen 29 Jun 1966)
1g) Thilo von Trotha, b.Gottmadingen, nr Constance 26 Apr 1960
2g) Irene-Eleonore von Trotha, b.Saulgau 28 May 1962
3g) Hans-Ulrich von Trotha, b.Stuttgart 19 Jul 1965
2f) Marie Charlotte Anna Franziska Katharina Viktoria (Komotau, Bohemia 25 Nov 1937-Heidelberg 17 Oct 1990); m.Grundlsee 3 Sep 1966 Mathias Gf Khuen von Belasi (b.Prague 26 Aug 1933)
1g) Stephan Cajetan Mathias Karl Heinrich Maria Gf Khuen von Belasi, b.Hamburg 12 Mar 1968
2g) Anna Johanna Lucia Theresia de Jesu infante Maria Gfn Khuen von Belasi, b.Hamburg 8 Apr 1971; m.Heidelberg 10 May 1997 Rüdiger von Knebel Doeberitz (b.Hilden 3 Jan 1970)
3g) Marie-Elisabeth Ida Theresia de Jesu infante Karoline Gfn Khuen von Belasi, b.Heidelberg 27 May 1976
3f) Isabella Maria Anna Karoline Viktoria Walburga (b.Komotau 19 Feb 1941); m.1st Hoßkirch 26 Jul 1969 (div) Malte Frantz (b.20 Jul 1939); m.2d 7 Sep 1979 Josef von Garzuly (b.Budapest 3 Aug 1933)
4f) Maria (b.Görkau, Bohemia 3 Jul 1944)
5f) Ottokar Johannes Gottfried Maria (b.Hoßkirch 18 Feb 1953)
6e) Rudolf Ferdinand Karl Erwin Franziskus Maria (Rothenhaus 1 Dec 1903-Tegernsee 13 Sep 1976); m.(civ) Munich 5 Jan 1959 (rel) Egern am Tegernsee 7 Jan 1959 Ines Schramm (b.Berlin 15 Jan 1923)
3d) Max Karl Rudolf (Prague 15 Apr 1861-Hall in Tyrol 7 Apr 1935); m.Bregenz 29 Oct 1891 Karoline Gfn zu Sayn-Wittgenstein-Berleburg (Walchen 28 Aug 1867-Mauerbach nr Vienna 7 Jun 1945)
1e) Marie Therese (Salzburg 13 Jan 1895-Starnberg 26 Nov 1974); m.Innsbruck 13 Sep 1916 (div) Otto Kohleisen
2e) Max Karl Joseph Maria (Toblach 21 Jul 1901-d.in prison in Stuttgart 27 Jul 1943); m.(morganatically) London May 1931 Georgina Pasquero
4d) Gabriele Marie Isabelle (Vienna 21 Oct 1862-Prague 2 Sep 1948); m.Prague 27 Aug 1883 Engelbert Ferdinand Pr von Auersperg (Vienna 21 Feb 1859-Schloß Luhsa 18 Jul 1942)
5d) Adelheid (Prague 3 Nov 1864-Groß-Priesen 10 Feb 1937); m.Prague 14 Oct 1885 Karl Gf Chotek von Chotkowa u.Wognin (d.Groß-Priesen 11 Aug 1926)
6d) Karl (Rothenhaus 11 May 1866-Olmütz 14 Nov 1914)
3c) Konstanze Josephe Luise (Graz 12 Nov 1824-Battelau 19 Apr 1884); m.Brünn 11 Aug 1855 Karl Gf von Blanckenstein (Budapest 2 Oct 1814-Vienna 10 Sep 1891)
4b) Philippine Henriette Sophie (Groningen 30 May 1779-19 May 1860)
5b) Karl Philipp Ernst (19 Sep 1781-Graz 6 Mar 1839)
6b) Charlotte Juliane (11 Oct 1784-Groningen 31 Aug 1796)
7b) Wilhelmine Christiane Henriette (21 Jun 1787-3 Feb 1858)
8b) Eleonore Magdalena Friederike (4 Apr 1792-30 Mar 1811)