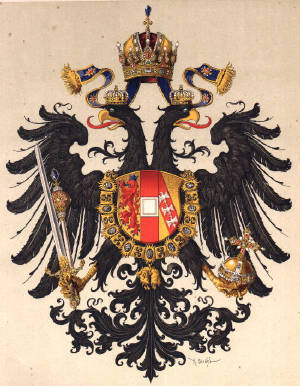 The House of Habsburg-Lorraine
The House of Habsburg or Hapsburg (also known as House of Austria) was one the most important royal houses of Europe and is best known for being an origin of all of the formally elected Holy Roman Emperors between 1438 and 1740, as well as rulers of the Austrian and Spanish Empires and several other countries. Originally from Switzerland, the dynasty first reigned in Austria, which they ruled for over six centuries. A series of dynastic marriages brought Burgundy, Spain, Bohemia, Hungary, and other territories into the inheritance. In the 16th century the family separated into the senior Habsburg Spain and the junior Habsburg Austrian branches.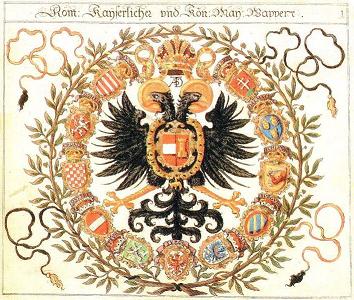 As royal houses are by convention determined via the male line, the reigning branches of the House of Habsburg became extinct in the 18th century. The Spanish branch ended upon the death of Charles II in 1700 and was replaced by the Anjou branch of the House of Bourbon in the person of his great-nephew Philip V. The Austrian branch became extinct in 1780 with the death of the Empress Maria Theresa and was replaced by the Vaudemont branch of the House of Lorraine in the person of her son Joseph II. The new successor house styled itself as the House of Habsburg-Lorraine (German: Habsburg-Lothringen), therefore technically there is not a House of Habsburg in the present day but only a female Habsburg line

that exists in the House of Lorraine known as the House of Habsburg-Lorraine.
Heads of the Habsburg Family - since 1918
Portrait
Name
Head of the family from
Head of the family until
Charles I
11 November 1918
† 1 April 1922
Otto von Habsburg
1 April 1922

1 January 2007 (resigned)

† 4 July 2011

Karl von Habsburg
1 January 2007
Incumbent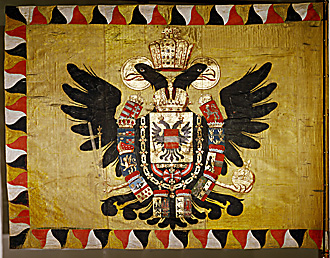 Titles and Styles of The Imperial and Royal House
The members of this family bear the titles "Archduke (Archduchess) of Austria, Prince (Princess) of Hungary and Bohemia, Prince or Princess of Dalmatia" and the style of "Imperial and Royal Highness". Descendants of morganatic marriages, other than those granted specific titles (e.g., the Grafen von Meran and the Princes von Altenburg and Hohenberg) generally bear the title "Graf (Gräfin) von Habsburg-Lothringen", or at least the surname "Habsburg".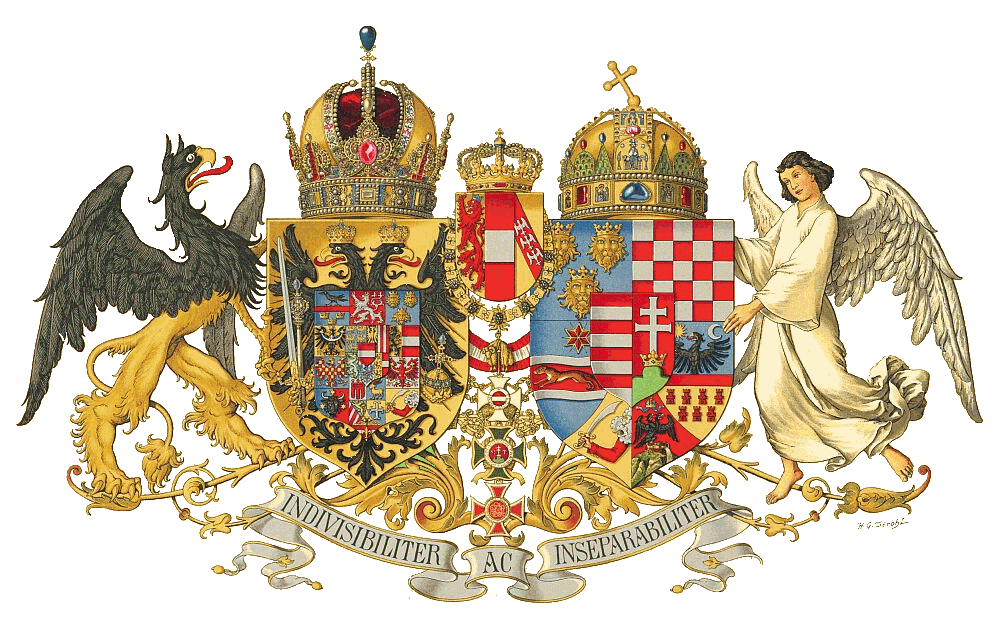 Genealogy of the Imperial and Royal House
Part: I
Maria Theresia, Archduchess of Austria, daughter of Emperor Karl VI, was b.Vienna 13 May 1717; she succeeded her father as Queen of Hungary and Bohemia and heiress of Austria on his death in 1740; she d.at Vienna 29 Nov 1780; she had married at Vienna 12 Feb 1736 Francis Stephen, Duke of Lorraine (Lothringen) (Lunéville 8 Dec 1708-Innsbruck 18 Aug 1765), who in 1745 became the Emperor FRANZ I. Their issue:
1a) Marie Elisabeth Amalie Antonie Josephe Gabriele Johanna Agathe (Vienna 5 Feb 1737-Laxenburg 7 Jun 1740)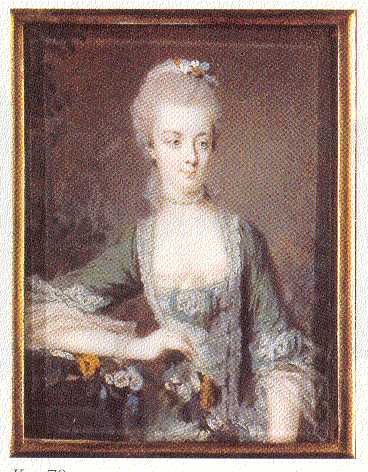 2a) Marie Anna Josephe Antonie Johanna (Vienna 6 Oct 1738-Vienna 19 Nov 1789)
3a) Marie Caroline Ernestine Antonie Johanna Josephe (Vienna 12 Jan 1740-Vienna 25 Jan 1741)
4a) Emperor JOSEF II Benedikt August Johann Anton Michael Adam (Schönbrunn 13 Mar 1741-Vienna 20 Feb 1790); m.1st by proxy at Parma 7 Sep 1760 and in person at Vienna 6 Oct 1760 Isabella Maria Pss of Bourbon-Parma (Madrid 31 Dec 1741-Vienna 27 Nov 1763); m.2d by proxy at Munich 13 Jan 1765 and in person at Schönbrunn 23 Jan 1765 Marie Josephe Pss of Bavaria (Munich 30 Mar 1739-Vienna 28 May 1767)
1b) Maria Theresia (Vienna 20 Mar 1762-Vienna 23 Jan 1770)
2b) Christina (b.and d.Vienna 22 Nov 1763)
5a) Marie Christine Johanna Josephe Antonie (Vienna 13 May 1742-Vienna 24 Jun 1798); m.Vienna 8 Apr 1766 Albert Pr of Saxony, Duke of Teschen (Moritzburg 11 Jul 1738-Vienna 10 Feb 1822)
6a) Marie Elisabeth Josephe Johanna Antonie (Vienna 13 Aug 1743-Linz 22 Sep 1808)
7a) Karl Joseph Emanuel Johann Nepomuck Anton Prokop (Vienna 1 Feb 1745-Vienna 18 Jan 1761)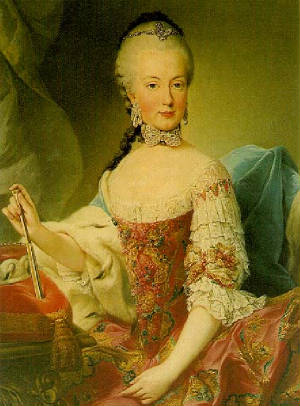 8a) Marie Amalie Josepha Johanna Antonie (Vienna 26 Feb 1746-Prague 18 Jun 1804); m.by proxy at Vienna 27 Jun 1769 and in person at Colorno 19 Jul 1769 Ferdinando, Duke of Parma (Parma 20 Jan 1851-Fontevivo 9 Oct 1802)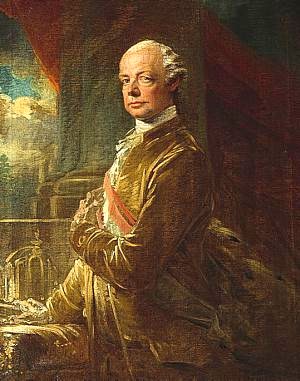 9a) Emperor Peter LEOPOLD II Joseph (Schönbrunn 5 May 1747-Vienna 1 Mar 1792), succeeded his brother, Emperor Joseph II, on 20 Feb 1790; he m.by proxy at Madrid 16 Feb 1764 and in person at Innsbruck 5 Aug 1765 Maria Luisa Infanta of Spain (Naples 24 Nov 1745-Vienna 15 May 1792)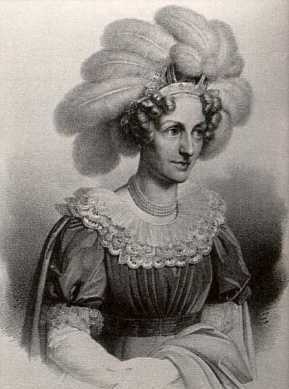 1b) Maria Theresia Josephe Charlotte Johanna (Florence

14 Jan 1767-Leipzig 7 Nov 1827); m.by proxy at Florence 8 Sep 1787 and in person at Dresden 18 Oct 1787 King Anton of Saxony (Dresden 27 Dec 1755-Pillnitz 6 Jun 1836)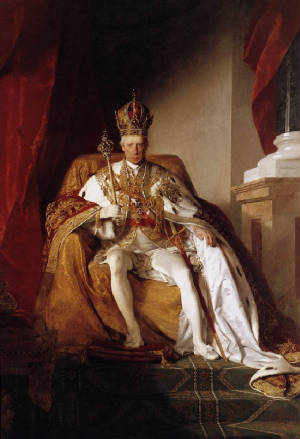 2b) Emperor FRANZ II Joseph Karl, who in 1806 abdicated as Holy Roman Emperor and became Emperor FRANZ of Austria, (Florence 12 Feb 1768-Vienna 2 Mar 1835); m.1st Vienna 6 Jan 1788 Elisabeth Dss of Württemberg (Treptow 21 Apr 1767-Vienna 18 Feb 1790); m.2d by proxy at Naples 15 Aug 1790 and in person at Vienna 19 Sep 1790 Maria Teresa Pss of Bourbon-Two Sicilies (Naples 6 Jun 1772-Vienna 13 Apr 1807); m.3d Vienna 6 Jan 1808 Maria Ludowika Archdss of Austia-Este (Monza 14 Dec 1787-Verona 7 Apr 1816); m.4th by proxy at Munich 29 Oct 1816 and in person at Vienna 10 Nov 1816 Caroline Auguste Pss of Bavaria (Mannheim 8 Feb 1792-Vienna 9 Feb 1873)
1c) Ludovika Elisabeth Franziska (Vienna 18 Feb 1790-Vienna 24 Jun 1791)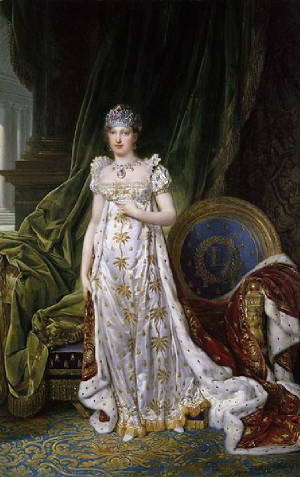 2c) Marie Louise Leopoldine Franziska Theresia Josepha Lucia, Dss of Parma, Piacenza and Guastalla 1814-1847 (Vienna 12 Dec 1791-Vienna 17 Dec 1847); m.1st by proxy at Vienna 11 Mar 1810 and in person (civ) at St.Cloud 1 Apr 1810 (rel) at the Louvre 2 Apr 1810 Napoléon I, Emperor of the French (Ajaccio 15 Aug 1769-St.Helena 5 May 1821); m.2d Parma 7 Sep 1821 Adam Adalbert Gf von Neipperg (Vienna 8 Apr 1775-Parma 22 Feb 1829); m.3d Parma 17 Feb 1834 Cte Charles de Bombelles (Versailles 6 Nov 1785- Versailles 30 May 1856)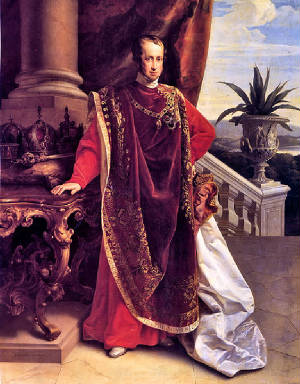 3c) FERDINAND I Karl Leopold Joseph Franz Marcelin, Emperor of Austria from the death of his father until his abdication 2 Dec 1848 (Vienna 19 Apr 1793-Prague 29 Jun 1875); m.Vienna 27 Feb 1831 Maria Anna Pss of Savoy (Rome 19 Sep 1803-Prague 4 May 1884)
4c) Marie Caroline Leopoldine Franziska Theresia Josepha Medarde (Vienna 8 Jun 1794-Vienna 16 Mar 1795)
5c) Caroline Ludovika Leopoldine (Vienna 9 Dec 1795-Schloß Hetzendorf 30 Jun 1799)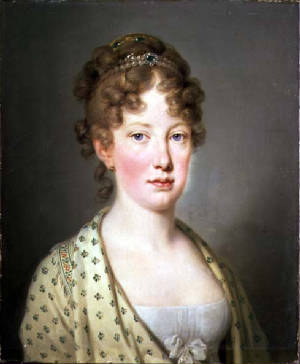 6c) Maria Leopoldina Josepha Caroline (Vienna 22 Jan 1797-Rio de Janeiro 11 Dec 1826); m.by proxy at Vienna 13 May 1817 and in person at Rio de Janeiro 5 Nov 1817 Pedro I, Emperor of Brazil [later, King Pedro IV of Portugal (Queluz 12 Oct 1798-Queluz 24 Sep 1834)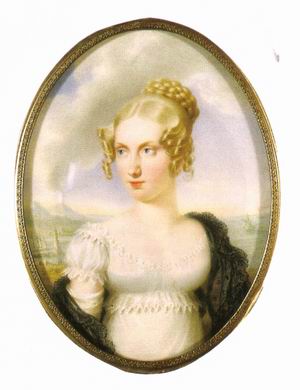 7c) Marie Clementine Franziska Josepha (Vienna 1 Mar 1798-Château de Chantilly 3 Sep 1881); m.Schönbrunn 28 Jul 1816 Leopoldo Pr of Bourbon-Two Sicilies, Pr di Salerno (Naples 2 Jul 1790-Naples 10 Mar 1851)
8c) Joseph Franz Leopold (Vienna 9 Apr 1799-Laxenburg 30 Jun 1807)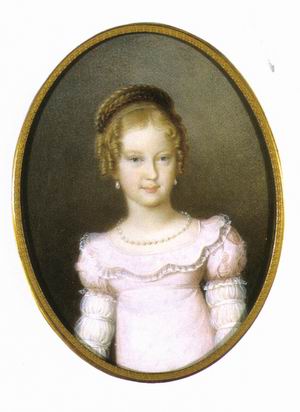 9c) Marie Caroline Ferdinande Theresia Josephine Demetria (Vienna 8 Apr 1801-Dresden 22 May 1832); m.by proxy at Vienna 26 Sep 1819 and in person at Dresden 7 Oct 1819 King Friedrich August II of Saxony (Dresden 18 May 1797-Brennbuchel 9 Aug 1854.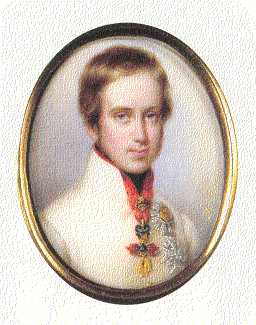 10c) Franz Karl Joseph (Vienna 7 Dec 1802-Vienna 8 Mar 1878); he renounced his succession rights 1848; m.Vienna 4 Nov 1824 Sophie Pss of Bavaria (Munich 27 Jan 1805-Vienna 28 May 1872)
1d) FRANZ JOSEPH Karl, Emperor of Austria 2 Dec 1848 (Schönbrunn 18 Aug 1830-Schönbrunn 21 Nov 1916); m.Vienna 24 Apr 1854 Elisabeth Dss in Bavaria (Munich 24 Dec 1837-assassinated at Geneva 10 Sep 1898) .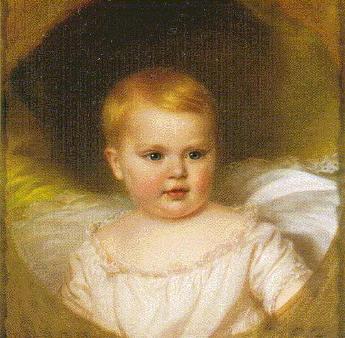 1e) Sophie Friederike Dorothea Maria Josepha (Vienna 5 Mar 1855-Buda 29 May 1857)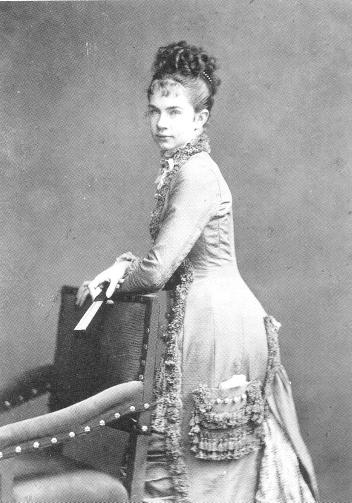 2e) Gisela Louise Marie (Laxenburg 12 Jul 1856-Munich 27 Jul 1932); m.Vienna 20 Apr 1875 Leopold Pr of Bavaria (Munich 9 Feb 1846-Munich 28 Sep 1930)
3e) Rudolf Franz Karl Joseph, Crown Prince of Austria (Laxenburg 21 Aug 1858-committed suicide at Mayerling 30 Jan 1889); m.Vienna 10 May 1881 Stephanie Pss of Belgium (Laeken 21 May 1864-Pannonhalma, Hungary 23 Aug 1945)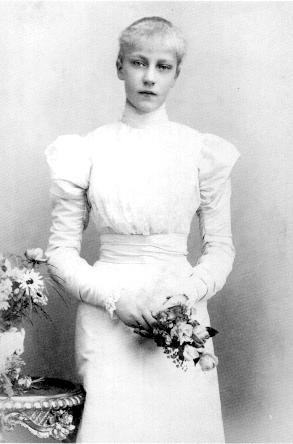 1f) Elisabeth Marie Henriette Stephanie Gisela (Laxenburg 2 Sep 1883- Vienna-Hütteldorf 22 Mar 1963); m.1st Vienna 23 Jan 1902 (div 1924) Otto Pr zu Windisch-Grätz (Graz 7 Oct 1873-Lugano 25 Dec 1952); m.2d Vienna 4 May 1948 Leopold Petznek (Bruck an der Leitha 30 Jun 1881-Vienna 27 Jul 1956)
4e) Marie Valerie Mathilde Amalie (Buda 22 Apr 1868-Schloß Wallsee 6 Sep 1924); m.Ischl 31 Jul 1890 Franz Salvator Archduke of Austria (Altmünster 21 Aug 1866-Vienna 20 Apr 1939)
2d) Ferdinand Maximilian, b.Vienna 6 Jul 1832, became Emperor Maximilian of Mexico 10 Apr 1864 but was ousted by revolutionaries and executed at Queretaro, Mexico 19 Jun 1867; m.Brussels 27 Jul 1857 Charlotte Pss of Belgium (Laeken 7 Jun 1840-Château de Bouchout, Belgium 19 Jan 1927)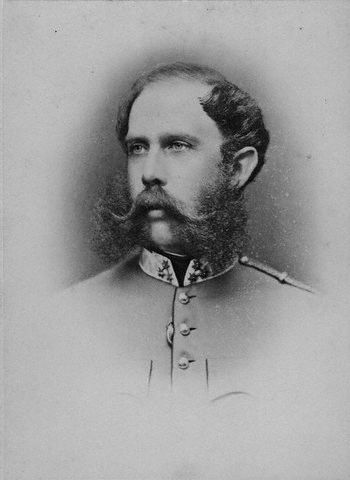 3d) Karl Ludwig (Schönbrunn 30 Jul 1833-Vienna 19 May 1896); m.1st Dresden 4 Nov 1856 Margaretha Pss of Saxony (Dresden 24 May 1840-Monza 15 Sep 1858); m.2d by proxy at Rome 16 Oct 1862 and in person at Venice 21 Oct 1862 Maria Annunciata Pss of Bourbon-Two Sicilies (Caserta 24 Mar 1843-Vienna 4 May 1871); m.3d Kleinheubach 23 Jul 1873 Maria Teresa Infanta of Portugal (Kleinheubach 24 Aug 1855-Vienna 12 Feb 1944) .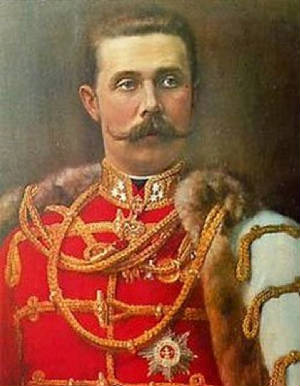 1e) Franz Ferdinand Karl Ludwig Joseph, who became heir presumptive to the Imperial Throne on the death of his cousin, the Crown Prince Rudolf, in 1889 (Graz 18 Dec 1863-assassinated at Sarajevo 28 Jun 1914); m.(morganatically) at Reichstadt, Bohemia 1 Jul 1900 Sophie Gfn Chotek von Chotkowa, who was in 1905 cr Herzogin von Hohenberg (Durchlaucht) (Stuttgart 1 Mar 1868-assassinated at Sarajevo 28 Jun 1914); their issue bear the titles Fürst[in] von Hohenberg (Durchlaucht), except the head of the house, who is Herzog von Hohenberg 1f) Sophie Marie Franziska Antonia Ignatia Alberta (Konopischt 24 Jul 1901-Thannhausen 27 Oct 1990); m.Tetschen 8 Sep 1920 Friedrich Gf von Nostitz-Rieneck (Prague 1 Nov 1893-Graz 29 Dec 1973) see:
Dukes of Hohenberg - House of Hohenberg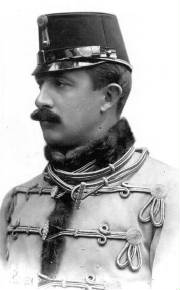 2e) Otto Franz Joseph Karl Ludwig Maria (Graz 21 Apr 1865-Vienna 1 Nov 1906); m.Dresden 2 Oct 1886 Maria Josepha Pss of Saxony (Dresden 31 May 1867-Schloß Wildenwart, Upper Bavaria 28 May 1944)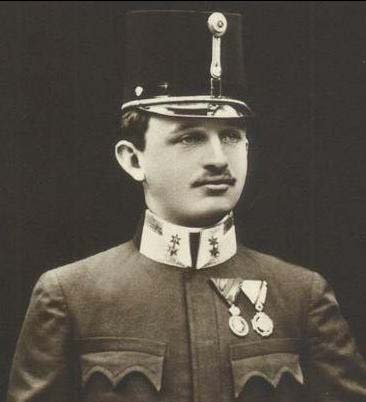 1f) KARL, Emperor of Austria on the death of his great-uncle, Emperor Franz Josef, in 1916, until he fled the country in 1918/9; b.Persenbeug 17 Aug 1887, d.Funchal, Madeira 1 Apr 1922; m.Schwarzau am Steinfelde 21 Oct 1911 Zita Pss of Bourbon-Parma (Villa Pianore 9 May 1892-Zizers 14 Mar 1989)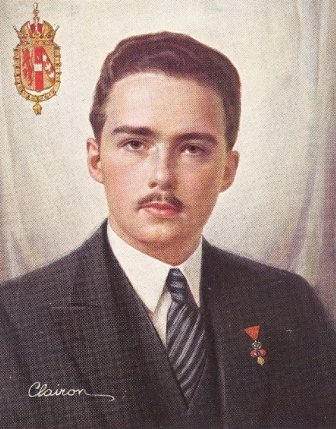 1g) Franz Joseph OTTO Robert Maria Anton Karl Max Heinrich Sixtus Xaver Felix Renatus Ludwig Gaetan Pius Ignatius, relinquished status as head of house to his son Karl 2007 (Villa Wartholz bei Reichenau, Lower Austria 20 Nov 1912-Pöcking 4 Jul 2011); m.Nancy 10 May 1951 Regina Pss of Saxe-Meiningen (Würzburg 6 Jan 1925-Pöcking 3 Feb 2010)
1h) Andrea Maria, b.Würzburg 30 May 1953; m.(civ) Pöcking, Upper Bavaria 9 Jul 1977 (rel) 30 Jul 1977 Karl Eugen Erbgf von Neipperg (b.Schwaigern 20 Oct 1951)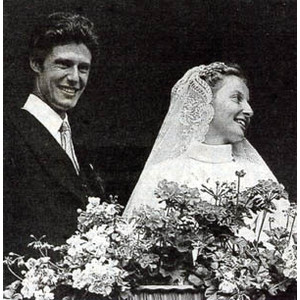 2h) Monika Maria Roberta Antonia Raphaela, b.Würzburg 13 Sep 1954; m.Pöcking 21 Jun 1980 Don Luis Gonzaga de Casanova-Cárdenas y Barón Duque de Santangelo Marqués de Elche Cde de Lodosa (b.Madrid 24 Apr 1950)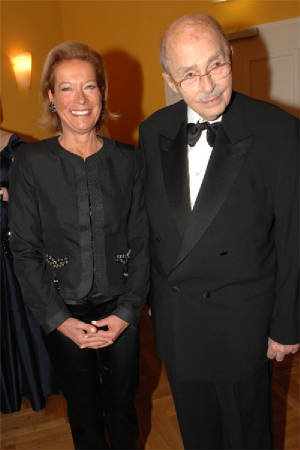 3h) Michaela Maria Madeleine Kiliana Elisabeth, b.Würzburg 13 Sep 1954; m.1st (civ) 12 Jul 1982 (rel) Anton, Panama 14 Jan 1984 (div 1993) Eric Alba Teran d'Antin (Mexico City 21 May 1920-New York 9 Jul 2004 [acc to internet reports, not confirmed); m.2d 22 Oct 1994 (div 1998) Hubertus Gf von Kageneck (b.Haus Blumenscheidt bei Wittlich 10 Aug 1940)
4h) Gabriela Maria Charlotte Felicitas Elisabeth Antonia, b.Luxemburg 14 Oct 1956; m.(civ) Pöcking 30 Aug 1978 (rel) St.Odile 5 Sep 1978 (div 1997) Christian Meister (b.Starnberg 1 Sep 1954)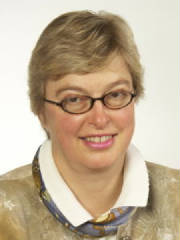 5h) Walburga Maria Franziska Helene Elisabeth, b.Berg am Starnberger See 5 Oct 1958; m.Budapest 5 Dec 1992 Carl Axel Archibald Gf Douglas (b.Stockholm 27 Nov 1949)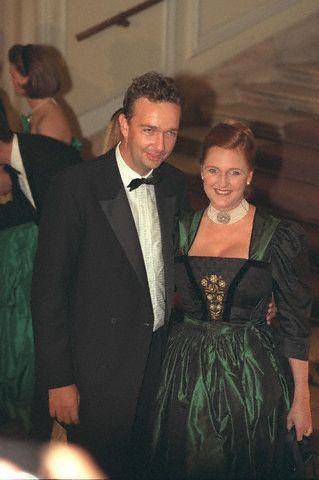 6h) KARL Thomas Robert Maria Franziskus Georg Bahnam, b.Starnberg 11 Jan 1961; m.Mariazell 31 Jan 1993 (civ) Salzburg 6 Feb 1993 Bss Francesca von Thyssen-Bornemisza (b.Lausanne 7 Jun 1958)
1i) Eleonore Jelena Maria del Pilar Iona, b.Salzburg 28 Feb 1994
2i) Ferdinand Zvonimir Maria Balthus Keith Michal Otto Antal Bahnam Leonhard, b.Salzburg 21 Jun 1997
3i) Gloria Maria Bogdana Paloma Regina Fiona Gabriela, b.Salzburg 15 Oct 1999