Mediatized House of Windisch-Gratz
House of Windisch-Gratz
The House of Windisch-Graetz, also spelled Windisch-Grätz, was a princely family in the Austrian Empire, serving the Habsburg dynasty. The name derives from the town of Windisch grätz in the Duchy of Styria, which is today Slovenj Gradec in the Carinthia region of Slovenia. Her Royal Highness Princess Michael of Kent is descended from this family through her maternal grandmother.
The Titles and Styles of the Princely House
The present members of this family bear the title Prince or Princess zu Windisch-Grätz together with the formal appellation of His or Her Serene Highness.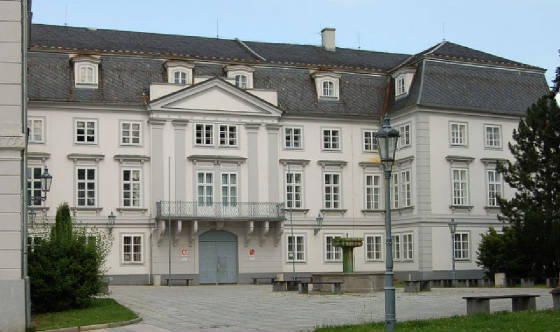 The Genealogy of The Princely House

Joseph Ludwig Nikolaus Gf von Windisch-Grätz (6 Dec 1744-Stiekna 24 Jan 1802); m.1st 12 Oct 1766 Maria Josepha Reinharda Raimunda Gfn Erdödy (5 Apr 1748-10 Apr 1777); m.2d Brussels 30 Aug 1781 Maria Franziska Leopoldine Pss and Dss von Arenberg (Brussels 31 Jul 1751-Prague 26 Aug 1812)
1a) Karl Anton Joseph Raimund (30 Sep 1767-28 Mar 1791)
2a) Joseph Ludwig Johann Nepomuk Anton (22 Sep 1769-20 Oct 1791)
3a) Leopold Karl Viktorin Ignaz Joseph Anton Grazian (18 Dec 1770-28 Sep 1771)
4a) Maria Theresia Philippina Josephine Antonia Friederike (Vienna 4 Mar 1774-Vienna 22 Jan 1841); m.Stiekna 2 Apr 1800 Ernst Engelbert Pr and Duke von Arenberg (Paris 25 May 1777-Wiesbaden 20 Nov 1857)
5a) Ludwig Robert (10 Sep 1782-3 Jun 1783)
6a) Sophia Ludovica Wilhelmine (Brussels 20 Jul 1784-17 Jul 1848); m.29 Sep 1799 Karl Erbpr zu Löwenstein-Wertheim-Rosenberg (18 Jul 1783-3 Nov 1849)
7a) Eulalie Flora Auguste (28 Mar 1786-26 Jun 1812)
8a) ALFRED Candidus Ferdinand, cr 24 May 1804 Fürst zu Windisch-Grätz (Brussels 11 May 1787-Vienna 21 Mar 1862); m.Frauenberg 15 Jun 1817 Marie Eleonore Pss zu Schwarzenberg (Vienna 21 Sep 1796-Prague 12 Jun 1848)
1b) Aglaë Leopoldine Pauline Marie Eleonore Ruperte (27 Mar 1818-6 Jul 1843)
2b) ALFRED Nikolaus Guntram Fst zu Windisch-Grätz (Vienna 28 Mar 1819-Tachau 28 Apr 1876); m.Prague 19 Oct 1850 Hedwig Pss von Lobkowicz (Lemberg 15 Sep 1829-Tachau 19 Oct 1852)
1c) ALFRED August Karl Maria Wolfgang Erwin Fst zu Windisch-Grätz (Prague 31 Oct 1851-Tachau 23 Nov 1927); m.Vienna 18 Jun 1877 Gabriele Pss von Auersperg (Vienna 21 Feb 1855-Tachau 1 Jun 1933)
1d) Maria Hedwig Anna Bertha Wilhelmine Christiane Elisabeth Rositta (Stekna 16 Jun 1878-Chur 22 Sep 1918); m.Vienna 27 Apr 1908 Friedrich Gf Szápáry von Muraszombath, Széchysziget u.Szápár (Budapest 5 Nov 1869-Vienna 18 Mar 1935)
2d) Alfred-Ludwig (24 Dec 1879-24 Apr 1880)
3d) Christiane Maria Wilhelmine Eleonore Gabriele Juliana Aloysia (19 Jun 1881-4 Dec 1895)
4d) Vincenz Alfred Wilhelm Maria Gabriel (3 Sep 1882-28 Mar 1913)
5d) Agnes Mathilde Maria Bertha Eleonore Valentine Juliana (Vienna 14 Feb 1884-21 May 1969); m.Gries bei Bozen 30 Apr 1912 Adolf Gf von Thun u.Hohenstein (Klösterle 31 Aug 1880-29 Sep 1957)
6d) Wilhelmine (19 Sep 1885-23 Mar 1886)
7d) Maria-Aglaë Christiane Hedwig Gabriele Wilhelmine Hygina Ernestine (Tachau 11 Jan 1887-28 Apr 1961); m.Vienna 25 Jan 1908 Carl Gf Apponyi von Nagy-Appony (Högyész 28 Aug 1878-3 Apr 1959)
3b) Leopold Viktorin Weriand Karl Jakob (24 Jul 1824-3 Oct 1869)
4b) August Joseph Niklas Jakob (24 Jul 1828-29 Aug 1910); m.2 Jun 1853 Wilhelmine Gfn von Nostitz-Rieneck (23 Apr 1827-25 Apr 1897)
1c) Eleonore Karoline Wilhelmine Auguste (Vorderbrühl 15 Aug 1855-Geldern 14 Mar 1935); m.Vienna 28 Oct 1877 Wilhelm Gf u.Marquis von und zu Hoensbroech (Schloß Haag 17 Apr 1849-Schloß Haag 13 Feb 1922)
2c) Ferdinand Alfred Johann August Wilhelm Paschalis (17 May 1859-8 Nov 1879)
5b) Ludwig Josef Nikolaus Christian (Vienna 13 May 1830-Vienna 14 Mar 1904); m.Preßburg 8 Feb 1870 Valerie Gfn Dessewffy von Csernek u.Tárkö (Budapest 8 Oct 1843-Sárospatak 11 Jul 1912)
1c) Karoline Pauline Eleonore Aurelia Marie (Preßburg 16 Jan 1871-Preußisch-Krawarn 14 Oct 1937); m.Lemberg 23 Oct 1894 Edgar Gf von Henckel-Gaschin (Siemianowitz 17 Jul 1859-Preußisch-Krawarn 14 May 1939)
2c) Mathilde Paula Eleonore Aglaë (Prague 4 Nov 1873-29 Dec 1968); m.Lemberg 14 Mar 1893 Paul Pr Sapieha-Kodenski (Gumniska 11 Sep 1860-Siedlinska 31 May 1934)
3c) Paul Emil Alfred Ludwig (16 Dec 1876-19 Jun 1881)
4c) LUDWIG Alfred Victorin Aurel Markus Felizian Fst zu Windisch-Grätz (Cracow 20 Oct 1882- Vienna 3 Feb 1968); m.Budapest 18 Nov 1907 Marie Elisabeth Natalie Gfn Széchényi von Sárvár-Felsövidék (Labod 8 Sep 1887-Vienna 3 Feb 1972)
1d) LUDWIG ALADÁR Fst zu Windisch-Grätz (Sárospatak, Hungary 4 Dec 1908-Lindenberg 3 May 1990); m.Vienna 29 Jul 1936 Christine Ebert (Vienna 21 Oct 1905-Vienna 24 Oct 1987)
1e) Alfred, renounced his succession rights 18 Jul 1966 (b.Vienna 1 Jun 1939); m.1st Kitzbühel 30 Sep 1978 Monika Rasper (Vienna 3 Mar 1954-Bern 11 Mar 1991); m.2nd (div) NN
1f) Marie-Christine Alexandra (b.Kitzbühel 30 Jul 1980)
2f) Natalie (b.Kitzbühel 8 Jan 1983)
3f) Maximilian Ludwig Wilhelm (b.Kitzbühel 30 Jul 1984)
2e) Ludwig ANTON Fst zu Windisch-Grätz (b.Vienna 12 Jan 1942); m.New York City 9 May 1981 Angelika Bovenschen (b.Köln 15 Mar 1943)
2d) Gabriele Maria Dionysia Karolina Paula Emilia (Sárospatak 14 Dec 1909-Munich 1 Mar 1966); m.Sárospatak 20 Nov 1934 Wolfgang Frhr Reichlin von Meldegg (Munich 29 Jul 1906-Sárospatak 2 May 1939)
3d) Maria Magdalene Valerie Paula Georgine Justine Karolina (Sárospatak 26 Sep 1911-Washington 14 Dec 2004); m.Sárospatak 8 Jul 1930 Stephan (István) Gf Károlyi de Nagy-Károly (Fóth 9 Dec 1898-Buenos Aires 2 Jun 1967)
4d) Vincenz Alfred Karl Ludwig Valerian Maria Gabriel (Sárospatak 14 Sep 1913-Vienna 19 Jan 2005); m.(civ) Kammer am Attersee 15 Apr 1945 (rel) Cairo 14 May 1960 Marta Becsky de Tasnád-Szántó (Nagyszollos 28 Oct 1908-Vienna 27 Mar 1998)
5d) Natalie Juliane Sofie Maria Viktoria (b.Sárospatak 21 Aug 1917)
6d) Elisabeth Mathilda Zita Carola Rosalia Maria (b.Sárospatak 4 Sep 1923); m.1st Budapest 12 Jan 1944 (div 1949) Joseph Gf Esterházy von Galántha (Salgócska 8 Sep 1917-Vienna 21 Jan 1980); m.2d (civ) Geneva 30 Dec 1949 (rel) Chambésy 28 Feb 1980 Friedrich Dusendschön (London 6 Aug 1911-Geneva 20 Nov 1986)
6b) Joseph Aloys Niklas Paul Johann Baptist (Prague 22 Jun 1831-Vienna 18 Oct 1906); m.Berlin 24 Sep 1866 Marie Taglioni (Berlin 27 Oct 1830-Neu-Aigen bei Tulln, Lower Austria 27 Aug 1891)
1c) Franz Seraphim Joseph Nikolaus (Klattau 3 Jul 1867-St.Martin, Upper Austria 13 Oct 1947); m.Vienna 2 Feb 1893 Margarete Gfn von Harrach zu Rohrau u.Thannhausen (Vienna 18 May 1870-Neu-Pernstein 11 Jan 1935)
1d) Joseph Franz Maria Johannes Georg (Klattau 3 Jul 1895-Hirtenberg, Lower Austria 20 Oct 1970); m.1st Hamburg 22 May 1943 Gertrud Mason (Breslau 23 Dec 1895-Klattau 11 Feb 1946); m.2d Vienna 10 Jun 1953 Helene Gfn Orssich de Slavetich (Schloß Jurkatinec, Croatia 4 Dec 1897-Vienna 28 Aug 1985)
2d) Marie Margarete Edeltrude (Rohrau 23 Jun 1896-Oberalm bei Salzburg 29 Sep 1988)
3d) Johann Nepomuk Franz Joseph Liberatus Hubertus Maria (Rohrau 17 Aug 1897-Vienna 19 Jul 1958); m.Vienna 28 Dec 1927 Lucie Wettel (Versecz 1 Nov 1903-Vienna 22 Jul 1986)
1e) Margarethe Maria Mathilde Franziska Johanne Theresia (Weidlingau 11 Sep 1928-Vienna 21 Jul 2006); m.Vienna 16 Feb 1950 Alexander Fst von Schönburg-Hartenstein (b.Hartenstein 8 Jan 1930)
4d) Alexander Alfred Franz Anton (Rohrau 13 Sep 1899-14 Jul 1915)
5d) Antoinette Marie Luise (Zürich 2 Sep 1902-Vienna 9 May 1990); m.Kirchdorf an der Krems, Upper Austria 1935 Ladislaus Fst Batthyány-Strattmann von Német-Ujvár (Kitsee 23 Jun 1904-Vienna 28 Mar 1966)
5d) Joseph Ferdinand Franz Kunibert Maria Antonin Sebastian (Petropolis 20 Jan 1905-22 Mar 1921)
6d) Mathilde Franziska Antonia Portiuncula (Prague 2 Aug 1906-London 7 Dec 1994)
7d) Otto Franz Maria Eleonore Telesforus (Zürich 5 Jan 1913-17 Apr 2011); m.Litschau 14 Feb 1952 Ida Gfn von Seilern und Aspang (b.Manetin, Bohemia 31 Jan 1919)
1e) Johann-Nepomuck Martin Maria Franz Josef Heinrich Johannes Chrysostomus (b.Vienna 27 Jan 1953)
7b) Mathilde Eleonore Aglaë Leopoldine Pauline Judith (5 Dec 1835-30 Jun 1907); m.12 Sep 1857 Karl Pr zu Windisch-Grätz (19 Oct 1821-24 Jun 1859; below)
9a) Adelheid Aglaë Pauline Josephine (Brussels 4 Dec 1788-Leipzig 8 Oct 1806); m.Tachau 2 May 1804 Wilhelm Fst von Auersperg (Prague 5 Oct 1782-Wlaschim 25 Jan 1827)
10a) WERIAND Alois Leopold Ulrich Johann Paul Eremite, cr Fürst zu Windisch-Grätz 18 May 1822 (Strassburg 31 May 1790-Schloß Haasberg 27 Oct 1867); m.Vienna 11 Oct 1812 Eleonore Pss von Lobkowicz (Vienna 28 Oct 1795-Graz 10 Mar 1876)
1b) Joseph Karl Friedrich (b.19 Oct 1814, d.young)
2b) Karl Vincenz Weriand Joseph Gabriel (10 Oct 1821-k.a.24 Jun 1859); m.12 Sep 1857 Mathilde Pss zu Windisch-Grätz 1835-1907; above)
1c) Maria Eleonore Mathilde Karoline Longina (15 Mar 1859-13 Apr 1869)
3b) HUGO Alfred Adolf Philipp Fst zu Windisch-Grätz (Vienna 26 May 1823-Schloß Haasberg 26 Nov 1904); m.1st Ludwigslust 20 Oct 1849 Luise, Dss of Mecklenburg-Schwerin (Schwerin 17 May 1824-Venice 9 Mar 1859); m.2d Teplitz 9 Oct 1867 Pss Matylda Radziwill (Berlin 16 Oct 1836-Vienna 5 Jan 1918)
1c) Alexandra-Maria (Como 29 Aug 1850-Gonobitz 12 Jul 1933)
2c) Olga Maria Friederike Franziska (Florence 17 Mar 1853-Gonobitz 27 Dec 1934); m.Haasberg 7 Oct 1876 Cte Andrea Mocenigo (Venice 3 Aug 1850-Salzburg 26 Jun 1878)
3c) HUGO Weriand Alexander Wilhelm Alfred Fst zu Windisch-Grätz (Florence 17 Nov 1854- Haasberg 15 May 1920); m.Vienna 16 May 1885 Christine Pss von Auersperg (Vienna 26 Feb 1866- Trieste 12 Jul 1962)
1d) Marie Luise Christiane Alexandrine (St.Veit, nr Vienna 13 Jul 1886-Kastelruth bei Bozen 23 Nov 1976); m.Haasberg 30 Nov 1911 Giovanni Gf Ceschi a Santa Croce (Klagenfurt 3 Jan 1871-Konjice Castle, Yugoslavia 20 Sep 1936)
2d) HUGO Vinzenz Alexander Maria Fst zu Windisch-Grätz (Haasberg 30 Jul 1887-Trieste 26 May 1959); m.Donaueschingen 26 Nov 1912 Leontine Pss zu Fürstenberg (Lána, Bohemia 16 Jun 1892-Rome 7 Oct 1979)
1e) Irma Christiane Maximiliana Egona Huberta Maria Hugo (Lána 22 Sep 1913- Faringdon, England 20 Jun 1984); m.Vienna 25 Apr 1936 Franz Fst von Weikersheim (Vienna 26 Feb 1904-Faringdon 17 Oct 1983)
2e) Hugo Maximilian Weriand Friedrich Hubertus Aegidius Maria (Donaueschingen 1 Sep 1914-k.a.over Italy 8 Aug 1942)
3e) MAXIMILIAN Antonius Aegidius Hubertus Maria Hugo Fst zu Windisch-Grätz (Donaueschingen 1 Sep 1914-Rome 1 Nov 1976); m.Cortina d'Ampezzo 11 Nov 1946 Maria Luisa Serra di Gerace (Vienna 30 Jul 1921-Rome 15 Oct 2008)
1f) Irma Christiane Leontine Maximiliane (b.Trieste 1 Jul 1951); m.Sant'Angelo d'Alife 21 Jun 1980 Don Augusto Ruffo di Calabria (b.Turin 1 Oct 1955)
2f) Maximiliane Gratia Maria Leontine Friederika (b.Trieste 16 Nov 1952); m.Sant'Angelo d'Alife 11 Nov 1976 Heinrich Erbpr zu Fürstenberg (b.Schloß Heiligenberg 17 Jul 1950)
3f) MARIANO-HUGO Fst zu Windisch-Grätz (b.Trieste 27 Jul 1955); m.Salzburg (civ) 31 Jan 1990 (rel) 11 Feb 1990 Sophie, Archdss of Austria (b.Boulogne-sur-Seine 19 Jan 1959)
1g) Maximilian Hugo (b.Salzburg 4 Aug 1990)
2g) Alexis Ferdinando (Rome 7 Dec 1991-Caserta 9 Feb 2010)
3g) Larissa Maria Luisa Christina Maria Grazia Leontina Hellena Franziska (b.Rome 11 Dec 1996)
4f) Manfred (b.Trieste 1 Apr 1963); m.Marino 12 Oct 1996 Maria Vittoria Lepri (b.Rome 22 Feb 1970)
1g) Nicolò Maria Hugo Mariano (b.Rome 4 Nov 1997)
2g) Olimpia Massimiliana Clementina (b.Rome 4 Mar 1999)
3g) Brando Maria Cristiano (b.Rome 13 Nov 2008)
4e) Friedrich Karl Hugo Maximilian Maria Cyrillus Felix Hubertus (Heiligenberg 7 Jul 1917-Gersau 29 May 2002); m.(civ) Schliersee 31 Mar 1959 (rel) Munich 1 Apr 1959 Dorothea Pss of Hesse (b.Panker 24 Jul 1934)
1f) Marina Margarita Sofia Leontina Christina (b.Milan 3 Dec 1960); m.Rome 28 May 1988 (rel) 15 Apr 1989 Gyula Lajos Jakabffy (b.Morosvásárhely 14 Nov 1962)
2f) Clarissa Elisabeth Fiore (b.Erba, Italy 7 Aug 1966); m.Alserio, Italy 16 Nov 1985 Eric de Waele (b.Etterbeek, Belgium 6 Jan 1962)
3d) Elisabeth Mathilde (Vienna 19 Feb 1889-Loppio 3 Jun 1983); m.Florence 27 Jul 1961 Leone Rosa (Salerno 23 Oct 1884-Rome 10 May 1972)
4d) Alfred Veriand (Gonobitz 12 Mar 1890-Weikersheim 7 Mar 1972); m.Vienna 29 May 1929 Isabelle Pss zu Hohenlohe-Langenburg (Rothenhaus, Bohemia 30 May 1891-Bad Mergentheim 20 Sep 1982)
1e) Christiane Anna Maria Militonia (Rothenhaus 10 Mar 1920-Weikersheim 18 Dec 1993)
2e) Gottfried Maximilian Weriand Antonius Maria Piedad (b.Vienna 5 Apr 1927); m.Claudia Hall (b.New York 3 Aug 1935)
3e) Hugo Weriand Antonius Franziskus Thomas Maria (b.Dresden 29 Dec 1929); m.1st London 21 Oct 1961 (div 1967) Caroline Knott (b.Ascot 30 Oct 1939); m.2d New York City 20 Jun 1980 Bss Katalin Hatvany de Hatvan (b.Budapest 30 Dec 1947)
1f) Constantin Weriand Alfred Maria (b.New York City 9 Jul 1962); m.château de Castellar 31 Aug 2002 Lesley Anne Withers
1g) Leopold Veriand (b.London 2002)
2g) Otto
2f) Franz-Karl Weriand Gottlieb Albrecht Maria (b.Würzburg 23 Aug 1964); m.Conchas Chinas, Mexico 27 May 2000 Adriana Caras (b.Santa Monica, California 2 Jun 1965)
1g) Maximiliana Anastasia Christiane Isabella (b.Los Angeles 5 May 2004)
2g) Augustin George Veriand Franziskus Ferdinand (b.28 Nov 2006)
5d) Eduard Vincenz Heinrich (Gonobitz 15 Jul 1891-Eybach 15 Feb 1976); m.Birstein 4 Jun 1923 Alexandra Pss von Isenburg (Birstein 21 Dec 1899-Barcola, nr Trieste 22 Dec 1945)
1e) Maria Friederike Christiane Antoinette Elisabeth Modesta Gertrudis (Birstein 13 Mar 1924-London 17 Dec 1972); m.Johannesburg 10 May 1950 Thomas Weston-Baker (London 26 Feb 1919-London 7 Dec 2006)
2e) Leontine Christiane Alexandra Louise Elisabeth Olga Wilhelmine Gabriele Marie Antoinette (b.Birstein 11 Jul 1925); m.Trieste 18 Feb 1947 Robert Henley (Sheffield 17 May 1921-London 25 Dec 1987)
3e) Wilhelmine Gabriele Elisabeth Sophie Maria Christine (b.Graz 6 Jun 1930); m.Trieste 19 Sep 1957 Gottfried Gf von Degenfeld-Schönburg (Würzburg 3 Apr 1925-Geislingen 25 May 2005)
4e) Olga Irma Theresia vom Kinde Jesu Gabrielle Wolfgang (b.Graz 26 Oct 1934); m.Trieste 16 May 1961 Karl Anton von Riedemann (b.Samaden 3 Oct 1931)
6d) Olga Maria Paula Josefa (Gonobitz 5 Mar 1893-Pai am Gardasee 30 Jan 1987); m.1st Haasberg 20 May 1916 (div 1937) Andreas Frhr von Morsey gt Picard (Hohenbrugg 1 Jul 1888-Vienna 16 Jul 1951); m.2d (civ) Budapest 5 May 1938 (rel) Vienna 29 Jul 1940 Hubertus Gf von Ledebur-Wicheln (Ledény, Galicia 2 Sep 1901-k.a.Oplonitz, South Styria 5 Feb 1945)
7d) Maria Wilhelmine Albertina Josepha (Gonobitz 23 Apr 1895-Schönbühel 2 Aug 1989); m.Haasberg 24 Aug 1916 Leonidas Frhr Economo di San Serff (Trieste 27 Dec 1874-Trieste 19 Jul 1952)
8d) Franz Josef Niklas (Gonobitz 4 Nov 1896-21 Dec 1968); m.Vienna 5 May 1937 Desiree von Wagner-Latour Edle von Thurmburg (Stanislau 15 Aug 1907-17 Dec 1972)
9d) Maria Gabriele Valentine (Gonobitz 7 Jan 1898-Malcesine 12 Mar 1992); m.Vienna 17 Jan 1918 Johann Pr von Ratibor u.Corvey, zu Hohenlohe-Schillingsfürst (Rauden 8 Mar 1882-Walkersdorf am Kamp bei Hadersdorf, Lower Austria 5 Jan 1948)
10d) Gottlieb Engelbert Maria Anton (Gonobitz 15 Aug 1899-k.a.Trieste 13 May 1945)
11d) Maria Antoinette (Gonobitz 6 Jun 1911-Trieste 15 Feb 2002); m.Rome 7 Jun 1941 Cte Girolamo di Bosdari (Bologna 4 Mar 1907-Montana, Switzerland 7 Oct 1967)
4c) Marie Caroline Sophie (Vienna 11 Dec 1856-Ludwigslust 9 Jul 1929); m.Schwerin 5 May 1881 Paul Friedrich, Duke of Mecklenburg-Schwerin (Ludwigslust 19 Sep 1852-Ludwigslust 17 May 1923)
5c) Ernst Wilhelm Anton Robert Alois (Gonobitz 4 Sep 1872-Ajaccio 1 Feb 1897)
6c) Aloisia Maria Mathilde (25 Jun 1874-Vienna 10 Jan 1888)
7c) Elisabeth Maria Mathilde Camilla Olga (24 Jul 1876-Vienna 21 Dec 1888)
4b) Gabriela Marianna Karoline Aglaë (23 Jul 1827-23 Aug 1917); m.3 Nov 1852 Friedrich Gf von Schönburg-Glauchau (22 May 1823-12 Oct 1897)
5b) Ernst Ferdinand Weriand (Winteritz 27 Sep 1827-Vienna 22 Nov 1918); m.Munich 17 May 1870 Kamilla Pss zu Oettingen-Oettingen u.Oettingen-Spielberg (Öttingen 20 Sep 1845-Vienna 11 Nov 1888)
1c) Karl Otto Hugo Weriand (Graz 9 Feb 1871-Vienna 15 Sep 1915); m.Keszthely 26 Oct 1905 Alexandra Gfn Festetics von Tolna (Baden-Baden 1 Mar 1884-Vienna 23 Apr 1963)
1d) Marie Camilla Ernestine (Keszthely 18 Sep 1907-Venice 10 Jan 1990); m.Vienna 23 Jul 1928 Oktavian Fst von Collalto u.San Salvatore (Teschendorf, Mecklenburg 12 Oct 1906- Venice 13 Oct 1973)
2d) Karl Ernst Thassilo Weriand (Vienna 28 Nov 1909-Graz 27 Oct 1983)
2c) Otto Weriand Hugo Ernst (Graz 7 Oct 1873-Lugano 25 Dec 1952); m.Vienna 23 Jan 1902 (div 1924) Elisabeth, Archdss of Austria (Laxenburg 2 Sep 1883-Vienna 16 Mar 1963)
1d) Franz Josef Marie Otto Antonius Ignatius Oktavianus (Prague 22 Mar 1904-Nairobi 1 Jan 1981); m.Brussels 3 Jan 1934 Css Ghislaine d'Arschot Schoonhoven (Ixelles 10 Mar 1912-Namur 6 Mar 1997)
1e) Stephanie Marie Eva (b.Brussels 17 Jan 1939); m.London 16 Feb 1967 (div 1973) Dermot Blundell-Hollinshead-Blundell (London 18 Oct 1935-15 Jan 2009)
2e) Guillaume Franz Josef Maria (b.Nairobi 19 Nov 1950)
2d) Ernst Weriand Maria Otto Antonius Expeditus Anselmus (Prague 21 Apr 1905-Vienna 21 Dec 1952); m.1st Vienna 17 Oct 1927 (div 1938, annulled 1940) Ellen Skinner (Scheibbs, Lower Austria 6 Apr 1906-Vienna 11 May 1982); m.2d Schwarzenbach an der Pielach, Lower Austria 11 May 1947 Eva Frn von Isbary (b.Vienna 5 Apr 1921)
1e) Otto Ernst Wilhelm (b.Vienna 5 Dec 1928); m.1st Vienna 27 Apr 1957 (div 1969) Johanna Gfn von Wimpffen (b.Budapest 25 May 1936); m.2d Vienna 22 Dec 1969 Maria Magdalena Gamper (b.Meran 7 Nov 1932)
1f) Henriette Raphaela (b.Salzburg 31 Jan 1958); m.(civ) Vienna 29 Nov 1996 (rel) Seeboden 9 May 1997 Wilhelm Böhm von Bawerk (b.Vienna 5 Jun 1945)
2f) Désirée Eleonore Maria Felicitas (b.Salzburg 1 Jul 1959); m.Vienna 1 Feb 1986 Johann Martin Herbert Maria Georg Leopold Ignaz Gobertus Gf zu Herberstein (Vienna 1 Feb 1961-Vienna 16 Dec 1992)
3f) Philipp Amadeus Otto Ernst (b.Salzburg 22 Oct 1960); m.1st Vienna 1 Feb 1986 (div 1996) Andrea Eleonore Krejci (b.Vienna 2 Aug 1956); m.2d Grundlsee 25 Jul 2003 Sabine Pscheid (b.Gmünd 17 Dec 1976)
1g) Franz Josef Otto Weriand (b.Vienna 23 Sep 1986)
2g) Maximilian Konstantin Weriand (b.Vienna 27 Apr 1988)
3g) Konstantin Gideon Otto Maria (b.Vienna 22 Jan 1990)
4g) Melanie Louise Anastasia (b.Vienna 11 Nov 1991)
5g) Alexander Sebastian (b.Vienna 21 Apr 1993)
4f) Ernst Albrecht (b.Vienna 25 Sep 1962); m.Vienna 27 Jun 1992 Michaela Maria Ilse Pück (b.Vienna 12 Apr 1963)
1g) Benedikt Veriand Otto Elmar (b.Vienna 23 Apr 1998)
2g) Johannes Florian Ernst Joachim Franz Thomas (b.Vienna 14 Jun 2000)
5f) Dominique (b.Vienna 22 Apr 1966); m.Vienna 12 May 1990 Andreas Frhr Dóczy de Német-Keresztúr (b.Vienna 10 Mar 1960)
6f) Johannes Hubertus Ladislaus Maria (b.Vienna 7 Feb 1971); m.Vienna 21 Feb 2003 (rel) 22 Feb 2003 Judith Wurm (b.Vöcklabruck 6 Aug 1973)
1g) Emilia Sophie Esther Maria (b.Vienna 3 Jun 2003)
7f) Sophie Eléonore (b.Vienna 14 Dec 1972); m.Vienna 14 Sep 2001 (rel) 29 Sep 2001 Hubertus Wilhelm Martin Maria Franz v.Löbbecke (b.Vienna 20 Nov 1966)
2e) Stefanie Maria Magdalena (b.Vienna 21 Jan 1933); m.Mariazell, Lower Austria 14 May 1956 (div 1964) Josef Christoforetti (b.Kurtatsch bei Bozen 27 Jan 1919)
3e) Eleonore Aloysia Elisabeth Maria (b.Vienna 25 Aug 1947); m.Vienna 21 Mar 1968 Friedrich Johann Gf zu Hardegg (b.Vienna 5 Jan 1944)
4e) Elisabeth Maria Eva Margarita (b.Vienna 24 Oct 1951); m.Kirchberg an der Pielach 28 Aug 1982 Christian Anton Gf von Attems-Gilleis (b.Diadema, Argentina 2 Oct 1954)
3d) Rudolf Johann Maria Otto Joseph Anton Andreas (Ploshwitz 4 Feb 1907-Vienna 14 Jun 1930)
4d) Stephanie Eleonore Maria Elisabeth Kamilla Philomena Veronika (Ploschkowitz 9 Jul 1909-Uccle 7 Sep 2005); m.1st Brussels 22 Jul 1933 Ct Pierre d'Alcantara di Querrieu (Bachte-Maria-Leerne, Belgium 2 Nov 1907-Oranienburg concentration camp 14 Oct 1944); 9m.2d Brussels 14 Nov 1945 Carl Axel Björklund (Hogsjo, Sweden 21 Dec 1906-Anderlecht, Belgium 26 Feb 1986)
3c) Maria Eleonore Gabriela Georgia Amalie (Graz 17 Oct 1878-Lugano 2 Jan 1977); m.Vienna 23 May 1901 Alfons Gf Paar (Kardasch-Recitz 14 May 1868-Laibach 22 Sep 1903)
6b) Robert Johann Joseph (24 May 1831-22 Apr 1913)