Mediatized House of Orsini
House of Orsini-Rosenberg
Orsini-Rosenberg (also Ursin-Rosenberg) is the name of an old Austrian noble family. Originally sprang out from the family Von Graben (an apparent, or illegitimate branch of the House of Meinhardin) from Schloss Alt-Grabenhofen near the city of Graz. The earliest known member of the Orsini-Rosenberg family, Konrad ab dem Roesenperg, lived around 1322. He was a member of the low nobility who lived at Schloss Alt-Grabenhofen, between Reinerkogel and Rosenberg. During the 17th and 18th century, the succees of that family arose from the steady accumulation of land, and loyalty to the Habsburg Emperor.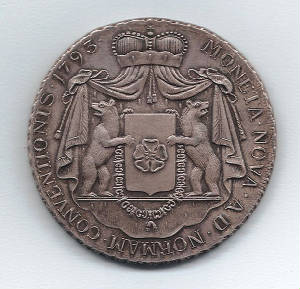 On August 2, 1633 Johann Andreas von Rosenberg, Herr von Rosenberg, was elevated to the Reichsfreiherrenstand with the title Freiherr of the Holy Roman Empire, Freiherr of Lerchenau, Herr of Magereckh and Grafenstein and in 1648 to the Austrian Grafenstand. Since 1681 the family Orsini-Rosenberg held the title as Reichsgraf and in 1683 they became members of the Reichstag. At the same year they take the name of the old Italian princely Orsini family; their family name changed to Ursini-Rosenberg or Orsini-Rosenberg. On October 9, 1790 Franz Xaver Wolfgang von Orsini-Rosenberg elevated to Reichsfürst von Rosini-Rosenberg.
Family Members of the House of Orsini
Johann Andreas von Rosenberg (1600-1667), became first count of Rosenberg
Vinzenz von Orsini-Rosenberg (1722-1794), Landeshauptmann of Carynthia
Franz Xaver Wolfgang von Orsini-Rosenberg (1726-1795), was made first count of the Holy Roman Empire of Orsini-Rosenberg and later first prince of the Holy Roman Empire of Rosini-Rosenberg, diplomat and politician. Basis for the character Count Orsini-Rosenberg in the fictional work Amadeus.
Prince Franz Seraph of Rosenberg-Orsini (1761-1832), Austrian General of Cavalry
The Titles and Styles of the House

The present members of this family bear the title Graf or Gräfin von Orsini u.Rosenberg, together with the formal appellation of His or Her Illustrious Highness
The Genealogy of The House
FRANZ Seraphicus Fst von Orsini u.Rosenberg (Graz 18 Oct 1761-Vienna 4 Aug 1832); m.Graz 27 Dec 1786 Marie Karoline Gfn von Khevenhüller-Metsch (Vienna 14 Mar 1767-Graz 24 Aug 1811)
1a) Vincenz Ferrerus Erbgf von Orsini u.Rosenberg (5 Oct 1787-22 Nov 1824)
2a) FERDINAND Fst von Orsini u.Rosenberg (Graz 7 Sep 1790-18 Jun 1859); m.1st 6 Aug 1825 Marie Kunigunde Gfn von Brandis (1 Jun 1804-5 Sep 1843); m.2d 14 Sep 1844 Ottilie Gfn von Wurmbrand-Stuppach (Graz 2 Oct 1819-Klagenfurt 3 Feb 1892)
1b) Maria Kunigunde (28 Nov 1826-12 Aug 1883); m.9 Feb 1848 Leopold Gf von Platz (8 Dec 1810-1 Mar 1876)

2b) Manfred (12 Oct 1845-7 Sep 1850)

3b) HEINRICH Fst von Orsini u.Rosenberg (Welzenegg 25 Jun 1848-Welzenegg 13 Feb 1929); m.Klagenfurt 12 Feb 1873 Anna Frn zum Rosenpichl und Hohenstein (Hainburg, Lower Austria 5 Jan 1852-Welzenegg 8 Apr 1936)

1c) Marie Ottilie Anna (Welzenegg 17 Dec 1873-Salzburg 28 Nov 1927); m.4 May 1898 Otto Gf von Manzano (Haidenschaft 4 Mar 1859-Salzburg 28 Nov 1936)

2c) Helene (Welzenegg 10 May 1876-Klagenfurt 24 May 1956)

3c) Isabelle (Welzenegg 10 Jul 1883-Klagenfurt 13 Oct 1953)

4c) JOHANNES Andreas Fst von Orsini u.Rosenberg (Welzenegg 8 May 1893-Vienna 7 Feb 1932); m.Vienna 17 Oct 1922 Henriette Gfn Larisch von Moennich (Bucharest 1 Jan 1903-Glanegg 20 Nov 1994)

1d) HEINRICH Johannes Friedrich Maria Fst von Orsini u.Rosenberg (Welzenegg 29 Jan 1925-11 Dec 2011); m.Gradisch 20 Jul 1947 Eleonore Gfn v.Goëß (Ebenthal 16 May 1928-Grafenstein 21 May 2004)

1e) Ladislaja Maria Anna Henriette Hippolitta Josefa (b.Klagenfurt 26 Jul 1948); m.Grafenstein (civ) 20 Aug 1969 (rel) 30 Aug 1969 Christian Frhr Nádherný von Borutin (Nieder-Adersbach 22 Jul 1939-Friesach 1 Nov 2009)

2e) JOHANNES Andreas Alois Heinrich Anton Josef Maria Fst von Orsini und Rosenberg (b.Klagenfurt 26 Aug 1949); m.(civ) Horn 22 Sep 1978 (rel) Altenburg bei Horn, Lower Austria 23 Sep 1978 Marie Eleonore Gfn von Thun und Hohenstein (b.Vienna 23 Mar 1956)

1f) Heinrich Johannes Matthias Josef Maria Erbgf von Orsini und Rosenberg (b.Salzburg 3 Sep 1979)

2f) Johanna Maria Andrea (b.Salzburg 6 Mar 1981)

3f) Paul Markus Lukas (b.Salzburg 14 Oct 1982)

3e) Ferdinand Friedrich Andreas Heinrich Josef Maria (b.Klagenfurt 28 May 1953); m.Vienna 25 Apr 1981 Zdenka Pss von Auersperg (Vienna 7 Oct 1956-Klagenfurt 29 May 2009)

1f) Konrad Maria Leopold Georg Heinrich (b.Vienna 15 Nov 1982)

2f) Theresia Maria Elisabeth Eleonore Eliane (b.Vienna 28 May 1984)

3f) Ludwig Gabriel Sylvester Wenzel Maria (b.Klagenfurt 28 Sep 1989)

4e) Markus Antonius Andreas Heinrich Josef Maria (b.Klagenfurt 8 Aug 1955); m.Klagenfurt 3 Jun 1984 Gabriele Lukan (b.Klagenfurt 3 Oct 1959)

1f) Valerie Susanne Henriette (b.Graz 6 Jul 1986)

2f) Maximilian Christian Maria (b.Klagenfurt 8 Dec 1988)

5e) Matthias Johannes Andreas Heinrich Josef Maria (b.Klagenfurt 8 Aug 1955); m.1st Liebenfels 9 Jun 1985 (div, annulled 1992) Brigitte Kogler (b.Klagenfurt 13 Jul 1957); m.2d Schloß Stein 26 Jul 1992 Michaela Lang (Andau 28 Jun 1959-Höhenbergen 19 Mar 1993); m.3d Schloß Loretto 6 May 1995 Huberta Gfn von Trauttmansdorff (b.Vienna 13 Apr 1966)

1f) Antonia Gabriele Maria (b.Klagenfurt 23 Oct 1995)

2f) Philipp Thomas Mathias Maria (b.Klagenfurt 26 Mar 1998)

3f) Douglas Johannes (b.Klagenfurt 20 Mar 2000)

4f) Leopold Clemens Maria (b.Klagenfurt 3 Mar 2004)

6e) Henriette Josefine Sophia Maria (b.Klagenfurt 15 May 1957); m.Grafenstein 16 Jun 1979 (div 2008) Eberhard Crain (b.Salzburg 13 Apr 1948)

7e) Andrea Franziska Josepha Maria (b.Klagenfurt 21 May 1958); m.Grafenstein 18 Sep 1983 Guy Littlejohn (b.New Plymouth, New Zealand 26 Aug 1958)

2d) Johann Andreas Heinrich Maria Hubertus (Welzenegg 3 Jul 1926-Klagenfurt 18 Oct 2004); m.Sturefors, Sweden 22 Oct 1953 Catharina Gfn Bielke (b.Linköping 12 Nov 1930)

1e) Andreas Heinrich Hubertus Seraphin Maria (b.Klagenfurt 3 Sep 1954); m.Maria Trost bei Graz 20 May 1983 Eleonore Wallner (b.Graz 22 Sep 1955)

1f) Raphael Johannes Gobertus Serafin Maria (b.Graz 3 Mar 1984)

2f) Luca Alexander Gobertus Serafin Maria (b.Graz 20 Mar 1986)

3f) Luis Paul Gobertus Serafin Maria (b.Graz 16 Feb 1988)

2e) Birgitta Gunilla Gabriella Maria (Klagenfurt 2 Oct 1955-Salzburg 17 Jun 2000); m.Völkermarkt 14 Nov 1981 Peter Treppo (b.Völkermarkt 19 Oct 1952)

3e) Cäcilia Mariora (b.Klagenfurt 4 Aug 1961); m.Eberndorf, Carinthia 1 Oct 1988 Christian Gf von Seilern und Aspang (b.Vienna 3 Dec 1958)

4e) Hubertus Nikolaus Maria (b.Klagenfurt 15 Oct 1962); m.Stains 6 Jul 1997 Monika Keil (b.Graz 23 Nov 1967; see Austria)

1f) Paul Josef Matthias Maria (b.Klagenfurt 12 Aug 1999)

2f) Clara Maria Cecilia Charlotte (b.Klagenfurt 1 Sep 2001)

3f) Ladislaja Maria Anna Henriette Hippolita Josefa (b.Klagenfurt 3 Jul 2004)

5e) Karl Clemens Maria (2 Jan 1968-27 Feb 1974)

3d) Maria Anna (Klagenfurt 20 Aug 1927-1 Aug 2010); m.Schloß Glanegg 16 Dec 1948 Friedrich Frhr Mayr von Melnhof (b.Schloß Glanegg 5 Jul 1924)

4d) Franziska Johanna Maria Helene (b.Welzenegg 28 Apr 1930); m.Schwaz, Tyrol 21 Oct 1994 Franz Illing (Vienna 25 Oct 1909-Schwaz 29 Jan 1997)

4b) Clothilde (10 Mar 1850-22 Dec 1924); m.1st 2 Jul 1874 Otto Gf Chorinsky (22 Feb 1835-9 May 1883); m.2d 7 Nov 1889 Albert Gf von Wolkenstein (12 Nov 1848-1 Feb 1920)

5b) Eugen (20 Jul 1852-20 Feb 1937)

3a) Maria Anna (2 Feb 1792-12 Aug 1792)

4a) Maria Julia (b.and d.1793)

5a) Franz Xaver (3 Nov 1794-7 Dec 1818/48)

6a) Karl Borromäus (15 Dec 1796-20 Mar 1798)

7a) Maria Theresia (25 Sep 1798-18 Apr 1866); m.27 May 1817 Karl Eugen Gf Czernin v.u.zu Chudenitz (4 Nov 1796-11 Jul 1868)

8a) Friedrich Sigismund Adam Ferdinand Johann Nepomuk Carl Borromäus Erasmus (Vienna 3 Jun 1801-Klagenfurt 13 Apr 1887); m.Damtschach 3 Nov 1839 Johanna Frn Jöchlinger von Jochenstein (Damtschach 1 Nov 1815-Klagenfurt 5 Jan 1892)

1b) Adelgunde (27 Dec 1840-Sep 1912)

2b) Johanna (22 May 1842-2 Nov 1918); m.1865 Sigismund Karolyi de Károly-Patty u.Vasvár (d.Feb 1906)

3b) Hildegarde (2 Jul 1848-20 Nov 1899)

4b) Stephanie (7 Aug 1844-13 May 1900)

5b) Felix von Valois (Schloß Loretto 22 Jun 1846-Csakathurn 15 Jul 1905); m.Vienna 5 May 1875 Franziska Frn Henniger von Seeberg (Prague 3 Mar 1853-Salzburg 6 Nov 1932)

1c) Hedwig (Vienna 19 Jan 1877-Damtschach 25 Jul 1931); m.Prague 15 Apr 1899 Guidobald Gf Consolati (Trient 19 Feb 1870-Damtschach 21 Jul 1935)

2c) Marie Gabriele (Vienna 21 May 1879-Salzburg 4 May 1951); m.Prague 22 Apr 1901 Paul Gf Czernin v.u.zu Chudenitz (Dimokur 4 Jun 1879-Schönhof 17 Jan 1938)

3c) Felix Maria Johanna (Theresienstadt 9 Aug 1886-Damtschach 21 Jul 1962); m.Salzburg 23 Oct 1928 Marianne Gfn von Fünfkirchen (Cracow 30 Jan 1902-Damtschach 17 Jan 1999)

1d) Felix Heinrich Oktavian Maria (b.Salzburg 16 Aug 1929); m.Damtschach 22 Sep 1960 Brigitte Würtz (b.Linz 10 Nov 1937)

1e) Markus Felix Maria (b.Vienna 30 Oct 1961); m.Damtschach 29 Jul 2004 Alina Kunitsyna (b.Minsk 17 Mar 1981)

1f) Ellisej André Felix Maria (b.Villach 12 Dec 2004)

2f) Salome Elisabeth Xenia Maria 9b.Vilsach 21 Nov 2007)

2e) Anna Cäcilia Maria (b.Klagenfurt 30 Apr 1964); m.21 Jul 1990 (div 2007) Alexander Krasser (b.8 Jan 1960)

3e) Maria Felicitas Michaela (b.Klagenfurt 29 Sep 1966); m.29 Mar 1994 (div 1997) Christian Gürtner (b.Gainberg 13 Jul 1962)

4e) Johanna Sofia Maria (b.Klagenfurt 21 May 1968); m.Damtschach 5 Jun 1999 Bruno Pellandini (b.St.Gallen 1 Nov 1966)

6b) Lothar (Schloß Loretto 8 Oct 1853-Schloß Loretto 9 Jun 1932); m.Klagenfurt 26 Apr 1883 Angelika Gfn von Hoditz und Wolframitz (Preßburg 31 Dec 1855-Unterach am Attersee 25 Oct 1939)

1c) Johanna (Damtschach 12 Apr 1884-26 Oct 1975); m.Vienna 1 Sep 1903 Adolf Riessberger (19 May 1880-Vienna 3 Dec 1933)

2c) Wolfgang Felix (Damtschach 13 Jul 1887-Vienna 11 Jan 1965); m.Vienna 17 Jul 1916 Anna Genser (Vienna 14 Jul 1892-Klagenfurt 23 Sep 1961)

1d) Wolfgang Andrä Josef (Klagenfurt 27 Apr 1917-Vienna 10 Dec 1991); m.Vienna 27 May 1950 Dietgard von Heinrich (b.Vienna 27 Oct 1924)

1e) Wolfgang Gerrit Oswald Siegfried (b.Klagenfurt 29 Jul 1951); m.Klagenfurt 25 Jun 1975 Rosemarie Wasle (b.St.Veit an der Glan 27 Aug 1952)

1f) Wolf Andrä (b.Vienna 24 Nov 1984)

2e) Helge Christian Lothar Wilhelm (b.Vienna 12 Apr 1954); m.Klagenfurt 20 Aug 1994 Barbara Lazar (b.Graz 2 Mar 1963)

1f) Isabelle Marie Sophie (b.Vienna 4 Apr 1997)

9a) Joseph (Graz 11 Sep 1803-22 Sep 1868); m.Vienna 20 Jan 1840 Ida Grimaud Gfn d'Orsay (Vienna 6 Aug 1816-Marschendorf 28 Sep 1894)

1b) Karl Dominik (Vienna 6 Nov 1840-Vienna 15 Jan 1918)

2b) Maria Anna (Vienna 15 Oct 1841-Graz 26 Nov 1917); m.Graz 24 May 1873 Franz Frhr von John (Bruck an der Leitha 20 Nov 1815-Vienna 25 May 1876)

3b) Maximilian (Graz 17 Mar 1846-Baden bei Vienna 27 Aug 1922); m.Prague 24 Sep 1890 Maria-Anna Gfn zu Herberstein (Graz 3 Dec 1851-Baden bei Vienna 2 Aug 1921)

1c) Ida (Prague 25 Sep 1891-Weilheim, Upper Bavaria 23 Sep 1955); m.Baden bei Vienna 27 Sep 1916 Christoph Gf zu Stolberg-Stolberg (Westheim 22 Jan 1888-Arnsberg 3 Jul 1968)

4b) Arthur (Gleichenberg 2 Jul 1856-Klatovy 15 Jan 1882)

5b) Emma (Graz 8 Jul 1858-Marschendorf 6 Jul 1905); m.Prague 22 Jun 1878 Rudolf Gf Czernin v.u.zu Chudenitz u.Morzin (Prague 8 Jan 1855-Hohenelbe 5 Sep 1927)