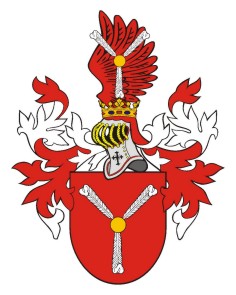 Mediatized House of Harrach
House of Harrach
The House of Harrach are a Bohemian and Austro-German noble family. The Grafs von Harrach were among the most prominent families in the Habsburg Empire. Two main family branches (from 2 Charles Harrach's sons) - of Rohrau (until 1886) and of Jilemnice. Two existings branches were founded by Frederick August's grandsons - Ernest Christopher Joseph (d. 1838) and Ferdinand Joseph (d. 1841)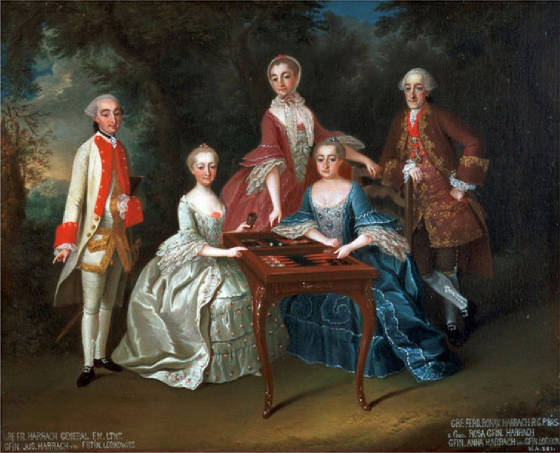 1195 - first mentions of family in Ranshofen monastery.
14th century - owned lands in Austria, Carinthia and Styria
1524 - Leonhard purchased of Castle Rohrau, main residence until now.
January 4, 1552 - Leonhard von Harrach received the title of Imperial Baron from Charles V.
November 6, 1627 - Karl von Harrach, his grandson received the title of Imperial Count from Ferdinand II.
1701 - Ferdinand Bonaventura I purchased Jilemnice.
1708 - Aloys Thomas Raimund marries on Cecilia von Thannhausenand attaches her surname to family.
Members of the House of Harrach
Przibislaus Harrach (d. 1289) - founder of the family
Leonhard (d. 1590)

Karl von Harrach (1570-1628) - his grandson, Imperial envoy to German sovereigns' courts, Ferdinand II's favourite. His children:

Ernst Albrecht von Harrach (1598-1667), Archbishop of Prague and Cardinal Bishop of Trento.
Leonhard (d. 1645), founder of the Rohrau line, the Superior Marshall at the Emperor Ferdinand III Habsburg's court.

Otto Frederick (d. 1639) founder of the Jilemnice line, soldier and diplomat, brother-in-law of Albrecht Wallenstein. His son:

Johann Philipp Graf Harrach (1678-1764), Austrian field marshal
Ernst Guido (1732-1783)
Maria Josefa von Harrach (1727-1788), princesse of Liechtenstein, wife of Johann Nepomuk Karl, Prince of Liechtenstein
Karl Borromäus von Harrach (1761-1829) - honorary Chief Physician at the Elisabethine Hospital in Vienna.
Johann Nepomuk von Harrach (1828-1909) - Czech politician
Lieutenant Colonel Count Franz von Harrach (1870-1934), Franz Ferdinand's bodyguard when he was assassinated in Sarajevo on June 28 1914.
Countess Stephanie Harrach, Johann Harrach's (d. 1945) widow, current member of family
Beppo Harrach, modern rally pilot, count Ernst Harrach's son
The Titles and Styles of the Princely House
The members of this family bear the title Graf or Gräfin von Harrach zu Rohrau u.Thannhausen, together with the formal appellation of Illustrious Highness
The Genealogy of The Princely House
ERNST GUIDO Gf von Harrach zu Rohrau u.Thannhausen (Vienna 8 Sep 1723-Vienna 23 Mar 1783); m.Vienna 20 May 1754 Maria Josepha Gfn von Dietrichstein-Nikolsburg (Vienna 2 Nov 1736-Vienna 21 Dec 1799)
1a) Maria Josepha (Vienna 28 Apr 1755-Vienna 9 Feb 1783); m.Vienna 20 May 1776 Franz Joseph Gf von Wilczek (d.Seebarn 27 Sep 1834)
2a) JOHANN NEPOMUK ERNST Gf von Harrach zu Rohrau u.Thannhausen (Vienna 17 May 1756-Vienna 11 Apr 1829); m.Vienna 29 Jan 1782 Maria Josepha Pss von und zu Liechtenstein (Vienna 4 Dec 1763-Vienna 23 Sep 1833)
3a) ERNST CHRISTOPH JOSEF Gf von Harrach zu Rohrau u.Thannhausen (Vienna 29 May 1757-Vienna 14 Dec 1838); m.Vienna 2 Jul 1794 Maria Theresia Gfn von Dietrichstein (Vienna 24 Jul 1771-Vienna 21 Jan 1852)
1b) Johann Nepomuk (21 Apr 1795-5 Aug 1800)
2b) Maria Theresia (6 Jul 1798-15 Jun 1817)
3b) FRANZ ERNST Gf von Harrach zu Rohrau u.Thannhausen (Vienna 13 Dec 1799-Nice 26 Feb 1884); m.Vienna 29 May 1827 Anna Maria Theresia Pss von Lobkowicz (Vienna 23 Jan 1809-Aschach an der Donau 25 Oct 1881)
1c) JOHANN NEPOMUK FRANZ Gf von Harrach zu Rohrau u.Thannhausen (Vienna 2 Nov 1828-Vienna 12 Dec 1909); m.1st Prague 2 Aug 1856 Maria-Margareta Pss von Lobkowicz (Prague 13 Jul 1837-Aschach 2 Sep 1870); m.2d Prague 15 Oct 1878 Maria Theresia Pss von Thurn u.Taxis (Prague 7 Jan 1856-Schloß Prugg 20 Aug 1908)
1d) KARL Franz Leonhard Johann Florian Gf von Harrach zu Rohrau u.Thannhausen (Prague 4 May 1857-Prague 7 Dec 1920)
2d) Anna Maria Gisella Therese Caroline Johanna (Prague 7 May 1858-Hrádek 30 Jan 1938); m.Hrádek 17 Aug 1898 Gottlieb Frhr Henn von Henneberg-Spiegel (d.Hrádek 14 Feb 1934)
3d) Gabriele Theresia Caroline Maria Evarista (Prague 26 Oct 1859-Wels 28 Jun 1942); m.Prugg 6 May 1893 Gabriel Gf Marenzi von Tagliano u.Talgate (d.Wels 28 Nov 1934)
4d) OTTO JOHANN Nepomuk Bohuslaw Maria Scholastika Gf von Harrach zu Rohrau u.Thannhausen (Prague 10 Feb 1863-Schloß Hrádek 10 Sep 1935); m.Vienna 14 Jan 1902 Karoline Pss zu Oettingen-Oettingen u.Oettingen-Wallerstein (Prague 22 Feb 1873-Vienna 15 Mar 1959)1e) Ernestine Antonia Karoline Pia Marie Susanna (Rohrau 11 Aug 1903-Bruck an der Leitha 7 Jun 1990); m.Vienna 7 Nov 1932 Johann Gf Lexa von Aehrenthal (Tsarskoie Selo 9 Aug 1905-Bruck an der Leitha 12 Mar 1972)
2e) JOHANN Nepomuk Anton Karl Leonhard Otto Bonaventura Maria Kleophas Gf von Harrach zu Rohrau u.Thannhausen (Prugg 25 Sep 1904-Bad Kreuznach 12 May 1945); m.Altaussee 16 Oct 1940 Stephanie Gfn u.Edle Tochter von und zu Eltz gen. Faust von Stromberg (b.Altaussee 30 Sep 1917)
1f) FERDINAND BONAVENTURA Ernst Otto Erwein Johann Nepomuk Leonhard Franz Roman Gf von Harrach zu Rohrau u.Thannhausen (Vienna 18 Nov 1941-nr Vienna 25 Aug 1961)
2f) Johanna Alexandra Georgine Amalie (b.Königgrätz 10 Jul 1944); m.Vienna 10 Sep 1966 Eberhard Gf von Waldburg zu Zeil u.Trauchburg (b.Zeil 30 Apr 1940)
5d) Alfred (26 May 1864-10 Jun 1864)
6d) Maria Theresia (Konarovic 23 Jun 1866-Vienna 30 Oct 1947); m.Prugg 20 Oct 1896 Stanislaus Gf Wisniewski (d.Lemberg 18 May 1940)
7d) Johanna (b.and d.22 Jan 1869)
8d) Margarete (Vienna 18 May 1870-Neu-Pernstein 11 Jan 1935); m.Vienna 2 Feb 1893 Franz Pr zu Windisch-Grätz (Klattau 3 Jul 1867-St.Martin 13 Oct 1947)
9d) ERNST Franz Hugo Johann Maria Evaristus Gf von Harrach zu Rohrau u.Thannhausen (Hrádek 26 Oct 1879-Prugg 12 Aug 1971); m.Munich 22 Nov 1905 Elisabeth Gfn von Preysing-Lichtenegg-Moos (Moos 15 Nov 1883-Natternberg, Lower Bavaria 27 Feb 1932)
1e) Christiane Marie Therese Elisabeth Leopoldine Ernestine Maximiliane (b.Vienna 12 Oct 1916); m.London 4 Jun 1952 (div 1967) Arthur Trethowen Battagel (Watford 30 Jun 1908-Sittleworth, West Sussex 7 Nov 1991)
2e) ERNST LEONHARD Otto Georg Johann Konrad Maria Schnee Hubertus Gf von Harrach zu Rohrau u.Thannhausen (b.Munich 5 Aug 1920); m.Klagenfurt 7 Oct 1948 Hermine Neukirchner (Kindberg, Styria 2 Oct 1922-Vienna 17 Dec 2003)
1f) Christiane Anna Elisabeth (b.Santiago, Chile 27 Dec 1949)
2f) Ernst Georg Franz Christian Erbgf von Harrach (b.Santiago, Chile 22 Jun 1951); m.Vienna 17 Sep 1977 Angela Rojahn (b.Vienna 7 Jan 1954)
1g) Ernst Heinrich Rudolf Gyri (b.Vienna 11 Feb 1979)
2c) Ernst Bretislaw Friedrich (8 Oct 1830-10 Nov 1837)
3c) Alfred Karl (Prague 9 Oct 1831-Abbazia 5 Jan 1914); m.Vienna 26 Jul 1869 Anna Pss von Lobkowicz (Vienna 5 Apr 1847-Aschach an der Donau 25 Nov 1934)
1d) Franz Maria Alfred (Traunkirchen 26 Jul 1870-Iglau, Moravia 14 May 1937); m.1st Vienna 29 May 1895 Gabriele Gfn von Khevenhüller-Metsch (Fronsburg, Lower Austria 15 Nov 1874-Baden nr Vienna 12 Sep 1896); m.2d Vienna 30 Jun 1902 Sarah Pss zu Hohenlohe- Waldenburg-Schillingsfürst (Ságh 4 Dec 1880-Groß Meseritsch 10 Jun 1908); m.3d Seefeld 1 Feb 1910 Alice Gfn zu Hardegg auf Glatz u.Machlande (Groß-Harraß 10 Jul 1879-Aschach 10 Feb 1962)
1e) Josepha Sarolta Maria Anna Franziska Saturnina (Aschach 29 Nov 1905-Salzburg 16 Feb 2000); m.Groß-Meseritsch 7 Jan 1933 Alois Gf Podstatzky-Lichtenstein (Weseliczko 5 Sep 1905-Salzburg 18 Feb 1982)
2e) Anne-Marie Nicoletta (Aschach 6 Dec 1906-Hamburg 18 Feb 2001); m.Prague 1 Aug 1928 Franz Rosty-Forgách de Barkócz (Gács 31 Oct 1892-Santiago, Chile 27 Sep 1957)
3e) Alice Louise Marie (Vienna 23 Sep 1916-2 Oct 2006); m.Aschach 29 Jul 1940 Karl Frhr Dreihann-Holenia von Sulzberg am Steinhof (Morawetz, Moravia 15 Jul 1906-Aschach 2 Jul 1978)
2d) Leopoldine (Vienna 4 Jan 1872-Brünn 30 Jul 1917); m.Vienna 26 Nov 1892 Otto Gf Serényi de Kis-Serény (Luhaczowitz 21 Sep 1855-Brünn 27 Dec 1927)
3d) Ludwig (15 Dec 1873-25 Mar 1874)
4d) Ludwiga (Aschach 1 Oct 1876-Brünn 1 Jun 1942); m.Vienna 19 Sep 1905 Philipp Hugo Frhr Wambolt von Umstadt (Aschaffenburg 1 Jan 1881-Regensburg 8 Mar 1946)
5d) Marianne (Aschach 26 Jun 1880-Sprinzenstein 5 Nov 1912); m.Aschach 26 Apr 1904 Maximilian Gf u.Hr von und zu Sprinzenstein u.Neuhaus (Linz 17 Feb 1881-6 Sep 1970)
4c) Maria Theresia Eleonore Anna (14 Aug 1835-31 Dec 1839)
4a) Maria Anna (24 Jul 1758-23 May 1763)
5a) Karl Borromäus (11 May 1761-19 Oct 1829)
6a) Ferdinand Joseph (Vienna 17 Mar 1763-Dresden 4/5 Dec 1841); m.1st 7 Jan 1795 Christiane von Rayski (Struppen 14 May 1767-Dresden 8 Jun 1830); m.2d 11 Jun 1833 Maria Anna Sauermann (15 Dec 1800-23 Aug 1879)
1b) Karl Philipp (Prague 16 Nov 1795-Breslau 25 Nov 1878); m.1st Stremplowitz 10 Jul 1829 Theresia Gfn Sedlnitzky von Choltic (Troppau 26 Aug 1810-Dresden 23 Sep 1834); m.2d Dresden 5 Jul 1838 Isabella Frn von Pfister (Vienna 17 Nov 1812-Dresden 5 Apr 1896)
1c) Ferdinand Friedrich Wilhelm August Anna (Rosnochau, Upper Silesia 27 Feb 1832-Berlin 14 Feb 1915); m.Oberhofen bei Thun, Switzerland 26 Aug 1868 Helene Gfn von Pourtalès (Constantinople 7 May 1849-Kraschnitz 13 Dec 1940)
1d) Viktoria Auguste Anna Elisabeth (Berlin 24 Jun 1870-Heidelberg 11 Jul 1961); m.Tiefhartmannsdorf 13 Oct 1891 Christoph Gf Vitzthum von Eckstädt (Dresden 14 Oct 1863-Tiefhartmannsdorf 30 Dec 1944)
2d) Leonhard (28 Dec 1871-19 Dec 1876)
3d) Hans-Albrecht (Florence 11 Feb 1873-Niederarnbach, Upper Bavaria 22 Oct 1963); m.Munich 23 Oct 1899 Helene Gfn von Arco-Zinneberg (Schönburg 26 Oct 1877-Niederarnbach 22 Dec 1961)
1e) Marie-Elisabeth Leopoldine Innocentia (Munich 28 Jul 1900-Schloß Niederarnbach 26 Mar 1957); m.Munich 12 Jan 1922 Maximilian Frhr von Pfetten-Arnbach (Ansbach 7 Nov 1897-Niederarnbach 6 Dec 1975)
2e) Helene Jucunde Maria (Florence 25 Nov 1901-Munich 26 Sep 1989); m.Munich 20 May 1924 Maximilian Frhr von Mauchenheim gen. Bechtolsheim (Stockholm 5 Feb 1891- Harberg, Upper Bavaria 31 Oct 1961)
3e) Mechtilde Maria Gerda (Florence 31 Mar 1905-Munich 30 Apr 1991)
4e) Barbara Maria Sophie Eleonore Renata (Florence 20 Sep 1907-Bad Tölz 11 Sep 1973)
5e) Irene Maria Rosario Pauline (Tiefhartmannsdorf 2 Oct 1910-London 17 Jan 1975); m.Munich 22 Aug 1934 John Osmael Scott-Ellis, 9th Lord Howard de Walden, 5th Lord Seaford (London 27 Nov 1912-London 9 Jul 1999)
4d) Magdalene (Berlin 8 May 1875-Oberhofen 21 Oct 1889)
5d) Hellmuth (31 Jul 1876-Jul 1888)
6d) Paula Johanna Hildegard Albertine Karoline Eleonore (Tiefhartmannsdorf 4 Jul 1878-Binau/Nekkar 31 Jul 1967); m.Oberhofen 26 Sep 1903 Hans-Heinrich XVI Gf von Hochberg (Rohnstock 19 May 1874-Berlin 13 Feb 1933)
7d) Franziska Karola Marianna Renata (Berlin 16 Apr 1882-Grünhaus, Kr.Trier 30 Oct 1961); m.1st Berlin 18 Dec 1903 (div 1919) Dietrich von Bethmann-Hollweg (Runowo 5 Nov 1877-Obernigk 7 May 1933); m.2d Münsingen, Switzerland 30 Oct 1919 Carl von Schubert (Berlin 15 Oct 1882-Trier 1 Jun 1947)
8d) Ulrich (Berlin 4 Apr 1885-Würzburg 22 May 1890)
2c) Georg Leopold Carl (Breslau 26 Dec 1839-Groß-Sägewitz Sep 1916)
3c) Ernst Ludwig Carl August (Krolkwitz 20 Jun 1845-Klein-Krichen 10 Jun 1896); m.Halle an der Saale 5 Apr 1872 Adele Frn von Jena (Köthen 16 Mar 1852-Klein-Krichen 3 Jul 1905)
1d) Leopold (Klein-Krichen 29 Apr 1873-Capri 6 Aug 1898)
2d) Irmgard Isabella Gabriele Adele (Klein-Krichen 10 Apr 1874-Uffing bei Murnau 11 May 1951); m.Klein-Krichen 26 Feb 1897 Axel von Levetzow (Röbel 7 Jul 1856-Lelkendorf bei Neukahlen 12 Dec 1929)
3d) Freda (Klein-Krichen 11 Dec 1876-Eisleben 5 Oct 1946); m.Klein-Krichen 30 Sep 1898 Ernst Louis von Unruh (Alt-Raudten 14 Nov 1868-Breslau 10 May 1925)
4d) Manfred Karl Theodor Viktor Ernst (Klein-Krichen 10 May 1878-Bad Nauheim 11 Sep 1924); m.Meyenburg 24 May 1906 Magdalene von Rohr gen. von Wahlen-Jürgaß (Demmin 26 Jul 1881-Deuna 13 Oct 1945)
1e) Sophie Adele Anna Magdalene (Klein-Krichen 28 Mar 1907-Göttingen 3 Feb 1994); m.Klein-Krichen 6 Sep 1938 Konrad von Czettritz u.Neuhaus (Berlin 30 Nov 1890- Ostende 5 Feb 1946)
2e) Günther Karl Theodor Ernst Manfred (Klein-Krichen 13 Aug 1908-Köhn bei Kiel 12 Oct 1969); m.1st Dresden 17 Mar 1932 Herta-Louise Gfn von Pfeil u.Klein-Ellguth (Dresden 26 Dec 1907-Segen (Groß-Sägewitz) 4 Nov 1938); m.2d Sommerfeld bei Stralsund 9 Jun 1941 Brigitte von Schaevenbach (b.Stralsund 4 Apr 1912)
1f) Karl-Ferdninand (Groß-Sägewitz 24 Nov 1934-Breslau 16 Oct 1940)
2f) Albrecht Leopold Günther (b.Breslau 1 Jul 1936); m.Giekau, Kr. Plön 22 Jul 1966 Anna Elisabeth Massa (b.Düsseldorf 17 Nov 1936)
1g) Isabel Vera Claudia (b.Düsseldorf 27 Jan 1967); m.Krefeld-Uerdingen 16 Jun 1995 Marek Gehrmann (b.Düsseldorf 2 Aug 1966)
3f) Herta Elisabeth Magdalene Brigitte (b.Breslau 5 Jun 1942); m.Giekau 14 Aug 1964 Manfred Hoins (Lehrte 10 Aug 1943-Hannover 17 Nov 1971)
4f) Vera Magdalene Brigitte (b.Schönberg, Ostholstein 23 Dec 1949); m.Stuttgart-Untertürkheim 16 Dec 1983 Johannes Wahle (b.Meschede 12 Aug 1951)
5f) Agnes Henriette Magdalene Brigitte (b.Lütjenburg, Ostholstein 28 Jun 1954)
3e) Ursula Helene Anna Gerda (Klein-Krichen 11 Aug 1910-Volmerdingen 15 Aug 1960); m.Klein-Krichen 11 Feb 1938 Gotthard Frhr von der Recke (Sabitz 2 Sep 1905-Bad Oeynhausen 11 Jan 1983)
4e) Leonhard Ferdinand Theodor Ernst Leopold Manfred (Klein-Krichen 8 Apr 1912- Neu-Schönberg bei Kiel 13 Sep 1985); m.Berlin 18 Jul 1939 Maria Cecilie Johannes (b.Berlin 26 Aug 1914)
1f) Johannes Leonhard Bonaventura Hermann Manfred (b.Klein-Krichen 2 Sep 1940); m.1st Köln 23 Dec 1964 (div 1971) Rita Schirdewahn (b.Breslau 18 Feb 1971); m.2d Bruchköbel bei Hanau 2 Dec 1971 Waltraud King (b.Bruchköbel 3 Jul 1942)
1g) Stephanie (b.Köln 23 Jan 1967)
2g) Maximilian (b.Hanau 16 May 1969)
2f) Christoph Leonhard Manfred Hartmann Leopold (b.Klein-Krichen 18 Jan 1943); m.Kiel 11 Feb 1971 Ursula Vorsatz (b.Berlin 11 Dec 1937)
1g) Sofia Nike (b.Kiel 18 Jun 1971)
2g) Vigo Hartmann (b.Kiel 7 Apr 1973)
3f) Joachim Leonhard Dietrich Ernst Wilhelm (b.Burgundenau bei Görlitz 4 Feb 1945); m.Munich 19 Apr 1973 Evelyn Lobe (b.Neiße an der Oder 23 Jan 1944)
1g) Daphne Louise Rosa Isabella Cecilie (b.Heidelberg 19 Jan 1976)
2g) Xenia Sophie Anna Eleonore Gwendolyn (b.Heidelberg 18 Jul 1980)
3g) Berenike Claire Marie Lavinia Elisabeth (b.Heidelberg 20 Feb 1983)
5e) Ernst Theodor Leopold Wichard Manfred (Klein-Krichen 15 Dec 1913-k.a.Chémery 14 May 1940)
6e) Wichard Karl Ferdinand Ernst Theodor Manfred (Klein-Krichen 6 Mar 1916-26 Dec 2004); m.Deuna, Eichsfeld (civ) 19 Nov 1944 (rel) 20 Nov 1944 Jutta Gfn vom Hagen (b.Bad Grund 27 Oct 1923)
1f) Jobst-Babo Manfred Eberhard Ernst-Theodor Wichard (b.Göttingen 19 Aug 1946); m.Wolbeck, Kr Münster 23 Oct 1968 Eva-Marie von Heyl zu Herrnsheim (Worms 31 Dec 1946-7 Jul 2004)
1g) Wichard-Babo Ludwig Hanno Manfred (b.Münster 13 May 1969); m.Roggwil, Switzerland 31 Aug 2002 Christine Füller (b.Stuttgart 23 Dec 1969)
1h) Jacob Wichard Sebastian Maximilian (b.Bangkok 22 Apr 2004)
2h) Amelie Eva-Maria Louise (b.2 Feb 2006)
2g) Leonhard Carl Johannes (b.Düsseldorf 20 Feb 1975); m.Bonn-Bad Godesberg 26 Jul 2003 Melissa Rieder (b.Nelson, BC 8 Sep 1977)
1h) Felix Eric Babo Leonhard (b.Barcelona 15 Dec 2005)
3g) Verena Caroline Marie (b.Düsseldorf 16 Apr 1976)
2f) Hanno Günther Siegbert Wichard (b.Göttingen 19 Feb 1948); m.Northiam, Sussex 3 Dec 1970 Viola Marsh (b.London 22 Jan 1948)
1g) Istvan Matthew Johannes (b.Filderstadt, Württemberg 4 Nov 1976)
2g) Amelie Ruth Johanna (b.Oxford 27 Jan 1979)
3g) Georg Alexander Frederick (b.Edinburgh 7 Mar 1983)
7e) Manfred Theodor Ernst Waldemar Ferdinand Leopold (Klein-Krichen 9 May 1922-k.a.Nepekrytaja, nr Charkov 13 May 1942)
5d) Gerda (Klein-Krichen 3 Apr 1880-Ludwigslust 23 Apr 1943); m.Klein-Krichen 7 Apr 1904 Leopold von Böhm-Bezing (Lüben 24 Oct 1878-Parchim, Mecklenburg 8 Apr 1923, of wounds received in action)
2b) Auguste, cr Fürstin von Liegnitz and Gräfin von Hohenzollern 8 Nov 1823 (Harrach 30 Aug 1800-Bad Homburg 5 Jan 1873); m.Charlottenburg 9 Nov 1824 King Friedrich Wilhelm III of Prussia (Potsdam 3 Aug 1770-Berlin 7 Jun 1840)
7a) Maria Theresia (31 Aug 1764-Vienna 15 Sep 1831)
8a) Eva Maria (b.and d.9 Jun 1765)
9a) Maria Theresia Antonia Josepha (1 Nov 1775-4 Dec 1775)