ALMANACH DE SAXE GOTHA
Societe des Amis de l' Almanach de Saxe Gotha
Welcome - Willkommen - Bienvenue - Benvenuti
Official Website of the Almanach de Saxe Gotha
Online Royal Genealogical Reference Handbook
Saxe Gotha Genealogisches Handbuch des Adels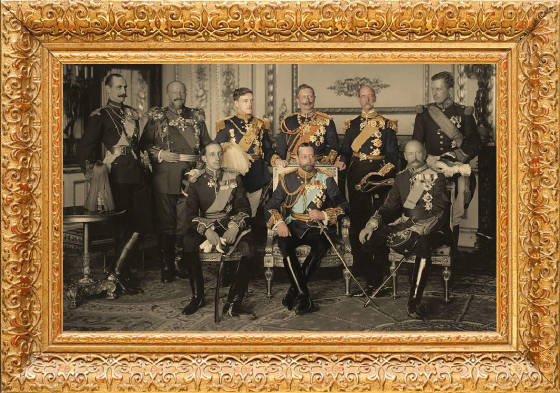 "A monarchy conducted with infinite wisdom and infinite benevolence is the most perfect of all possible governments, for if the Allies at the peace table at Versailles had allowed a Hohenzollern, a Wittelsbach and a Habsburg to return to their thrones, there would have been no Hitler. A democratic basis of society might have been preserved by a crowned Weimar in contact with the victorious Allies"
Volume - I
Encompasses and Lists the Genealogy of
the Imperial and Royal Sovereign Houses
and Families Reigning and Formerly
Reigning in Europe and South America
Volume - II
The Mediatized Sovereign Houses of the
Holy Roman Empire of the German Nation
Encompasses and lists the genealogy of the
Mediatised Sovereign Houses of the Holy
Roman Empire of the German Nation
II - Other European Constitutional Monarchies:
Andorra, Belgium, Denmark, Luxembourg, Netherlands, Norway, Spain, and Sweden are fully democratic states in which the monarch has a limited or largely ceremonial role. There is generally a Christian religion established as the official church in each of these countries. This is a form of Protestantism in Norway, Sweden, Denmark, and the Netherlands, while Belgium, Luxembourg, and Andorra are Roman Catholic countries. Spain has no official State religion. Andorra is unique among these monarchies, as it is, by definition, a diarchy, with the Co-Princeship being shared by the President of France and the Bishop of Urgell. This situation, based on historic precedence, has created a unique situation among monarchies, as both Co-Princes are not of Andorran descent, and one is elected by common citizens (of France, however, as Andorrans cannot vote in the French Presidential Elections).
III - European Constitutional:
Absolute Monarchies: Liechtenstein and Monaco are constitutional monarchies in which the Prince retains many powers of an absolute monarch. For example the 2003 Constitution referendum which gives the Prince of Liechtenstein the power to veto any law that the Landtag proposes and the Landtag can veto any law that the Prince tries to pass. The Prince can hire or dismiss any elective member or government employee from his or her post. However what makes him not an absolute monarchy is that the people can call for a referendum to end the monarchy's reign. The Prince of Monaco has simpler powers but can not hire or dismiss any elective member or government employee from his or her post, but he can elect the minister of state, government council and judges. Both Albert II and Hans-Adam II have quite a bit of political power, but they also own huge tracts of land and are shareholders in many companies.
IV - Islamic Monarchies:
Islamic monarchs of Bahrain, Brunei, Jordan, Kuwait, Malaysia, Morocco, Oman, Qatar, Saudi Arabia, and the United Arab Emirates generally retain far more powers than their European or Commonwealth counterparts. Brunei, Oman, Qatar, and Saudi Arabia remain absolute monarchies; Bahrain, Kuwait and United Arab Emirates are classified as mixed, meaning there are representative bodies of some kind, but the monarch retains most of his powers. Jordan, Malaysia and Morocco are constitutional monarchies, but their monarchs still retain more substantial powers than European equivalents. Malaysia could also be considered as an East Asian constitutional monarchy.
V - East Asian Constitutional Monarchies:
Bhutan, Cambodia, Japan, Thailand have constitutional monarchies where the monarch has a limited or ceremonial role. Bhutan, Japan, and Thailand are countries that were never colonised by European powers, but have changed from traditional absolute monarchies into constitutional
ones during the twentieth century. Cambodia had its own monarchy after independence from France, which was deposed after the Khmer Rouge came into power and the subsequent invasion by Vietnam. The monarchy was subsequently restored in the peace agreement of 1993. Shintoism and Mahayana Buddhism are the established religion in Japan, while Bhutan, Cambodia and Thailand are all Theravada Buddhist countries. However, most Japanese people practice Buddhism and Shinto simultaneously.
VI - Other Monarchies:
Five monarchies do not fit into one of the above groups by virtue of geography or class of monarchy: Tonga and Samoa in Polynesia; Swaziland and Lesotho in Africa; and the Vatican City in Europe. Of these, Lesotho and Tonga are constitutional monarchies, while Swaziland and Vatican City are absolute monarchies. Samoa falls into neither class, as one of the Four Paramount Chiefs of the country is elected to hold the position of O le Ao o le Malo, or "Chieftain of the Government". This position is not required by the Samoan constitution, which is why Samoa is officially classified as a republic rather than a constitutional monarchy. Swaziland is also unique among these monarchies, often being considered a diarchy. The King, or Ngwenyama, rules alongside his mother, the Ndlovukati, as dual heads of state originally designed to be checks on political power. The Ngwenyama, however, is considered the administrative head of state, while the Ndlovukati is considered the spiritual and national head of state, a position which more or less has become symbolic in recent years. The Pope is monarch of Vatican City by virtue of his position as head of the Catholic Church; he is an elected rather than hereditary ruler.
The History and Creation of the
Duchy of Saxe-Coburg and Gotha
Duke Ernst I - 1826-1844
The two duchies of Saxe-Coburg and Saxe-Gotha originated in the division of the ancestral estates of Duke Ernest the Pious (d. 1675), the founder of all the Saxon ducal lines (except the grand-ducal line of Saxe-Weimar-Eisenach), among his seven sons. With Duke Frederick IV, who had become a Catholic at Rome in 1807, the line of Saxe-Gotha became extinct (1821), and, after long disputes concerning the succession, the territory of Gotha fell to the line of Coburg-Saalfeld in 1826, were among the Saxon duchies held by the Ernestine branch of the Wettin dynasty.
Coburg Castle
The duchy of Saxe-Coburg and Gotha originated as the personal union of these two duchies in 1826, after the death of the last Duke of Saxe-Gotha-Altenburg, who died without male heirs. His Wettin relations repartitioned his lands. The former husband of Louise of Saxe-Gotha-Altenburg, the only niece of the last duke, was Duke Ernest III of Saxe-Coburg-Saalfeld. He received Gotha and changed his name and title to Ernest I, Duke of Saxe-Coburg and Gotha although, technically, the two duchies remained as separate duchies.
Schloss Rosenau in Coburg
Many members of the ruling house of Saxe-Coburg-Gotha ascended the thrones of several European countries during the nineteenth century. By his marriage with Queen Victoria (1840), Prince Albert became the founder of the present royal house of England; Prince Leopold was elected hereditary King of Belgium in 1831, the Belgian branch of the House of Saxe-Coburg becoming Roman Catholic.
Prince Ferdinand of Saxe-Coburg-Gotha-Koháry
The line of the House of Saxe-Coburg-Kohary, founded through the marriage of Prince Ferdinand with the heiress of the Hungarian princely House of Kohary (1816), is also Roman Catholic. A son of this marriage, Ferdinand, was the founder (1837) of the dynasty which ruled in Portugal until 1910; a grandson, also named Ferdinand, became in 1887 hereditary Prince, and in 1909 King (Tsar) of Bulgaria. In the Duchy of Saxe-Coburg and Gotha the main line became extinct in 1893, the succession falling to the English branch; Duke Charles Edward (b. 1884), son of the Duke of Albany and grandson of the Prince Consort Albert and Queen Victoria, has reigned since 1899 (until 1905 under a guardian).
Duke Ernst II - 1844-1893
Duke Ernst I died in 1844. His elder son and successor, Ernest II, ruled until his own death in 1893. As he died childless, the throne of the duchies would have passed to the male descendants of Ernst's late brother Albert, the Prince Consort, husband of Queen Victoria of the United Kingdom. However, the constitutions of both duchies excluded the British heir apparent from the ducal thrones if there were other eligible male heirs, although Albert Edward, Prince of Wales had already renounced his claim to the ducal throne in favour of his next brother, Prince Alfred, Duke of Edinburgh.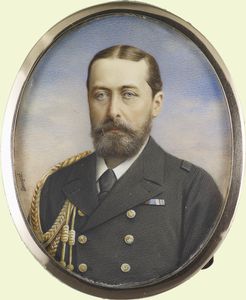 Duke Alfred - 1893-1900
Alfred's only son, also named Alfred, committed suicide in 1899, so when Duke Alfred died in 1900, he was succeeded by his nephew the Duke of Albany, the sixteen-year-old son of Queen Victoria's youngest son, Leopold. Alfred's next brother Prince Arthur, Duke of Connaught and his son Prince Arthur of Connaught having renounced the succession. Reigning as Duke Carl Eduard, or Charles Edward, under the regency of the Hereditary Prince of Hohenlohe-Langenburg until he came of age in 1905, the new duke also continued to use his British title, Duke of Albany. As a result of Charles Edward fighting for Germany against the British in the First World War, he was stripped of his British titles in 1919.
Duke Carl Eduard - 1900-1918
Charles Edward reigned until November 18, 1918 during the German Revolution, when the Workers' and Soldiers' Council of Gotha deposed him. The two Duchies, now without a common ruler, became separate states until shortly thereafter, when they ceased to exist. Saxe-Coburg became a part of Bavaria and Saxe-Gotha merged with other small states in 1920 to form the new state of Thuringia in the Weimar Republic.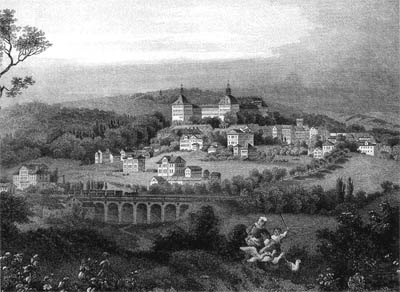 Friedenstein Castle in Gotha
The capitals of Duchy were Coburg and Gotha, the Duchy had an area of 751 sq. miles made up of the two chief divisions, the Duchy of Coburg (216 sq. miles) and the Duchy of Gotha (541 sq. miles), these divisions are separated from each other by a portion of Saxe-Meiningen and a strip of land belonging to Prussia (Kreis Schleusingen). In 1910 the territory had 257,208 inhabitants; in 1905 its population of 242,432 included 3897 Catholics (2 per cent), 237,187 Evangelicals, and 714 Jews. The two duchies were united in 1826 but each territory has still its own constitution, diet, and internal administration, even as regards religion and education.
Ernst I - Duke of Saxe-Coburg and Gotha

According to the House law of the Duchy of Saxe-Coburg and Gotha the full title of the Reigning Duke was: Wir, Ernst, Herzog zu Sachsen-Coburg und Gotha, Jülich, Cleve und Berg, auch Engern und Westphalen, Landgraf in Thüringen, Markgraf zu Meißen, gefürsteter Graf zu Henneberg, Graf zu der Mark und Ravensberg, Herr zu Ravenstein und Tonna usw, English Translation: We, Ernest, Duke of Saxe-Coburg and Gotha, Jülich, Cleves and Berg, also Angria and Westphalia, Landgrave in Thuringia, Margrave of Meissen, Princely Count of Henneberg, Count of the Mark and Ravensberg, Lord of Ravenstein and Tonna, et cetera.
Prince Albert - Prince Consort of Great Britain
Prince Albert of Saxe-Coburg and Gotha (Francis Albert Augustus Charles Emmanuel; later The Prince Consort; 26 August 1819 - 14 December 1861) was the husband of Queen Victoria of Great Britain and Ireland. He was born in the Saxon duchy of Saxe-Coburg-Saalfeld, at the age of 20 he married his first cousin, Queen Victoria, with whom he would ultimately have nine children. At first, Albert felt constrained by his position as consort, which did not confer any power or duties upon him.
Queen Victoria and Prince Albert with their Nine Children

Over time he adopted many public causes, such as educational reform and a worldwide abolition of slavery, and took on the responsibilities of running the Queen's household, estates and office. He was heavily involved with the organisation of the Great Exhibition of 1851. Albert aided in the development of Britain's constitutional monarchy by persuading his wife to show less partisanship in her dealings with Parliament-although he actively disagreed with the interventionist foreign policy pursued during Lord Palmerston's tenure as Foreign Secretary.
Portraits of Queen Victoria and Prince Albert the Prince Consort
Prince Albert died at 10:50 p.m. on 14 December 1861 aged only 42 years old, in the Blue Room at Windsor Castle, in the presence of the Queen and five of their nine children. The contemporary diagnosis was typhoid fever, but modern writers have pointed out that Albert was ill for at least two years before his death, which may indicate that a chronic disease, such as Crohn's disease, renal failure, or cancer, was the cause of death., plunging the Queen into a deep mourning that lasted for the rest of her life. Upon Queen Victoria's death in 1901, their eldest son, Edward VII, succeeded as the first British monarch of the Ducal line of Saxe-Coburg und Gotha of the Ernestine House of Wettin to which his father Prince Albert belonged.